First Half 2014: Same-Period Arrests in Shandong Increase Over 60%
July 17, 2014 | By a Minghui correspondent in China
(Minghui.org) Report after report continue to document arrests in Shandong Province, showing no signs of slowing down.
In fact, 422 Falun Gong practitioners were illegally arrested in Shandong during the first half of 2014, an increase of 65.5% over the same period in 2013.
In June alone, the Shandong government arrested 111 practitioners, including 20 in Zibo City, who were sent to a local brainwashing center, and 11 in Yantai City were arrested on June 25.
Some of the arrests led to others being taken into police custody.
For example, police officers in Weifang City and Maomi City arrested Mr. Li Deshan (李德山) in August 2013, for installing TV satellite dishes for personal use, an activity legalized by the Chinese State Council in 2002. In the process of sentencing Li Deshan on April 4, 2014, the police arrested 10 more practitioners, trying to find more dishes and other evidence to frame Mr. Li.
Another example happened in Guan County. Eight practitioners were arrested in March. On April 8, nine of their fellow practitioners went to the police department to secure their release, and all nine were arrested. The next day, the police arrested four more of their friends. Later, the wife and mother of one detainee asked the police department to release him, and they were arrested, too.
Figure 1 shows the number of arrests of Falun Gong practitioners in the top 15 provinces and municipalities in the first six months in 2013 and 2014. The number increases in most regions, except Heilongjiang and Sichuan, with an average increase of 85.5% and a maximum of 282% (in Shanghai).

Table 1 shows the number of arrests in 15 other Chinese provinces in the first half of 2013 and 2014.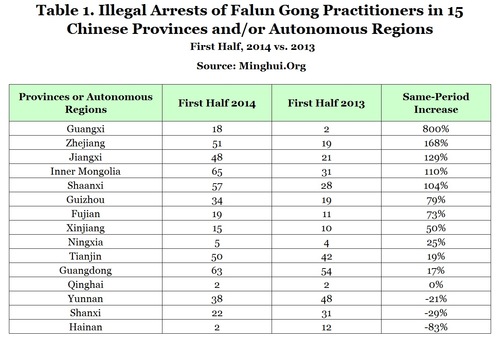 According to information confirmed by Minghui.org, a total of 2,987 Falun Gong practitioners were arrested in all of China in first half of 2014, a same-period increase of 42.6%.