Washington State: "I'm Touched to See a Persecuted Group Celebrating Freedom!" (Photos)
(Minghui.org) "On a day that commemorates liberty and human rights, it touches my heart to see Falun Gong, a group that is persecuted in China, celebrating freedom and demonstrating their spirit on this small island in America," said Mr. Dewei, a Chinese resident of Bainbridge Island, Washington. He was happy to see Falun Gong practitioners in the Independence Day parade.
Bainbridge Island, population 25,000 and the second-best place to live in the United States according to CNN and Money magazine, has hosted the "best small town parade in America" every 4th of July for the past 47 years.
This year, more than 100 groups participated in the mile-long parade. Falun Gong practitioners in Washington state made up the only Chinese group and treated the crowd to a traditional Chinese lion dance, a lotus flower float, and waist drum performances.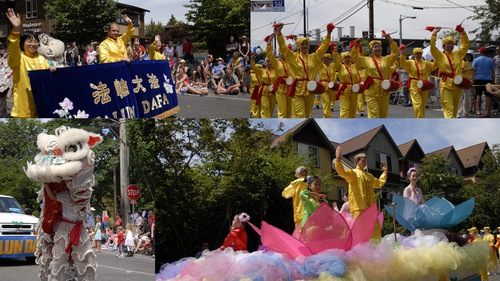 Falun Gong practitioners perform in the parade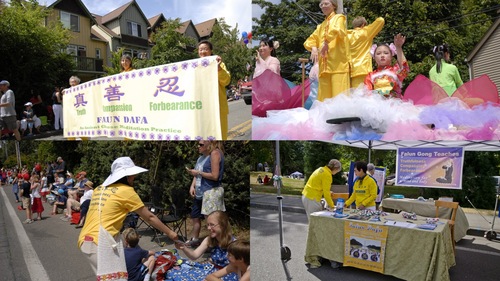 The host of the parade praised the Falun Gong group's entry as the best in the parade.
"They are indeed the best," said Ms. Yu, a local resident. "Their performances were very successful, and I heard a great deal of praise. My friends hope to see them again next year."
In addition to their lively performances, Falun Gong informational flyers and hand-made lotus flowers distributed by practitioners along the parade route were very popular.
After the parade, practitioners set up a booth. Countless people stopped by to pick up information about Falun Gong.
"Many people want further information about Falun Gong. Some of them want to learn the exercises. We also collected 260 signatures, condemning the persecution of Falun Gong in China," said a practitioner at the booth.
Mr. Dewei talked to the practitioners at the booth for a long time. As he was leaving, he said, "I truly admire this group, who sacrifice for freedom and human rights. I strongly support them."
Sharing the Beauty of Falun Gong
Practitioners who performed in the parade ranged in age from 12 to 80.
Ms. Qi, 80, recently moved to the U.S. This was her first time attending a public event to promote Falun Gong in a positive environment, the opposite of the suppression she faced in China. With tears in her eyes, she said, "I have benefited a lot from practicing Falun Gong, and I am really excited to have a chance to share my experiences with the island residents on such a special day."
Ms. Qi carried a banner and walked for one mile without any trouble, which would not have been possible before she learned Falun Gong. "I started practicing Falun Gong in 1996. All my ailments were healed--the practice has given me good health."
Lucy, who played a waist drum in the parade, was severely tortured in a Chinese labor camp before she moved to the U.S. in 2012.
"The labor camp police knocked out all of my teeth and injured me," Lucy explained. Turning her attention to the present joy of the occasion, she said, "It is exciting to see that Falun Gong is supported in this free country. I will try my best to bring the beauty of Falun Gong to the people here."
Yihua, a young woman dressed as a "celestial maiden" on the Falun Gong float, moved to Seattle from China with her parents last summer. In 1999, her mother took her along to Beijing to appeal for the freedom to practice Falun Gong. She was only four years old at the time but was jailed with her mother in a detention center for seven days. Growing up amidst the persecution in China, she said she struggled with fear constantly.
Those fears behind her, today Yihua happily demonstrated the Falun Gong exercises on the float. "This is a totally different environment. I am very happy. It is great to see that so many people applaud Falun Gong."