Disabled by Hanging Torture, Chongqing Practitioner Subjected to Forced Labor in Prison
June 28, 2014 | by Liu Fanqin from Chongqing, China
(Minghui.org) My life was completely changed in June 2003, when I was arrested for practicing Falun Gong. I was tortured by being hung up for more than 30 hours in a detention center. As a result, I lost the use of my arms and the ability to live a normal life.
To cover up their crime and retaliate for my exposing the rape of a female practitioner by a police officer, the police and the justice system colluded to sentence me to nine years in prison. Due to my disability, the prison refused to admit me three times, until the 610 Office pressured them to admit me in August 2005.
I was subjected to brainwashing in prison for several months. I was also forced to perform manual labor. Despite my disability, guards made my life more miserable by denying me basic necessities. They forced me to pay other inmates to help me with basic tasks like eating and changing clothes.
I fought to expose the crimes committed against me in prison for years. My appeal letters and my family's visits to government agencies fell on deaf ears. I later discovered that the prison had falsified my medical records to hide my injuries, and claimed that I had been faking my disability.
Arrested, Hung Up, and Disabled
Officers from Dadukou District Police broke into my home on the night of June 21, 2003 and arrested me and other two practitioners. They also confiscated over 10,000 yuan in cash, a computer, a printer and some DVDs. We were transferred to the Dadukou District Detention Center the next day.
Five days later, the police took me to an unknown place, where Deputy Director Chen Bo ordered several officers to take turns to torture me. The officers who participated included Ren Huayong, Wen Fanghuo (head of the Domestic Security Division), Li Ke, Tan Xu, Hu Bin and Huang Xiaoyue.
They handcuffed me behind my back and hung me from the bars on a window. Since my arms pulled up my upper body from behind, my body could not stay straight, and my toes barely touched the ground. It was so painful that I had trouble breathing after half an hour. I was not allowed to eat, sleep or go to the restroom. They left me hanging like this for more than 30 hours, during which I passed out several times from the pain. Long before I was taken down, my numb arms had become disabled.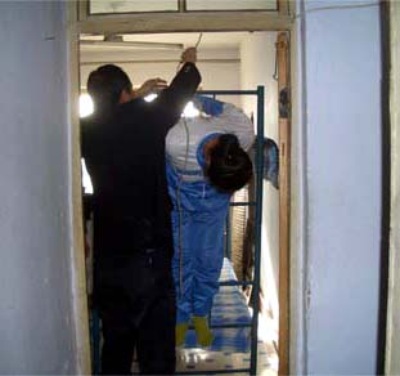 Torture Re-enactment: Hung up from behind
I was sent to several hospitals and informed that I had nerve damage in both arms and ligament damage in both shoulders, which were also dislocated. Doctors told me there was no hope of regaining function in my arms. This meant I could no longer do basic things without assistance, such as eating, drinking, putting on clothes, or using the restroom.
To prevent word of my injuries from leaking, the detention center moved me to a solitary cell. Later, they assigned two inmates to my cell to monitor me.
Nine-Year Prison Sentence for Exposing Rape by Police
In March 2004, I exposed the rape of a female practitioner by a police officer in the detention center. In retaliation for my transmitting the information, the Dadukou District Court sentenced me to nine years in prison. I wrote three appeal letters, but the Chongqing First Intermediate Court upheld the original verdict.
Before I was sent to Chongqing Women's Prison at the beginning of June, I was taken to a hospital to be evaluated for medical parole. However, without examining me, the doctor concluded that I did not qualify for medical parole after talking to the police.
When I was sent to the prison in mid-June, the prison hospital director refused to admit me, citing my inability to take care of myself. I was sent there twice more in August and December, but still not admitted. With pressure from the local 610 Office, I was admitted to the prison on August 4, 2005.
See related article: Ms. Liu Fanqin Imprisoned Six Years for Exposing Policeman Who Raped a Female Student
Brainwashing
During my first few months, I was assigned to a group in which guards forcibly brainwash practitioners and try to force them to renounce their beliefs. I was assigned a solitary cell and monitored by four inmates around the clock. Due to my disability, they also had to help with my daily life.
Since I refused to renounce Falun Gong, I was forced to sit on a "small stool" for at least sixteen hours a day. Despite the innocuous name, the "small stool" is a form of torture that often caused the flesh on the victim's buttocks to fester. Such torture was unbearable even for a healthy person, let alone someone with existing injuries. As time went by, my arms were stretched to the extreme, causing excruciating pain. However, the guards tried their best to stop me from leaning against the bed or doing anything else to make myself a bit more comfortable.
I was also forced to study propaganda defaming Falun Gong every night. Since I still refused to renounce Falun Gong, prison officials denied my monthly phone call with my family. When my loved ones traveled to the prison to see me, our meeting time was cut short from the standard 30 minutes to 10 minutes.
Intensive Physical Activity
During my two years at the detention center, the guards allowed me to meditate and recite Falun Gong books, as they were eager to see me get better and be admitted by the prison. As a result, I was able to regain limited mobility in my arms.
However, once I was sent to the prison, things went downhill: the guards claimed that intensive physical activity would aid in my recovery, so they forced me to do hard labor. They also limited the amount of assistance I could receive from other people with my daily activities.
Disabled, Elderly Inmates Not Exempt from Forced Labor
Even though I could barely take care of myself, I was forced to do manual labor. Since I couldn't handle the regular workload given to a typical inmate, the guards ordered me to sweep the workshop floor during and after work hours. Since my arms could not move much, my hands had to hold the broom stick with my elbows against my waist, and I moved my body to move the broom. I worked slowly, and my arms had to bear a lot of pain. I often had trouble falling asleep at night due to the pain in my upper body. Contrary to the guards' assertions, the condition of my arms worsened from the labor.
I was transferred to a different workshop in January 2008. Inmates there were given the heaviest workloads in the prison, which meant I had even more cleaning work to do.
After the prison moved to a new facility in the summer of 2009, I was transferred to a division for sick and elderly inmates. Despite our physical condition, we were still forced to sew toys. Even wheelchair-bound people had to sit there and finish their quotas. The schedule was very intense and did not have much break time. Because I could not eat quickly, I was often left hungry.
We were often forced to work overtime. I could not do much work, but still had to be there and follow the intense schedule. Unable to bear it any longer, one prisoner hanged herself in the middle of the night.
Bullying and Humiliation by Guards
The prison guards took advantage of my reliance on help for my daily living tasks to escalate the persecution against me.
In January 2008, Division Chief Li Xiaojuan forbade others to help me fill my water bottle. She even ordered a helper to dump out all the water already in my bottle and sneered, "Whoever needs hot water must go fill her bottle herself." Thus, I no longer had hot water to drink or wash myself with in the winter.
I began a hunger strike in protest. Two days later, she told me that I could pay others to help me. After that, I had to pay others to help me with my daily activities, including changing clothes, getting meals, cleaning, and making my bed. Every day, I had to worry about whether others would be willing to help me.
In the summer of 2009, only one inmate was allowed to help me, and only for limited hours. Because the prison forbade anyone from having meals in their cells and I could not eat out of a bowl, I was unable to eat anything at the cafeteria and had to buy easier-to-eat snacks and fruits to eat during breaks.
Later, the rules were tightened, and I was not allowed even to store food in my cell. When I was about to starve, I found a flat plate to hold the food, and I ate by lowering my head and moving my mouth across the plate on the table. I didn't care that I was eating like a dog in front of several hundred inmates. I just wanted to survive so that one day I could go home.
Exposing the Persecution
Since March 2004, I have been taking actions to disclose the crimes committed by police in torturing and disabling me.
It was very difficult for me to write. I had to use both hands to hold the pen tight and press hard before I could produce any Chinese characters on paper. I stopped often to catch my breath. Many of my unfinished letters were taken away by the guards. Nevertheless, I did finish many letters and sent them to various government agencies, from the district procuratorate all the way to the People's Congress and The Supreme People's Procuratorate. I did not hear back from anyone.
My family reported my case to many government agencies but also received no response, until March 2008, when my husband was notified that the Dadukou District Procuratorate would investigate my case. However, when they visited me in prison in late 2008, they told me there was not enough evidence to show I was ever injured in the first place.
In October 2010, prison officials took me to a hospital to evaluate my injuries. The final report listed hospitals I had never visited, but omitted the ones that revealed my severe injuries. The official report concluded that I faked my disability and had been deceiving people over the years.
Miraculous Recovery
I walked out from the prison gates on December 20, 2011.
At that point, I was unable to do simple things with my disabled arms. My family sent me to different hospitals for rehabilitation, all to no avail. I told my family that only Falun Gong could save me. Since they witnessed the disappearance of my chronic illnesses after I started practicing Falun Gong eighteen years ago, they agreed to support my practice.
At the beginning, I could not do any of the exercise movements and just moved my arms lightly with the music and thought of the movements in my mind. With that, my condition improved every day. By the next year, I was able to take care of myself. Now, I can even take care of my mother, who is in her eighties. Thanks to Falun Gong, I was able to make a miraculous recovery.
Related Reports:Ms. Liu Fanqin Tortured and Disabled for Making Public the Rape of Ms. Wei XingyanMs. Liu Fanqin Imprisoned Six Years for Exposing Policeman Who Raped a Female Student