Two Ningxia Province Practitioners Remain Illegally Detained
June 13, 2014 | By a Minghui correspondent from Ningxia Province, China
(Minghui.org) Two months after their April 3 trial, in which, the court concluded without an official sentence, two Falun Gong practitioners are still detained indefinitely in Ningxia Province. Meanwhile, their families are denied visits to the detention facility.
This pattern of arbitrary detention is common across China, where the Communist regime brutally persecutes Falun Gong practitioners.
The two practitioners, Ding Fadong and You Haijun, were arrested after a squad of Domestic Security personnel and police officers broke into Mr. You's home on September 15, 2013. Mr. You held a hunger strike in protest of his unlawful arrest and detention. Three days later, the head of the Zhongning Domestic Security Division Liu Yong interrogated Mr. Ding.
Unable to obtain sufficient evidence to bring the practitioners to trial, the interrogating officers resorted to using intimidation tactics: Liu led a team of officers to Mr. You's daughter's elementary school, where their threats caused so much fear that it took the girl more than three months to recover.
Local domestic security chief Liu finally resorted to fabricating evidence and forging Mr. Ding's signature before submitting the case to the Zhongning Procuratorate. However, the case was rejected twice due to lack of evidence.
Liu and his deputy, Wang Jincheng, continued to fabricate more records until the Procuratorate accepted and brought the case to trial. Ding and You's defense attorney entered a "not guilty" plea, arguing that practicing Falun Gong is legal under Chinese law, while the methods of persecution used by the state were unlawful. During his defense, the attorney was interrupted frequently by the prosecutor and the presiding Judge Zhang Minpeng, who warned him against mentioning "sensitive words."
Ding Fadong, 52, is an award-winning music teacher and had previously been sentenced to forced labor camps four times for refusing to comply with the Communist authorities' demands to give up his belief.
In one of the labor camps, Ding was beaten and forced to sit on a "tiger bench," a form of torture in which the victim's legs are tied down using belts while bricks or other hard objects are added under the victim's feet until the belts break (see illustration below). In May 2013, Ding was released from the labor camp after enduring eight years of such brutality.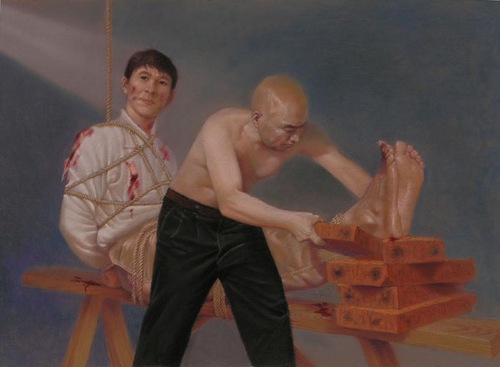 Torture illustration: Tiger Bench
Units and individuals who participated in this case of persecution:
Zhongning Police DepartmentWang Jincheng (王金成), deputy director, +86-13629532999(Cell)Liu Yong (刘勇), team leader of domestic security division, +86-13629553868(Cell)Tian Xingguang (田兴光), superintendent in the detention center, +86-13739584666(Cell), +86-955-5024519, +86-955-5790101x801
Zhongning CourtYong Zhenhai (雍振海), director, +86-955-7074666, +86-15609558899(Cell)Zhang Minpeng (张民鹏), presiding judge, +86-955-7074616, +86-18909551895(Cell)Pan Rujun (潘如军), vice presiding judge, mainly in charge of this case, +86-955-7074617, +86-18909558867(Cell)
Zhongning ProcuratorateSun Fengling (孙凤玲), procurator, +86-13739503999(Cell)Huang Yingying (黄莹莹), prosecutor, +86-13723346332(Cell)