U.S. State Department Joins International Support for Rights Lawyers Detained in Heilongjiang Province
April 04, 2014 | By a Minghui correspondent in Washington, DC
(Minghui.org) The U.S. Department of State joined international human rights organizations and lawyer groups in supporting the Chinese lawyers currently held and tortured at the Qixing Detention Center in Heilongjiang Province. They were arrested for representing Falun Gong practitioners detained at the Qinglongshan Brainwashing Center, officially known as the "Jiansanjiang Farm Legal Education Center."
The State Department said in an April 3 email statement: "This appears to be part of a disturbing pattern of arrests and detentions of public interest lawyers, Internet activists, journalists, religious leaders and others who peacefully challenge official Chinese policies and actions. We call on Chinese authorities to guarantee all Chinese citizens the protections and freedoms to which they are entitled under China's international human rights commitments, including the freedom of expression."
The four lawyers, Mr. Jiang Tianyong (江天勇), Zhang Junjie (张俊杰), Wang Cheng (王成) and Tang Jitian (唐吉田) were arrested on March 21 when investigating the Qinglongshan Brainwashing Center and providing legal counsel to families of Falun Gong practitioners who are currently detained there.
Hong Kong Rights Groups Protest Outside LOCPG
On April 2, China Rights Lawyers Concern Group, Hong Kong Alliance in Support of Patriotic Democratic Movements in China and Justice Peace Commission of the Hong Kong Catholic Diocese protested outside the Liaison Office of the Central People's Government (LOCPG) and called for closing down the Jiansanjiang Brainwashing Center and the immediate release of the three rights lawyers still in detention.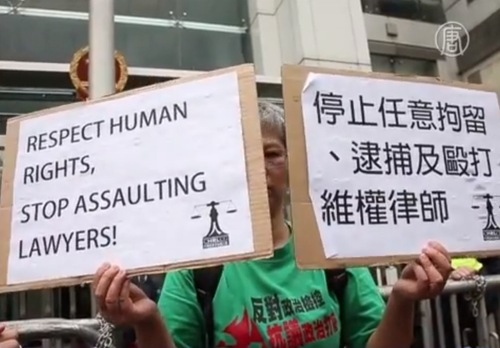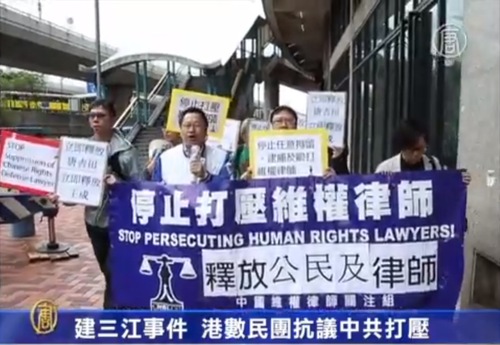 Protest by rights groups in Hong Kong outside the Liaison Office of the Central People's Government on April 2. (Screenshots of New Tang Dynasty Television news)
Amnesty International Expresses Concern
Amnesty International (AI) issued a public statement on March 28 to express its concern about "the safety of the three lawyers who remain in detention and that they too may have been tortured."
AI also points out its concern that the Chinese regime is increasingly using other forms of arbitrary detention such as "legal education centers" (better known as brainwashing centers) to hold people previously detained in labor camps, which were declared to have been shut down by the end of 2013.
Furthermore, the statement explains that "'legal education centers' are designed primarily as places where Falun Gong practitioners are coerced into renouncing their beliefs, often through torture and other ill-treatment."
German Jurist: Respect Chinese Colleagues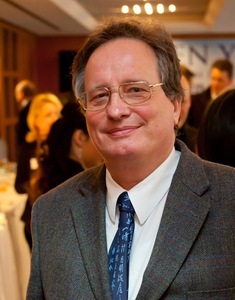 Dr. Thomas Weyrauch
Dr. Thomas Weyrauch, a German jurist in Frankfurt, admires the courage of his Chinese colleagues: "Please pass my respect to them. I'm concerned that they may be injured or their lives may be threatened. Their courage is very precious, as courageous people drive positive changes in society. This holds true with China as well."
Dr. Weyrauch has been following the human rights situation in China. According to him, the persecution of Falun Gong in China has no legal basis. It is a violation of international law and Chinese Constitution as well as Criminal Law.
Background
The four lawyers, Mr. Jiang Tianyong (江天勇), Zhang Junjie (张俊杰), Wang Cheng (王成) and Tang Jitian (唐吉田) were arrested on March 21, along with seven Falun Gong practitioners at the Green Tree Inn, where they met to discuss approaches to secure the release of those detained at the Qinglongshan Brainwashing Center.
At least three out of the seven Falun Gong practitioners are in critical condition. The four lawyers were beaten badly and injured in the process. Lawyer Zhang Junjie was released on March 27 and diagnosed as having three broken ribs.
Members of "Missing Citizens Rescue Group," a group formed by concerned Chinese citizens, protested with a hunger strike and candle light vigil outside the Qixing Detention Center on March 25. At about 3 a.m. on March 29, a total of 23 people, including three lawyers, were arrested and sent to the Qindeli Daxing Police Department for interrogations. The three lawyers have now left Jiansanjiang.
Photos of six out of the seven Falun Gong practitioners arrested on March 21, 2014: clockwise from upper left corner: Chen Dongmei (陈冬梅), Meng Fanli (孟繁荔), Wang Yanxin (王艳欣), Shi Mengwen (石孟文), Ding Huijun (丁惠君) and Wu Dongsheng (吴东升). The female practitioners are being detained at the Tongjiang City Detention Center. The male practitioner is being held at the Qixing Detention Center, the same facility where the four lawyers were detained.
Related articles:
Falun Gong Practitioners in Critical Condition, Lawyers Beaten, a City Under Siege
Mr. Shi Mengchang and Wife Not Released from Brainwashing Center Because the Family Hired a Lawyer
Practitioners and Attorneys File Complaints against Government Agencies for Dereliction of Duty
Chinese language:
http://www.minghui.org/mh/articles/2014/4/2/德国法学家-这些警察严重触犯了刑法-289464.html