Falun Gong Practitioners in Critical Condition, Lawyers Beaten, a City Under Siege
April 02, 2014 | By a Minghui correspondent in Heilongjiang Province
(Minghui.org) As a human rights campaign picks up steam in reaction to the arrest of four rights lawyers and seven Falun Gong practitioners on March 21, Jiansanjiang, Heilongjiang Province has been turned into a city under siege. Buses and private vehicles are being stopped and inspected at checkpoints, their passengers questioned. The Propaganda Department and State Internet Information Office have issued a ban on discussing this issue, according to Radio France Internationale (RFI).
Concerned lawyers and citizens formed a "Missing Citizens Rescue Group" and gathered on March 24 outside of the Qixing Detention Center, where the four lawyers and one male Falun Gong practitioner were detained, to demand their release.
After being denied the legal right to visit the detained lawyers, attorneys Mr. Li Jinxing (李金星) and Mr. Zhang Lei (张磊) went on a hunger strike on March 25 in protest.
The police rounded up everyone protesting and camping outside of the Qixing Detention Center at about 3 a.m. on March 29 . Lawyers Fu Yonggang (付永刚), Wang Quanzhang (王全璋), Wang Shengsheng (王胜生) and more than 10 others were sent to the Qindeli Daxing Police Department and interrogated from 8 to 11 a.m.
Lawyers Fu Yonggang, Wang Quanzhang, and Wang Shengsheng have now left Jiansanjiang.
At least three out of the seven Falun Gong practitioners are in critical condition. The four lawyers were beaten badly and injured in the process. Lawyer Zhang Junjie (张俊杰) was released on March 27 and diagnosed as having three broken ribs.
As of March 30, three practitioners Ms. Wu Dongsheng (吴东升), Ding Huijun (丁惠君) and Meng Fanli (孟繁荔) were undergoing urgent treatment in emergency rooms at the Tongjiang City Chinese Medical Hospital. Ms. Li Guifang (李桂芳), Wang Yanxin (王艳欣) and Chen Dongmei (陈冬梅) are currently detained at the Tongjiang Detention Center.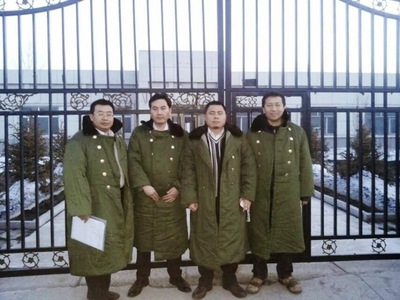 Left to right: Lawyer Jiang Tianyong (江天勇), Zhang Junjie (张俊杰), Wang Cheng (王成) and Tang Jitian (唐吉田)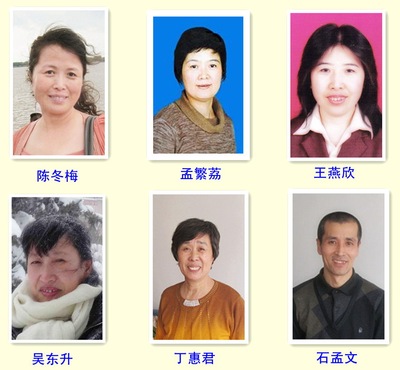 Photos of some Falun Gong practitioners arrested on March 21, 2014: clockwise from upper left corner: Chen Dongmei (陈冬梅), Meng Fanli (孟繁荔), Wang Yanxin (王艳欣), Shi Mengwen (石孟文), Ding Huijun (丁惠君) and Wu Dongsheng (吴东升). The female practitioners are being detained at the Tongjiang City Detention Center. The male practitioner is being held at the Qixing Detention Center, the same facility where the four lawyers were detained.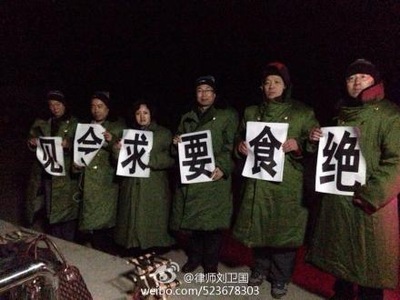 Members of the "Missing Citizen Rescue Group" outside of the Qixing Detention Center. The Chinese characters read, "Hunger Strike to Exercise Right to Visitation."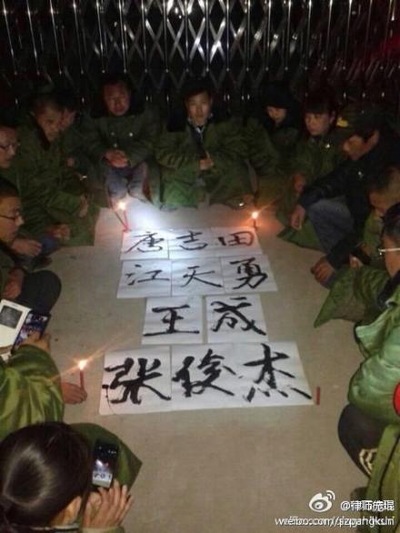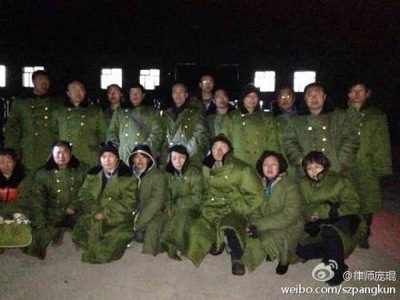 Group pictures of the "Missing Citizen Rescue Group"
The four human rights lawyers and seven practitioners were arrested one day after they visited the Qinglongshan Brainwashing Center, attempting to secure the release of Falun Gong practitioners who had been detained there for their beliefs.
The lawyers and practitioners were charged with "engaging in the activities of an evil cult to harm society." Two of the four lawyers, Mr. Jiang and Mr. Tang, were placed under administrative detention from March 22 – April 6. Mr. Zhang was held for five days.
Worldwide Support from Legal Professionals
The Falun Gong Human Rights Lawyers Group issued a statement on April 1, demanding that Xi Jinping, head of the Chinese Communist Party (CCP), investigate responsible parties at the Political and Legal Affairs Committee (PLAC) and 610 Office of Heilongjiang Province.
According to Theresa Chu, a spokesperson for the Group, they have reported the case to the European Union, European Parliament, the U.S. State Department and other lawyers groups in Asia.
This is a case where the local 610 Office continues to use the PLAC system to abuse the rights of lawyers who defend Falun Gong practitioners, after head of 610 Office Li Dongsheng has been under investigation. The group is demanding an explanation from the CCP authorities and termination of the person in charge.
The Chinese Human Rights Lawyers Group issued a statement on March 21 demanding the immediate release of the eleven detained individuals: "We believe that the actions on the part of the local authorities at Qixing Farm under the Jiansanjiang Bureau of Management of Heilongjiang amount to a blatant attack and reprisal against lawyers carrying out their professional duties in representing plaintiffs in accordance with the law. These actions are undisguised persecution, serious abuse of power and violation of the law, and rule of law disasters that severely trample upon human rights."
The statement was co-signed by over 60 Chinese lawyers from various areas including Beijing, Shanghai, Tianjin, and Sichuan, Henan, Hebei, Guangdong, Shandong, and Yunnan Provinces.
On March 28, 2014, Ms. Vani Selvarajah, representative of Lawyers' Rights Watch Canada, condemned the CCP's violations of the rights of lawyers who defend Falun Gong practitioners, at the United Nations Human Rights Council meetings.
Human Rights in China has also called for international attention on this issue.
Chinese version at: http://www.minghui.org/mh/articles/2014/4/1/建三江恶警拘打律师-法轮功学员被迫害命危-289416.html