Hiroshima, Japan: "I Believe I Have a Predestined Relationship with You, So I Will Go to the Exercise Site"
(Minghui.org) On December 13 and 14, local Falun Gong practitioners in Hiroshima, Japan, participated in a community event to enhance communication between citizens and organizations and to help the organizations advertise what they offer.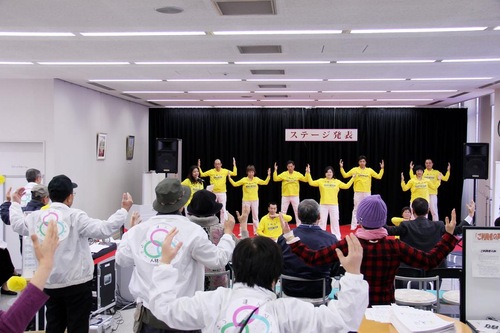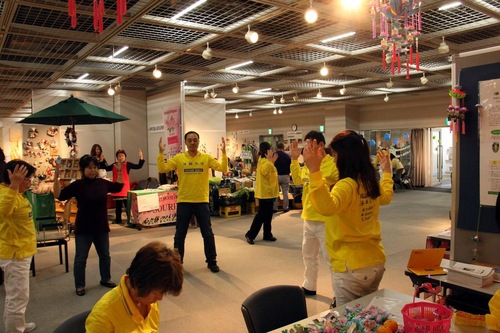 Teaching the exercises at the event
The organizers encouraged the participants to visit each booth at the event. Practitioners talked about the Falun Gong teachings and the exercises to every visitor. They also offered contact information for local exercise sites and gave out hand-made paper lotus flowers as gifts. When they demonstrated the exercises, many visitors and presenters at other booths followed along.
A Japanese lady fluent in Chinese talked to the practitioners for a long time. When she opened the first page of Zhuan Falun, the main book of Falun Gong, she exclaimed, "Ah, this is a Buddha teaching. I've been confused recently. I think I should sit down and read this book."
She asked for practitioners' contact information and left hers. "I believe that I have a predestined relationship with you. I will go to your exercise site."
A representative from a research institute that focuses on the relationship between agriculture, food, and medicine told practitioners that the institute would hold a large scale forum with several experts giving talks. He invited practitioners to come speak on the benefits of Falun Gong. "The audience will be very happy to hear from practitioners their firsthand experiences with Falun Gong," he said.