Elementary Teacher in Critical Condition after 3-Month Hunger Strike
November 17, 2014 | By a Minghui correspondent from Inner Mongolia, China
(Minghui.org) Falun Gong practitioner Ms. Wang Ying (王颖) is in critical condition after a three-month hunger strike following her illegal arrest in July.
Her internal organs have begun showing signs of failure, her muscles have atrophied, and she cannot walk. At this point, she is also incontinent.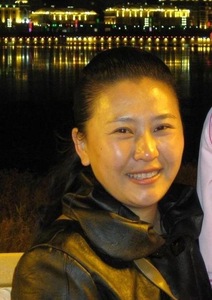 Ms. Wang Ying
Despite her severe health issues, staff from the detention center have continued to force-feed Ms. Wang. Blood gushed from her nose when they pulled the feeding tube out from her stomach. As a result, they changed from forced-feeding her through the nose to injections with liquid food.
Ms. Wang was arrested on July 26, 2014, when she was visiting a friend. Shortly after she was taken to the detention center, more than 10 guards and inmates beat her. Her head was swollen, her teeth were loose, and her face was disfigured. She began a hunger strike in protest.
For 57 days, the guards kept Ms. Wang handcuffed while her feet were shackled to a metal post. She could only sit up and was unable to lie down—even to sleep. Her joints and muscle were severely injured. Meanwhile, staff from the detention center force-fed her every day.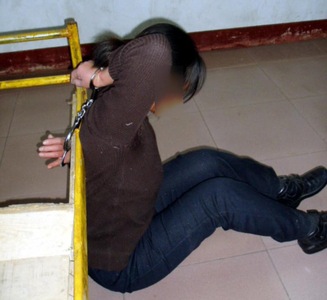 Torture re-enactment: Handcuffed with the arms behind the back
The Ke District Court held a trial against Ms. Wang at the detention center on October 31. Ms. Wang was carried into the room by two bailiffs since she was too weak to walk on her own.
Witnessed 15 Years of Persecution
Almost half of the 40-year-old Ms. Wang's life has been shadowed by the persecution of Falun Gong, which was launched 15 years ago. In addition to losing her job as an elementary school teacher, she has been arrested seven times and was sentenced to three years in prison.
Ms. Wang was arrested for making banners about Falun Gong on May 15, 2001. At the detention center she was shackled to a bed for 15 days, with each of her limbs stretched apart, until she lost consciousness.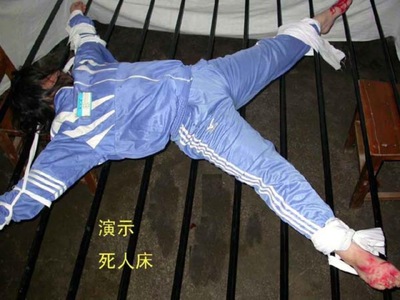 Torture re-enactment: Shackled to a bed with the four limbs stretched out
Later, when guards found her doing the Falun Gong exercises, they tied Ms. Wang's hands and feet together for a week. She was in tremendous pain the whole time.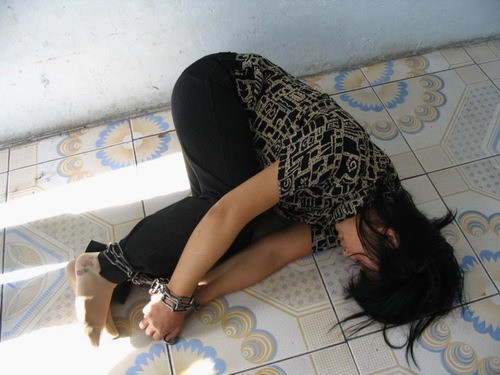 Torture re-enactment: Hands and feet shackled together
Ms. Wang was sentenced to a three-year term in September 2001. When she refused to do forced labor, the guards shocked her with electric batons. They also beat her, pinched her nipples and stomped on her head and chest. She eventually lost her hearing. Ms. Wang experienced swelling and bleeding in her brain, and she developed heart problems. At that point, she was on the verge of death.
After Ms. Wang was released in January 2002, the police continued to harass her. She was arrested two more times, once in 2002 and again in 2004.
Related articles:Teacher and Two Power Plant Workers Tried in Detention Center for Practicing Falun GongElementary Schoolteacher on Hunger Strike for Two Months to Protest Illegal Arrest
Parties Responsible for the persecution of Ms.Wang:
Li Hailiang (李海亮), judge: +86-475-8237734The Tongliao Detention Center: +86-475-8610965