Dutch Police: "We Want to Learn to Practice Falun Gong, Too!" (Photos)
October 09, 2014 | By a practitioner in the Netherlands
(Minghui.org) Two Dutch police officers decided to learn Falun Gong after watching practitioners at an event at Dam Square, a renowned tourist destination in the heart of Amsterdam.
The officers were on duty nearby and observed the event for a long time before they finally walked up to learn about Falun Gong.
A practitioner told them about the tenets of the practice, Truthfulness-Compassion-Forbearance, and the tremendous benefits the practice brings to physical and mental well-being. The officers exclaimed, "We want to learn to practice Falun Gong, too!"
They said that they would go back and ask how many of their colleagues wanted to learn, and they would invite practitioners to come and teach them.
Falun Gong practitioners often come to the square to tell tourists from around the world about Falun Gong, an ancient Chinese traditional cultivation practice, and raise awareness about the persecution of the practice in China.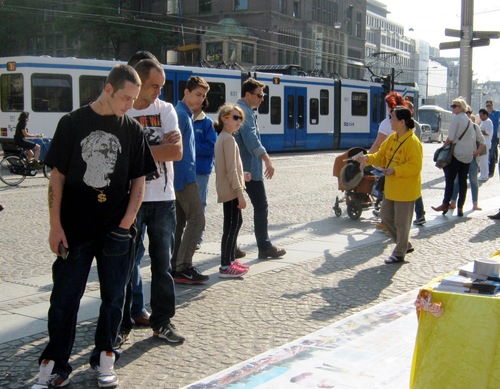 People attentively read the posters to learn about Falun Gong and the persecution in China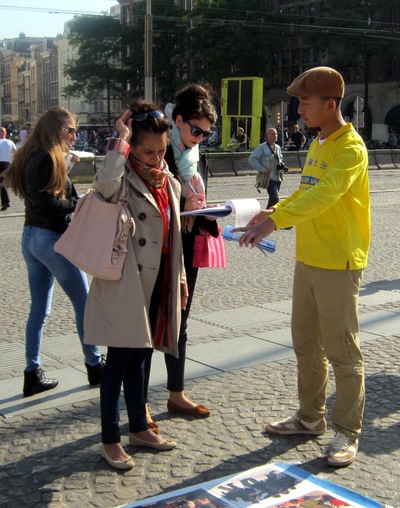 Many tourists stopped by on this particular day, October 4, and attentively read the display boards about the popularity of Falun Gong around the world, the health benefits many have experienced, and the brutal persecution in China.
People were shocked to learn about state-sanctioned organ harvesting from living Falun Gong practitioners, and signed a petition calling for an end to the atrocities.
More than a dozen Chinese tourists accepted the informational materials from practitioners, and several said that they had renounced their memberships in the Party, hoping it would bring them a better future.