Health and Hope Return to a Life of Darkness (Photos)
October 08, 2014 | By Minghui correspondent Xia Yun
(Minghui.org) Ms. Cai was diagnosed in 1998 with severe systemic lupus erythematosus (SLE or lupus). She was 57 at the time, and none of the medical interventions could slow the progression of the accompanying osteoporosis. She eventually had to wear a back brace.
Ms. Cai was soon wheelchair-bound. The doctors told her that she would never be able to walk again and she thought, "My life is now one of complete darkness."
She spent substantial amounts on medical bills, yet her physical condition deteriorated until she could no longer take care of herself. This illness affected her emotionally to the point where she considered ending her life.
However, her life turned around after she began to practice Falun Dafa, and she is now healthy, without any trace of the lupus that had left her disabled and wheelchair-bound. Her doctors, family, and friends say that her complete recovery is "nothing short of a miracle."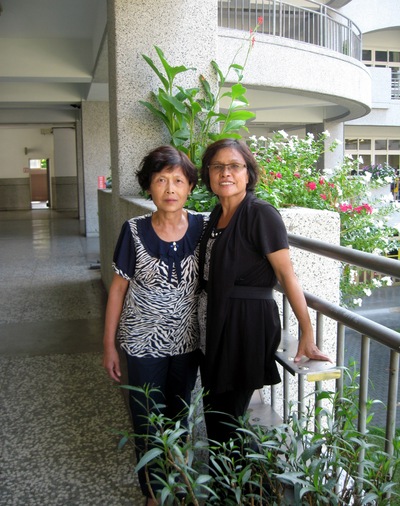 Ms. Cai Ming (left) and her former caregiver, Ms. Lai.
Afflicted with a Terminal Disease for Five Years
Ms. Cai was diagnosed with lupus in 2008, at the age of 57, an uncommon age for such a diagnosis. When she first learned of her diagnosis, she was optimistic that she could conquer the disease and started on aggressive treatments.
Her doctor informed her that lupus affects multiple organs, and steroids were the main option for her treatment.
Her health continued to deteriorate, as her kidneys started failing and her body began to swell. She was informed by her doctor that she was on the verge of requiring dialysis. As the disease progressed, she came down with different illnesses, such that she had to take an inordinate amount of medication.
Learning Falun Gong
In desperation Ms. Cai thought of consulting a diviner, and asked Ms. Lai if she could recommend one.
But when Ms. Lai asked her husband if he knew of any diviners, he replied, "What's the point in seeing a diviner? She hasn't even tried reading Zhuan Falun, the main book of Falun Dafa."
Ms. Lai and her husband Mr. Lin are Falun Dafa practitioners. When Mr. Lin first heard of Ms. Cai's situation, he had visited her a number of times and encouraged her to learn the practice, but she had shown no interest. But when he tried again, she decided to give the practice a try.
She attended the first session of the nine-day Falun Dafa classes on September 1, 2013. By the fourth day, Ms. Lai noticed that Ms. Cai's could move her facial muscles again.
After completing the nine-day classes, she immediately started going to the group exercise site to do the exercises. She said that doing the first to the fourth exercise always felt "very comfortable, and as such I really enjoyed doing the exercises".
The first change she noticed after doing the exercises for five days was that her bladder and bowel functioned normally again.
She gradually stopped taking the medications and going for consultations, as she realized that she no longer needed them.
After practicing Falun Dafa for about seven months, Ms. Cai no longer needed a wheelchair or other mobility assistance devices. She could get around independently and could climb multiple flights of stairs.
Her neighbors, family and others saw her changes and asked her what happened. She said, "I've been practicing Falun Dafa!"
Her driver said to Ms. Lai, "Ms. Cai must really be grateful to you for taking care of her so well." Ms. Lai replied, "She should not be thanking me, but rather our Teacher." She explained that Ms. Cai recovered after practicing Falun Dafa, and the driver became interested in practicing Falun Dafa.
Ms. Cai knows that Falun Dafa turned her bleak life around and injected hope and color into her life again.
She said, "I am grateful to Teacher Li, for bringing me up from Hell and giving me a second life."