San Francisco: Two Falun Dafa Marches Have a Broad Reach
October 21, 2014 | By Mu Wenqing and Shu Jing
(Minghui.org) As Falun Dafa practitioners from around the world came together for a conference in San Francisco last week, a series of public events provided the people of the city with a firsthand look at the practice and the persecution in China.
A march of more than two thousand practitioners on October 15 lasted for two hours. Starting at Sue Bierman Park, the march traveled through the financial district, business centers, and various shopping areas. A separate march on the same the day covered Japantown and the Chinese consulate.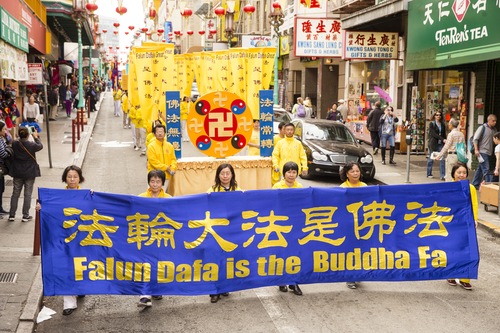 Practitioners held two marches on October 15, 2014.
Financial Firm Employee: "You [Practitioners] Are Fabulous!"
A woman who works for a bank on Market Street was watching the parade during her lunch break. "I saw another Falun Dafa march this morning on the way to work. It is amazing that you [practitioners] held two marches in one day!"
She was appalled by the persecution, especially forced organ harvesting from living Falun Dafa practitioners. "It must stop—you have my support." As she continued to take in the sea of Falun Dafa banners and displays, the woman said, "You [practitioners] are fabulous!"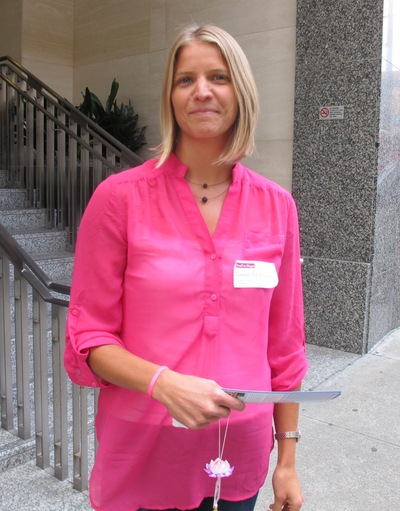 A bank employee happened to encounter both Falun Dafa marches and was impressed.
Another person watching the parade said he had heard about organ harvesting from Falun Dafa practitioners from CNN reports. Noticing the banners and posters describing the issue, he said, "This [live organ harvesting] is horrible. We should not allow it to continue. I'm glad you have brought this important matter to the public. You are doing the right thing and I support you."
Starting the Practice While Flying Over the Pacific Ocean
Ms. Tang and Ms. Ren, mother and daughter, had lived in Chinatown for over ten years. "This is first time we have participated in such events. It was a great experience and I am deeply touched by the banners, posters, pictures, and everything," said Ms. Ren.
Ms. Ren had a unique story of how she learned Falun Dafa, "I went back to China last April. A friend of my father is a Falun Dafa practitioner, and he explained to us what Falun Dafa was. I thought I already knew about qigong and did not pay much attention at first. But he then told us about the principles of Falun Dafa, and it sounded interesting to me."
Ms. Ren downloaded the book Zhuan Falun while waiting for a connecting flight in South Korea, and immediately began reading it. "I finished reading the book right when the flight arrived in San Francisco. So, I began my Falun Dafa practice while flying over the Pacific Ocean." Her mother learned the practice from her a month later.
Working in the financial district herself, Ms. Ren considered this a great outreach opportunity to connect with the community. "Even if I were not a practitioner, seeing such a large-scale march and parade would catch my attention. The impact is much bigger than a few practitioners distributing pamphlets on the street."
Ms. Tang added, "The Chinese Communist Party (CCP) had made up many lies to defame Falun Dafa, such as the staged self-immolation on Tiananmen Square. But if one reads Zhuan Falun or other Falun Dafa teachings, it is very easy to see that the CCP's propaganda consists of nothing but lies."
Warm Responses from Residents and Tourists
"The march was peaceful and many people stopped to watch. They seemed to enjoy it," said Peter Ebertz, a practitioner from Sweden. Holding a banner with the words "Falun Dafa in Sweden" in Swedish, Ebertz was glad to encounter several Swedish tourists watching the march. He said many Chinese also gave thumbs-up and praised the march, calling out, "Falun Dafa is good," a phrase often used to protest the CCP's slander of the meditation.
New York practitioner Suman Srinivasan said he often participated in Falun Dafa events. "The CCP has harmed so many people and undermines traditional values." He was happy to see many Chinese take an upright stance by renouncing the CCP. "I saw many drivers roll down their windows to give us thumbs-up or ask for more information."
Another practitioner, Ms. Xu, who played in the Divine Land Marching Band, said she felt fortunate to participate in this event. "I was very touched by the Falun Dafa music and the atmosphere." She said she hoped the event would reach many predestined people and provide them the opportunity to benefit from Falun Dafa.