San Francisco: Office Workers Impressed by Falun Gong March (Photos)
October 17, 2014 | By a Minghui correspondent
(Minghui.org) On Wednesday, Falun Gong practitioners from all over the world held two marches in San Francisco to raise awareness of the brutal persecution in China. One march took place in the Civic Center area, while another started at Sue Bierman Park and passed by tourists areas, business districts, downtown shopping areas, and Chinatown.
As the marches were held on a weekday, many office workers were able to see Falun Gong's large-scale public display for the first time. Many took the opportunity to express their support for the group's peaceful resistance against the persecution in China.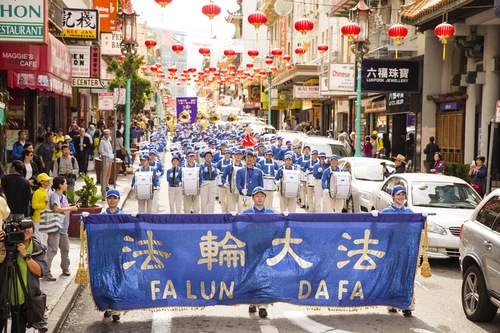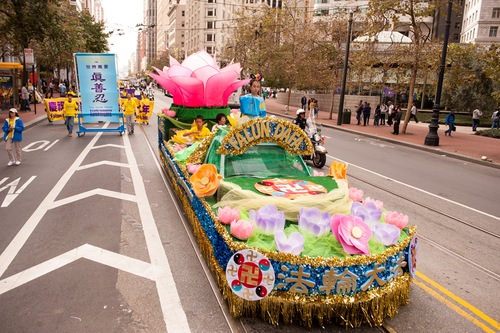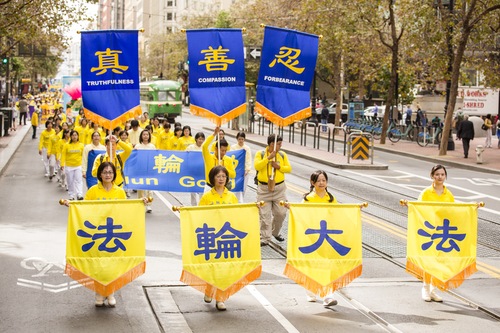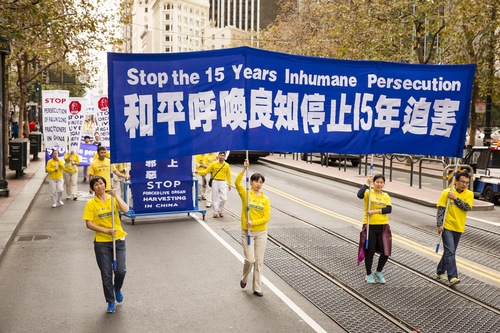 The Falun Gong march in downtown San Francisco
Brian Smith from Wells Fargo watched the march during lunch. He said that the world needs more peace and care. "This is a very nice and peaceful group," said Brian, "I learned more about what is going on in China from this march."
Pointing at a flyer practitioners were distributing, he expressed interest in learning more about Falun Gong and in doing something to help. A practitioner gave him a handmade paper lotus flower. "I will give it to my wife," he said emotionally.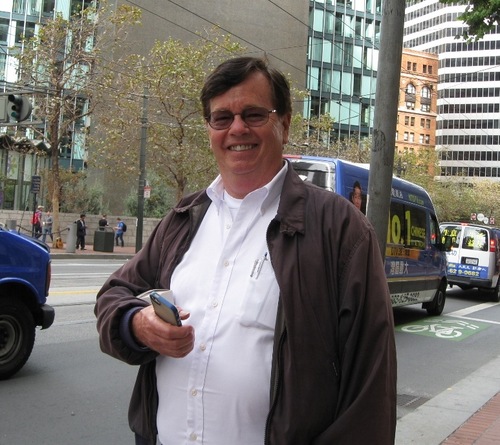 Government employee: the march "brings energy to this town and hope to the world"
A government employee, who declined to reveal his name, recorded a video of the entire procession. "It is a beautiful presentation today. I love it," he said, "I hope the whole world would follow the principle of Truthfulness-Compassion-Forbearance."
He took out several flyers he collected during the march and said that he wanted to know more about Falun Gong. "It is amazing that Falun Gong spread to more than 100 countries. I'll give the video to my wife as a gift. She was born in China and came here when she was five," the man said.
He mentioned that he is familiar with the Chinese regime's persecution of and harvesting organs from Falun Gong practitioners. He believes that the international community should take actions to stop the brutality: "The persecution is intolerable. Any person who has a conscience should stand up against it. The society should have some universal values, which are good for everybody."
Before going back to work, the man remarked that the march "brings energy to this town and hope to the world."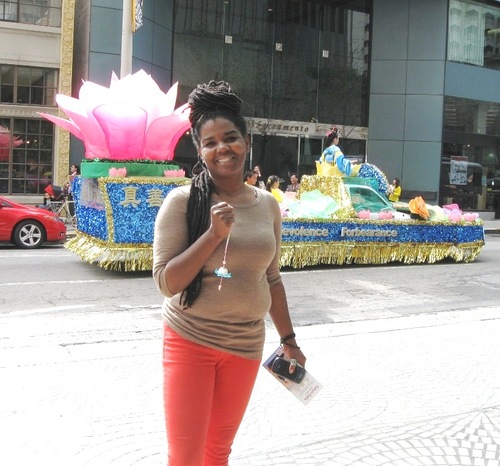 Susie plans to share pictures of the march on Facebook.
Susie, another government employee, talked to a practitioner while watching the march. She said that she learned a lot about Falun Gong and the persecution, which she had never heard about before.
"They've done great. The common belief makes them stand together against the persecution. Fifteen years! I cannot imagine what a difficult journey it has been. But they persist and spread the beauty around the world. I am really happy for them. I will also pray for them," said an emotional Susie.
She took many photos of the march and says she will post them on Facebook so that more people will learn about the peaceful resistance.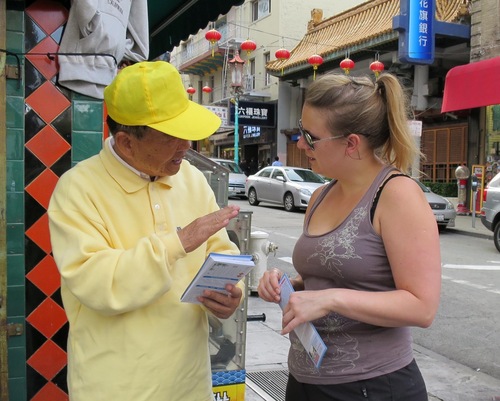 Practitioners talk to office workers about Falun Gong.
Flomi Dica had heard about Falun Gong but never saw it when he traveled in China. "It's great that the march lets us see the real Falun Gong," he said, contrasting the march with the repression and censorship in China.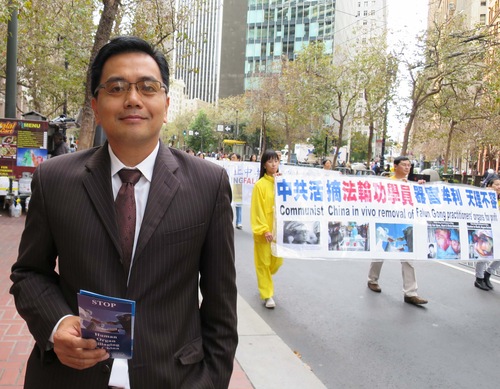 Flomi Dica was horrified after learning of forced organ harvesting in China.
When he learned that the Chinese government harvests organs from live practitioners for profit, he was shocked. He said the march was a great way to inform the public of these facts.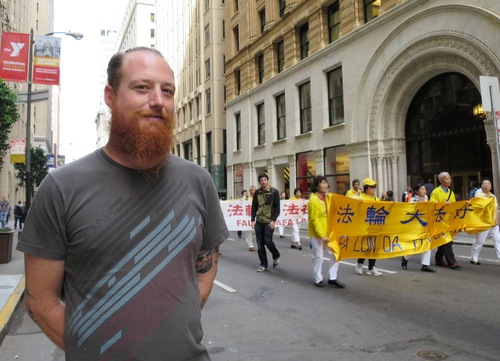 Jason Shenheig supports Truthfulness-Compassion-Forbearance.
Jason Shenheig, who works at a coffee shop, loves the Divine Land Marching Band's performance. "I never heard about Falun Gong before, and I'm glad to see the march today," he said.
"The principle of Truthfulness-Compassion-Forbearance is very good. The society will have peace if everybody follows this principle. I believe that it will solve all the problems we have. People will be more tolerant. I am glad that so many people came out today to share this principle with us."
Learning of the organ harvesting atrocities in China, Jason said, "It is horrible. China has become a very important country in the world, but the international community does not know about China well. Maybe a government would allow such a terrible thing to happen, but people would not. It is important to let people know about it. Although we may not able to fix the world problems directly, we can push our government and country to make efforts for world peace."