2014 South Korean Falun Dafa Cultivation Experience Sharing Conference Held in Chungcheongbuk-do
October 17, 2014 | By a practitioner in South Korea
(Minghui.org) The 2014 South Korean Falun Dafa Cultivation Experience Sharing Conference was held in Youth Town, Chungcheongbuk-do (a province in the center of South Korea) on October 12, 2014. Attending the annual event were more than 1,000 practitioners, including a former Buddhist monk and a man who quit 20 years of drinking and smoking shortly after beginning his practice of Falun Dafa.
Several speakers shared how Falun Dafa transformed their lives, and how they urged people to sever ties with the Chinese Communist Party that is persecuting this self-cultivation practice centering on the principle of Truthfulness-Compassion-Forbearance.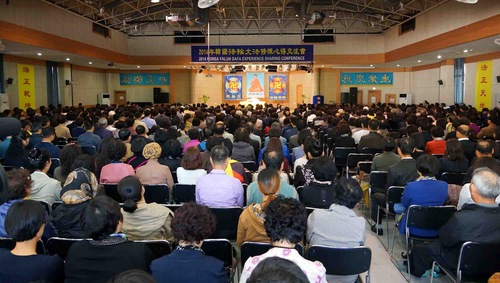 2014 Korea Falun Dafa Experience Sharing Conference Held in Youth Town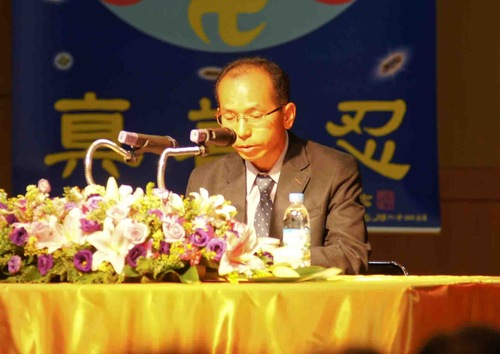 Practitioner sharing experiences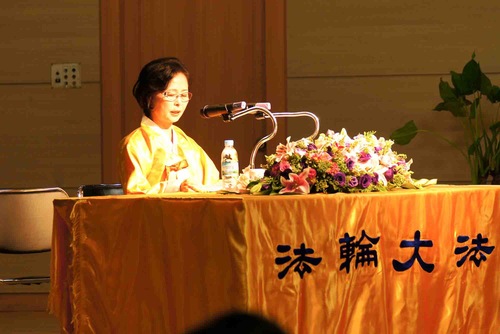 Practitioner sharing experiences
Brain Tumor Patient Regains Health
Ms. Han told the audience about her older sister's miraculous recovery from a most severe form of brain tumor.
The older Ms. Han had most of her brain removed in October 2002, but there were still some cancerous cells left due to the size of her tumor. She was given at most three years to live, but somehow she managed to survive to the day she found Falun Dafa in 2009.
In the younger Ms. Han's eyes, her sister was just "a walking dead in the first seven years of her brain surgery. She had numerous complications and often twitched uncontrollably. Her teeth also turned black."
The older Ms. Han's life came to a turning point when their mother received a flyer about Falun Dafa in July 2009. The older sister had no strength to remain standing at the beginning, but she gradually improved. In just one month, her black teeth turned white, and she no longer complained about her health that much. She even took the bus herself for the first time in years to the exercise site.
Little by little the older Ms. Han weaned herself off the numerous medicines she took and began to gain weight.
When the younger Ms. Han told the doctor about her sister's recovery, he was stunned and just couldn't comprehend how Falun Dafa had turned an impossibility into reality.
Except for some slurred speech and slow reactions, the older Ms. Han is completely healthy. She can take the bus herself to various places to hand out information about Falun Dafa. One person said to her, "I see hope from you. Your recovery is all because of the miraculous power of Falun Dafa."
Telling Chinese Visitors about Falun Dafa at Jeju International Airport
Mr. Li became a regular at Jeju International Airport after noticing some Chinese visitors reading literature exposing the persecution of Falun Dafa with great attentiveness.
Upon learning of why Mr. Li was passing out Falun Dafa materials, one airport employee gave Mr. Li some pointers on where to find the most Chinese in the airport.
The Chinese Consulate, however, wasn't happy with Mr. Li's efforts at the airport. They threatened to ban Chinese citizens from visiting Jeju Island if the airport didn't take action to remove Mr. Li.
When confronted by an airport manager, Ms. Li reasoned calmly, "When I started handing out Falun Dafa materials here, there were not even 100,000 Chinese visitors. Now you get more than ten times the Chinese tourists, many of them wanting to get information from me. Don't you think I've helped the airport attract all these Chinese people?"
The manager left without saying anything more.
Young Men and Women Quit the CCP in Droves
Ms. Gao immigrated to South Korea from China. She told a story of how she got a group of more than 70 young people to quit the CCP and its affiliated organizations.
She said to them, "You're all in your 20s. You're young and good looking. I assume you must have a kind heart as well. Don't think of the CCP as representing China. The whole world has been appalled and sickened by the CCP's live organ harvesting of Falun Dafa practitioners. Don't associate yourself with the CCP. Be a Chinese with dignity and identify with the principle of Truthfulness-Compassion-Forbearance."
The group of young men and women gave her a round of applause, and every single person in the group quit the CCP organizations.
One bus driver was moved by Ms. Gao's sincerity and invited her to board his bus to talk to his tourists. After listening to her speech through a microphone, the busload of visitors couldn't wait to grab a copy of the Falun Dafa materials. A few people seemed hesitant at the beginning, but soon joined everyone in reading the materials.
Several tour guides who already knew about the persecution of Falun Dafa often greeted Ms. Gao by saying, "Falun Dafa is good! Long live Master Li!"
Some Chinese tourists had no worry at all in requesting Falun Dafa materials from Ms. Gao in front of other visitors. One person said loudly, "Master Li is the person I admire most. Long live Master Li. I support you!"