Young Practitioner: Falun Gong Is My Navigation System for Life (Photos)
October 15, 2014 | By Shu Jing, a Minghui correspondent from Houston
(Minghui.org) Life resembles a drifting boat. Facing the immense ocean, one may be sucked into a whirlpool or struck by rolling waves and get disoriented. If one has a navigation system, one can safely sail to shore.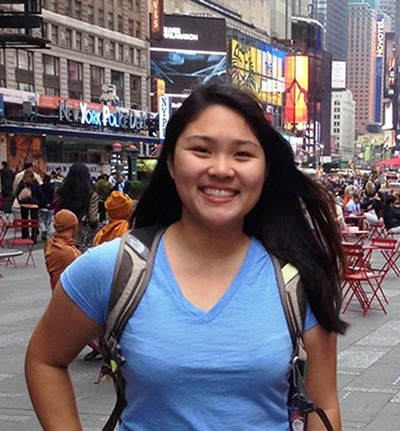 Tessa Li says she feels lucky to have found her spiritual path early in life.
Tessa Li is a happy young woman. With Falun Gong cultivation practice (also known as Falun Dafa), she feels lucky to have found a navigation system that will guide her to correctly choose from the many diverse roads in life the one true path that will take her safely home.
Tessa began practicing Falun Gong around 2002 when a Minghui School was started up in her neighborhood. The School is mainly for children of Falun Gong practitioners. Its mission is to open the children's portal of wisdom and to guide them to follow Truthfulness-Compassion-Forbearance so as to be kind, moral, and upright citizens.
Tessa was in third grade at the time. She began to attend Minghui School on weekends and Minghui camp in the summers. She learned the five sets of exercises and read Falun Gong's main text Zhuan Falun with the help of pin-yin, the Chinese phonetic system using the English alphabet to facilitate reading the Chinese words, which her father downloaded for her.
Two years of Minghui School gave her solid foundation for her cultivation. Though frail as a young child, she is now physically strong and full of confidence.
She accompanied her father to Falun Gong activities where she took part in several projects. For a time, she was a member of the Divine Land Marching Band, using her talents to demonstrate the beauty of Falun Dafa.
In April 2007, when Tessa was in seventh grade, her teacher noticed her ability and encouraged her to participate in the United States Achievement Academy contest. She won the English award.
As a Chinese, with English not being her mother tongue, this is a great achievement. Tessa felt practicing Falun Gong had given her wisdom.
At home, Tessa's younger brother used to be quite naughty, but she was able to not only overlook her brother's negative behaviors by practicing compassion and forbearance, but also help him learn Falun Gong teachings and the exercises.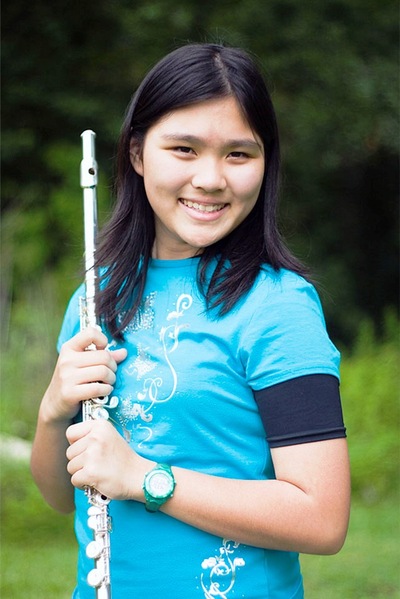 Tessa Li used to play the flute in the Divine Land Marching Band.
When Tessa started junior high school, she had already been reading Zhuan Falun, the main Falun Gong text, for four years. With some basic understanding of the guiding principles of Falun Gong, she was able to think of others first by following the tenets of Truthfulness, Compassion, and Forbearance.
In high school, there were frequent student activities, social gatherings, and celebration parties. Tessa knew that as a cultivator she should not drink, and steered clear of such things.
As Tessa grows older, she finds that her faith continues to provide a safe haven amidst the dangers and pitfalls of society.
"There are so many continuous natural and man-made disasters. After practicing Falun Gong, I have a sense of security. All the bad things in the world can do nothing to upset my heart of peace and tranquility," she said.
Now Tessa is a third year student in college. She has a lot of homework, yet she makes sure to balance well her academic learning and her cultivation practice. No matter how busy, she never neglects to read the Falun Gong lecture books or do the exercises. To her, integrating cultivation practice into her daily life is the most natural thing to do.
"I came to this world for Dafa," she said.
http://www.minghui.org/mh/articles/2014/9/24/心中有导航(图)-298118.html