Mr. Deng Hai Survives Five Years of Torture and Abuse in Prison
October 15, 2014 | By a Minghui correspondent from Sichuan Province, China
(Minghui.org) Mr. Deng Hai, 41, was illegally arrested on September 28, 2009 and sentenced to five years in prison for his belief in Falun Gong. He was repeatedly tortured and abused at Deyang Prison until his release on September 27, 2014.
Arrest
Mr. Deng was at a farmers market on the morning of September 28, 2009. Officers from the Qu County Domestic Security Division and personnel from the Qinglong County 610 Office arrested him there. Mr. Deng shouted: "Falun Dafa is good!" A policeman grabbed him by the neck and four other officers forcibly dragged him into a police vehicle.
Beaten and Tortured
Mr. Deng was taken to an office on the 6th floor of the Qinglong Town Hall. The officers surrounded him and beat him. They injured his shoulder and left him bleeding.
Yang Angui and Liu Yuejin from the domestic security division, accompanied by Tu Gaiwen and Deng Yunsheng from the 610 Office, ransacked Mr. Deng's home that afternoon. Mr. Deng was then transferred to the Qu County Detention Center. His arrest warrant was issued a month after his arrest.
Mr. Deng was sentenced to five years of imprisonment in 2010 and transferred to the No. 2 Division of Deyang Prison in Sichuan Province. Liu Yuanhang, the warden ordered other prisoners to beat him.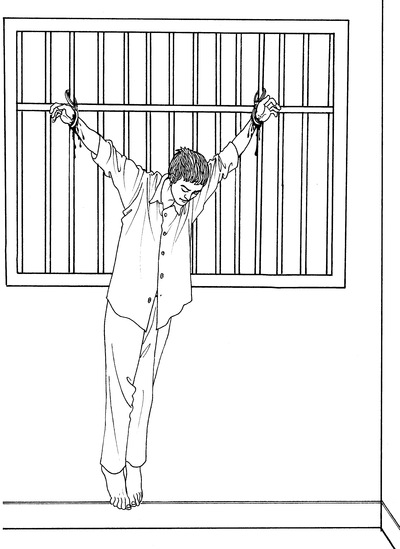 Torture reenactment: Handcuffed and hung up
Mr. Deng was transferred to the No. 5 Division in June 2011. Guards Wen Yuanchang, Yu Xiaolong and Zhang Jun demanded prisoners Fu Hong, Chen Hao and Mou Xiquan to beat, torture and berate him in a small cell. They ripped a bed sheet into strips and tied Mr. Deng to a window frame, which was about six feet from the ground. They gagged his mouth and they used a strip of cloth to hang a book from his genitals. They banged his head against the wall and slapped him. Mr. Deng was also deprived of sleep for long periods of time.