Mr. Zhang Weijie Tortured in Fanjiatai Prison in Hubei Province
January 27, 2014 | By a Minghui correspondent from Hubei Province, China
( Minghui.org )
Summary of Key Persecution Facts:
Name: Zhang Weijie (张伟杰)
Gender: Male
Age: 40s
Address: Wuhan City, Hubei Province
Occupation: Home business
Date of Most Recent Arrest: May 5, 2011
Most Recent Place of Detention: Fanjiatai Prison(范家台监狱)
City: Wuhan
Province: Hubei
Persecution Suffered: Detention, brutal beatings, stabbed with needles, cigarette burns, mustache burned, body hair pulled out, hand twisted with pliers, beaten with metal bars, whipped with a belt, mental torture, electric shock, drug administration, sleep deprivation, long-term standing, denial of restroom use, forced labor
Mr. Zhang Weijie from Wuhan City was savagely tortured in Fanjiatai Prison in Hubei Province for eight months. The guards didn't let him wear a warm jacket in freezing December weather and instigated six criminals to beat him repeatedly. Mr. Zhang also had to do slave labor 13 hours every day. He was denied family visits and the right to legal counsel. He was not allowed to talk, buy necessities, or contact family members.
Mr. Zhang's left eye was injured in a beating in October 2012 and he could barely see. His right eye was injured in March 2013. The person who beat him was publicly praised and rewarded with a reduced sentence.
While imprisoned, Mr. Zhang was constantly tortured: He was stabbed with needles, burned with cigarettes, and had his mustache burned. His body hair was pulled out, his hand was twisted with pliers, and he was beaten with a metal bars and whipped with a belt. He was shocked with high-voltage electric batons, given drugs (triazolam) against his will, deprived of sleep, and not allowed to use the restroom.
Collaborators He Debing and Guan Jian in the 3rd ward tortured Mr. Zhang from August 2012 to April 2013 with sleep deprivation, long-term standing, belt whipping, beatings, electric shocks, nerve damaging drugs, and bathing in cold water in winter.
Guards Li Yong and Pan Caihua in the 3rd ward were in charge of beating Mr. Zhang. In September, October, and November 2012, they beat Mr. Zhang with a belt and wooden rods until they broke. They also forced Mr. Zhang to wear jackets soaked in water on freezing winter days.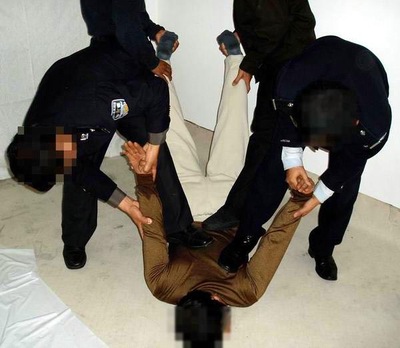 Torture reenactment: Vicious beating
Mr. Zhang used to be paralyzed but completely recovered after he practiced Falun Dafa in 1996. He worked in the Securities Department of Hainan Huayin International Trust & Investment Corporation in Wuhan before he started his own business. In the past 14 years of suppression, authorities unlawfully arrested Mr. Zhang ten times and put him in a forced labor camp twice.
Unidentified individuals apprehended Mr. Zhang at work and took him to Taipei Street Police Station on May 5, 2011. He was quickly transferred to the Provincial Legislative Education Center and tortured. He was transferred to the Wuhan City 2nd Detention Center on October 24, 2011.
Parties Involved in Persecuting Mr. Zhang:
Zhou Hong (周洪), warden, Fanjiatai Prison Xiao Zhengfa (肖正法) and Li Yong (李勇), chief and deputy chief of the 3rd ward of Fanjiatai Prison Liu Qinggang (刘情刚), collaborator in the 3rd ward Guan Jian (关键), He Debing (何德兵), Wu Xianming (伍贤明), Gan Xinghua (甘行华), Yu Zheng (余政), Sun Xiaowei (孙晓伟), criminals in the 3rd ward
Related article: Mr. Zhang Weijie Arrested Ten Times and Sentenced to Forced Labor Twice; Now in Court Again (Photo)