Mr. Zhang Weijie Arrested Ten Times and Sentenced to Forced Labor Twice; Now in Court Again (Photo)
June 21, 2012 | By a Minghui correspondent from Hubei Province, China
(Minghui.org) Mr. Zhang Weijie is one of nine Falun Gong practitioners that were to be put on trial on May 19, 2012 at Wuhan City Court. These practitioners were to be tried together in one main case. Mr. Zhang has been arrested ten times in the past 13 years, and has been sentenced to forced labor twice.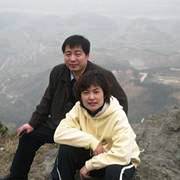 Mr. Zhang Weijie with his wife, Ms. Chen Man
Mr. Zhang is over 40 years old and worked at the Hainan Huayin International Trust and Investment Company, until he started his own small business. He began practicing Falun Gong in 1996 because he suffered from severe back pain and found it difficult to walk. After practicing, the pain in his back disappeared, which encouraged him to become more diligent in his cultivation. He also stopped drinking, smoking and gambling, and no longer had a bad temper.
Tortured in a brainwashing center
When Mr. Zhang was at work on the morning of May 5, 2011, a group of people forcibly took him to the police station on Taibei Street. They were not wearing police uniforms, nor did they show any identification. Mr. Zhang was later taken to a brainwashing center, which is disguised as a "Provincial Legal Education Center."
Guards at the brainwashing center initially forced Mr. Zhang to attend "study sessions" on the second floor. When he refused to cooperate, the guards brutally beat him. Ding Xingqiao and other inmates would constantly talk to Mr. Zhang, telling him lies and false propaganda about Falun Gong in an attempt to get him to renounce his belief. Mr. Zhang calmly corrected what they were saying and clarified the facts to them. The guards then stopped Mr. Zhang from attending the sessions, as they were afraid that the inmates would be influenced by him.
Mr. Zhang was not allowed to wash or clean himself, even in the extreme heat of summer. Ding Xingqiao then insulted him by saying that his cultivation in Falun Gong must be very bad as his body was smelly and he looked disgusting.
Mr. Zhang was forced to stand for 14 consecutive days and was not allowed to sleep. Guards Hu Gaowei and Deng Qun then told him that they would use him as a torture experiment if he did not confess to committing a crime and tell them the names of other practitioners. The guards also forced him to say that he was an organizer of Wuhan Falun Gong practitioners. Mr. Zhang went on a hunger strike to protest his persecution and was subjected to forced feeding.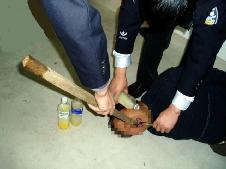 Torture re-enactment: Force-feeding
Many practitioners who came out of the brainwashing center said that the force-feeding was an unbearable experience. A tube would be inserted down the practitioner's throat, and when the doctors and guards who were handling the force-feeding were pouring liquid down the tube, they would poke the practitioner in the throat and windpipe with a large piece of wood. This made the practitioner choke, and his face would turn red as he struggled to breathe. The doctors then pulled back and forth on the tube many times, until blood started coming out of the practitioner's mouth.
Mr. Zhang was force-fed for one to two hours at a time, but he would still not to give up his belief or sign a guarantee statement to stop practicing Falun Gong. He was transferred to the No. 2 Detention Center in Wuhan on October 24, 2011.
The man behind the persecution
The "main case against nine practitioners" was concocted by the authorities under direct orders from Zhou Yongkang, the head of the Chinese Communist Party's massive public security apparatus. In 2011, Zhou Yongkang went to Wuhan and directly ordered the public security bureau there to handle two major cases involving Falun Gong practitioners. The "main case against nine practitioners" was one of them.
All of the practitioners involved in the case were interrogated, forced to attend brainwashing sessions and tortured. The authorities concocted various allegations against the practitioners.
In 2007, Mr. Zhang was arrested and taken to the Jiangan District Brainwashing Center. Hu Shaobin, head of the Jiangan District 610 Office, directly ordered and took part in the torture and brutal beatings.
In order to resist the persecution, Mr. Zhang wrote appeal letters to all levels of government, the National People's Congress, and the Procuratorate to expose the crimes against him. As a result, Hu Shaobin ordered others to severely beat him. Hu shouted, "Beat him to death! Beat him to death!" Hu also had Mr. Zhang's wife, Ms. Chen Man, arrested, as she helped him to post the letters. Mr. Zhang suffered severe injuries to his head, back and feet. Each time Mr. Zhang was persecuted, it was a result of actions or directives from the 610 Office.
Ms. Chen Man sentenced
Ms. Chen used to be an English teacher at a university, but was dismissed because she practiced Falun Gong. She was arrested by police in 2008 when she was at the "Children's English Winter Camp." In 2009, officials from Hongshan District Court and Hongshan District Prosecutor's office in Wuhan worked together to sentence Ms. Chen to seven years. Her mother, who was over 70 years old, then passed away. Ms. Chen's case has been reported on by the World Organization to Investigate the Persecution of Falun Gong (WOIPFG).
Drawing international attention
In 2007, the exposure of Mr. Zhang's arrest drew international attention, and became one of the cases brought up in the human rights dialogue between the European Union and the CCP.
Related articles
CCP Officials in Wuhan City, Hubei Province Planned Trial of Seven Falun Gong Practitioners
http://en.minghui.org/html/articles/2012/6/9/133871.html
Nine Falun Gong Practitioners Facing Trial in Wuhan
http://en.minghui.org/html/articles/2012/5/31/133710.html