14 Years of Peaceful Resistance: Falun Gong Sows the Seeds for the Return of Good Values in China (Part 3)
(Minghui.org) Continued from Part 1 and part 2
Fourteen years of resisting the persecution has validated the eternal principle – good will always triumph over evil. This article and part 2 present the timeline and specific cases to leave a record for history, as well as provide a warning to those who are still participating in the persecution.
Major events are documented in this article, the last part of this three-part series, in the following categories:
Outside of China: Resolutions and Other International Support CCP Attempts to Export Persecution Are Thwarted Legal Efforts and Results
Inside China: Legal Efforts and Results Chinese People Support Falun Gong Practitioners
Resolutions and Other International Support
In November 1999, the US House of Representatives and Senate unanimously passed a concurrent resolution to urge China to stop its persecution of Falun Gong.
The US House of Representatives passed resolutions in July 2002 "expressing the sense of Congress that the Government of the People's Republic of China should cease its persecution of Falun Gong practitioners."
On November 6, 2002, the Mayor of Chicago and the entire assembly passed the resolution regarding Falun Gong, condemning the persecution and crimes against Falun Gong and requiring the U.S. government to investigate the illegal actions of harassing American residents who practice Falun Gong by the Chinese government and its ambassadors. The Chinese government and its ambassadors are subject to being sued under the law and possibly being banished from U.S. territory.
In October 2004, the US House of Representatives passed another resolution to condemn the persecution of Falun Gong in China and in the United States.
In March 2010, the US House of Representatives passed H. Res 605 "recognizing the continued persecution of Falun Gong practitioners in China on the 11th anniversary of the Chinese Communist Party campaign to suppress the Falun Gong spiritual movement and calling for an immediate end to the campaign to persecute, intimidate, imprison, and torture Falun Gong practitioners."
In December 2013, the European Parliament passed a resolution expressing "its deep concern over the persistent and credible reports of systematic, state-sanctioned organ harvesting from non-consenting prisoners of conscience in the People's Republic of China, including from large numbers of Falun Gong practitioners imprisoned for their religious beliefs" and demanding "an immediate end to the 14-year persecution of the Falun Gong spiritual practice by the Communist Party of China."
In 2013, a similar pending resolution in the U.S. passed the Asia Subcommittee of the House Committee on Foreign Affairs.
European Parliament members pointed out that a major cause of large-scale forced organ harvesting in China is the nationwide persecution of Falun Gong. Mr. Edward McMillan-Scott, European Parliament Vice-President, identified the persecution as genocide according to international laws.
CCP Attempts to Export Persecution Are Thwarted
On December 6, 2001, Falun Gong practitioners in Canada filed a lawsuit against the Chinese Press newspaper in Montreal for slandering Falun Gong. On December 10th, the court issued an order of protection requiring the Chinese Press to stop publishing opinions that defame Falun Gong. The Chinese Communist Party's attempts to export the persecution overseas was thwarted.
On February 3, 2004, the Supreme Court of Ontario of Canada sentenced the Deputy Consul of Chinese embassy in Toronto, Pan Xinchun, guilty for slandering Toronto practitioner Joel Chipkar, and ordered Pan to compensate for the losses. This was the first time Falun Gong practitioners won legal suits against Chinese diplomats for persecuting Falun Gong overseas. Once again the Chinese Communist Party suffered a severe defeat in exporting persecution abroad.
On December 14, 2006, Falun Gong practitioners won their one-and-half-a-year long lawsuit against Australian Foreign Minister Alexander Downer. Downer could not provide sufficient evidence to justify his actions, and had to stop issuing the certificate barring protesters from displaying large banners outside the Chinese embassy in Sydney. He also agreed to pay petition charges of 20,000 Australian dollars. The CCP's attempt to export persecution abroad again suffered a great defeat.
On June 3, 2008, Judge Dr. Iannolo of the Rome Criminal Court stated that the Chinese newspaper China Times had libeled Falun Gong and that all defendants, including the China Times ' director, sponsor and author of the article, had committed crimes.
Legal Efforts and Results outside of China
On the night of April 6, 2001, Falun Gong practitioner Peng Min from Wuhan, Hubei Province, was persecuted to death by the Chinese Communist Party. Mr. Peng's mother died within the same month, her cause of death unknown.
Mr. Peng Min
On July 17, 2001, two American human rights lawyers helped Peng Min's older brother Peng Liang file a lawsuit in New York against Zhao Zhifei, Director of the Public Security Bureau and the number two person in the 610 Office in Hubei Province for the death of his younger brother Peng Min and mother Li Yingxiu.
The complaint charged Zhao with wrongful death, torture, crimes against humanity, and other gross violations of international human rights laws against Falun Dafa practitioners in his home province of Hubei. United States District Court Judge Denise Cote entered a default judgment on December 21, 2001.
Zhou Yongkang, then the CCP Sichuan Provincial Party Secretary, was also sued in the U.S. for similar crimes in 2001.
During his visit to Chicago, Jiang Zemin, Secretary General of China's Communist Party, was sued on October 22, 2002, for the persecution of Falun Gong practitioners. A legal complaint alleging torture and genocide was filed in the U.S. District Court of the Northern District of Illinois.
On October 17 that year, Jiang Zemin, Zeng Qinghong, and Luo Gan were accused by Falun Gong practitioners to the International Anti-Torture Committee and International Human Rights Committee of United Nations. Li Lanqing, the head of the 610 Office and the vice minister of China, was sued in France. Liu Qi, mayor of Beijing, and Xia Deren, vice provincial governor of Liaoning province, were sued in the U.S.
The Minghui web site, the official website for Falun Gong, published an announcement on November 14, 2003, recommending practitioners in China begin keeping evidence of persecution and transfer them out of China.
In 2003, the orchestrator of the persecution, Jiang Zemin, was sued in Switzerland, Belgium, Germany, Spain, Korea and Taiwan. Luo Gan and Li Lanqing were also sued in multiple countries around the same time. Luo Gan was sued in four countries: Iceland, Finland, Armenia and Moldova. Wu Guanzheng, CCP Politburo Standing Committee member and Party Secretary of Shandong Province, was sued in Cyprus.
The Fawanghuihui web site submitted two reports of over 4,000 pages to the human rights monitoring body of the United Nations. The reports contained information regarding more than 11,000 policemen, CCP officials, and those directly responsible for the persecution.
On January 20, 2003, the World Organization to Investigate the Persecution of Falun Gong (WOIPFG) was established in the U.S. It identified the staged self-immolation on Tiananmen Square as the first case to be investigated.
On September 30, 2003, the Global Coalition to Bring Jiang to Justice was established in Washington D.C. On November 26, the organization submitted to the Chief Judge of the International Tribunal in the Hague complaints of Jiang Zemin's crimes of persecuting Falun Gong practitioners and requested to put Jiang Zemin on trial.
On December 8, 2003, International Preparatory Committee of Special Court for the Persecution of Falun Gong was established with its headquarters in the U.S., aiming to push forward the establishment of an International Special Court for the Persecution of Falun Gong.
In 2004, those in charge of carrying out the persecution including Jiang Zemin, Luo Gan, Liu Jing, Zhou Yongkang, Li Lanqing, Jia Qinglin, Li Changchun, Huang Ju, and Bo Xilai were sued outside of China one after another.
After a one year trial, on December 8, 2004, Judge Wilkin of United States District Court Northern District of California affirmed a magistrate's ruling that Beijing Communist Party Secretary Liu Qi is liable for the crimes of torture and anti-humanity carried out by the police under his administration in persecuting Falun Gong.
Chen Zhili, the former Minister of Education and then a member of the State Council, had to make a mandatory court appearance in Tanzania on July 19, 2004. She was served with a lawsuit during her visit to Tanzania by a team of international human rights lawyers representing Falun Gong practitioners being persecuted in China.
On March 5, 2004, the Illegal Arrest Working Group of the United Nations reached a conclusion regarding the arrest of practitioners Li Ling and Pei Jilin. It concluded that Falun Gong practitioners should receive protection under the declaration of world human rights and that the Chinese government should follow the Universal Declaration of Human Rights and reverse its sentence on Li Ling and Pei Jilin. This conclusion by the United Nations reaffirms the unlawfulness of persecuting Falun Gong. It is an important reference for holding CCP officials accountable for the persecution.
In 2005, Jiang Zemin, along with his accomplices, Li Lanqing, Zeng Qinghong, Luo Gan, Zhou Yongkang, Liu Jing, Bo Xilai, Ding Guangen, Xu Yongyue (head of National Ministry of Security), Xia Deren (Mayor of Dalian), and others were sued in England, Switzerland, Japan, Peru, Belgium, Korea, the U.S., Canada and Spain.
In 2006, Jiang Zemin and his accomplices Luo Gan, Li Fengqing, Liu Qi, Jia Qinglin, Bo Xilai, Chen Zhili, and Ye Xiaowen (head of the Department of Religions) were sued in Austria, Ukraine, Switzerland, Canada and the U.S.
That year, Chen Zhonghua, the principal of the institute of organ transplants of Tongji Hospital in Wuhan, China, Zhu Yongyu, the director of the research office in organ transplant center of Zhongshan Hospital in Shanghai, and Shen Zhongyang, the director of Oriental organ transplant center, were accused in the U.S. for the crime of torture through harvesting organs from living Falun Gong practitioners.
In 2007, Jiang Zemin, Luo Gan, Li Fengqing, and Liu Qi were sued in Austria and Jia Qinglin was sued in Japan.
In 2007, Bo Xilai was sued in Australia. He was determined guilty through a default judgment.
On November 18, 2007, the Spanish Constitutional Court accepted the cases by Falun Gong practitioners to sue Jiang Zemin and Luo Gan. All judges in the Number Two court agreed that the criminal act of genocide that the CCP imposed upon Falun Gong practitioners must be investigated.
Legal Efforts and Results inside China
On August 29, 2000, Hong Kong practitioner Zhu Keming and Beijing practitioner Wang Jie mailed a legal complaint to the Chinese Supreme People's Procuratorate, asking that Jiang Zemin and two of his followers be tried for violating the Chinese Constitution and numerous other laws in their brutal persecution of Falun Gong.
In 2004, accusations consistently appeared in China. For example, in November, the family members of 241 Chinese practitioners delivered accusation letters to the National People's Congress (NPC), Supreme Procuratorate, Department of Justice, Supreme Procuratorate of Hunan Province, Department of Justice of Hunan Province, Procuratorates of different levels and cities in Hunan Province, and the Office of Justice, accusing police officers at the Chishan Prison in Yuanjiang, Hunan Province of torturing their family members and asking to punish the criminals.
At the end of 2004, Attorney Gao Zhisheng wrote a public letter to Wu Bangguo, Chairman of the People's Congress regarding the law enforcement department's brutal infringement of Falun Gong practitioners' citizen rights. He also called on the government to recognize the practitioners' citizenship. Later he wrote two other public letters to CCP high-ranking officials, strongly urging the illegal persecution of Falun Gong be stopped. This was the first time that lawyers in China officially and publicly supported Falun Gong.
Falun Dafa (Falun Gong) Associations announced on October 9, 2005, that all CCP officials should immediately stop participating in the persecution of Falun Gong. They will be held accountable for their crimes through civil and criminal lawsuits. The announcement also recommended those who now understand they have committed crimes send their apology to the Minghui web site or various local Falun Dafa Associations.
On June 28, 2007, Zhu Keming and another Hong Kong Falun Gong practitioner, Fu Xueying, submitted a civil complaint to the High Court of Hong Kong, accusing Jiang Zemin, Li Lanqing, and Luo Gan of torture and crimes against humanity. The High Court of Hong Kong granted the case Leave to Serve Out of Jurisdiction on August 9. This was another breakthrough in anti-persecution litigation.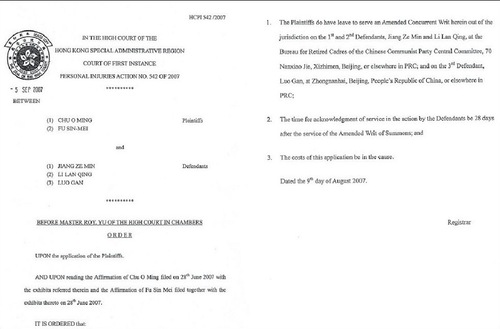 A copy of the two-page Leave to Serve Out of Jurisdiction document
On April 27, 2007, the Intermediate People's Court of Shijiazhuang City, Hebei Province opened a court session for the second trial of Falun Gong practitioners in the family of Wang Bo. Six lawyers from Beijing broke through various interference from the CCP and pled the practitioners' innocence and defended their rights.
The lawyers were righteous and upright, arguing that, "Constitution is priority, freedom of beliefs, and protection of human rights." The lawyers pointed out that the persecution of Falun Gong has no legal basis and violates Chinese laws and the Constitution. All sentencing and punishments forced upon Falun Gong practitioners are illegal; all the organizations and individuals involved in capturing, arresting, and judging Falun Gong practitioners are committing crimes.
The six lawyers defended Falun Gong practitioners with a strong sense of justice. It also showed the determination and courage of righteous Chinese lawyers. After this case, more and more righteous lawyers courageously stepped forward to speak out for Falun Gong practitioners.
The CCP kept prohibiting lawyers from defending Falun Gong practitioners by underhanded means such as revoking their licenses, following, terrorizing, arresting, sending them to forced labor, and sentencing the lawyers on fabricated charges. But nothing the CCP did could stop the awakening of the lawyers' conscience or suppress their sense of justice and courage.
Twelve lawyers formed a group to defend for a case in Dalian in 2013. On June 21, thirteen Falun Gong practitioners in Dalian city, Liaoning Province were put through an illegal trial in the court of Xigang District in Dalian.
Twelve lawyers attended the trial. The Ministry of Justice, Procuratorate and the supreme court of Liaoning Province all came to Dalian to join this trial. The trial ended at night. The court of Dalian Zhongshan district was supposed to continue trying the case. On very short notice, it decided to have the follow-up trial on July 5. The lawyers held a group strike on July 5.
That morning, in response to the lawyers' protest, the chief judge of Zhongshan Court decided to change the date of the court opening. The lawyers' coming together was tremendous and powerful, and demonstrated the determination and strong power of Chinese legal professionals protesting against the persecution. This also indicates the improvement in the overall environment in China.
Chinese People Support Falun Gong Practitioners
In 2003, Chinese people understood better the true situation behind the persecution and some even protected Falun Gong practitioners. The 610 Office in Hongshan District of Wuhan city set up brainwashing classes in the Jiufengxiang area. The central government would pay 6,000 yuan to the local government for each Falun Gong practitioner attendee.
Wishing to reap the money, on the night of April 10, police from Huashan Town in Hongshan District and members of the town's 610 Office drove three cars to illegally arrest local Falun Gong practitioner Li Jiulan. Li Jiulan argued on the grounds that she had broken no laws and refused to cooperate.
Her husband, a non-practitioner, argued with the police and did not let them take her. Their child held onto his mom's leg and cried brokenheartedly, which upset the villagers. The villagers became angry and condemned the bad people. Some villagers ran up to the police car and dragged Li Jiulan back out. All this happened within half an hour.
In 2004, there were several cases of Chinese people protecting Falun Gong practitioners. For example, on August 8, six police officers in Xishui County of Hubei broke into the home of Yao Wanglai, a Falun Gong practitioner from Jiuping village of Zhudian town in Xishui, and attempted to kidnap him. Mr. Yao's family members argued with them to prevent the arrest.
The exasperated police started to use violence, which shocked the villagers. People from nearby farms, fields, and homes rushed to Mr. Yao's home. Even the Jiuping village head hurried over and urged the police not to arrest good people. But the police were very headstrong and insisted on arresting him. Over 100 villagers confronted the six policemen. In the end, the police had to give up and quickly left.
In September 2005 and March 2006, 1,061 family members of Falun Gong practitioners in Zhuzhou city, Hunan province wrote to international human rights organizations, urging them to pay attention to the inside story of the persecution of Falun Gong practitioners in Baimalong forced labor camp.
On December 9, 2006, family members of 2,500 Falun Gong practitioners wrote to international human rights organizations for the second time, urging them to help stop the brutal persecution of illegally arrested Falun Gong practitioners in Baimalong female labor camp in Zhuzhou city, Hunan province.
The appeal was large-scale and the information was shocking, drawing attention from the international community. This act also led more people in more areas to publicly speak out against the injustice being done to Falun Gong. This series of events marks the change in the climate of mainland China and the enormous change in people's hearts.
In 2006, stories of Chinese people protecting Falun Gong practitioners continued to take place. For example, on the night of September 17, Hongdao street police station in Chengyang district in Qingdao city ordered defense personnel to attempt to arrest Falun Gong practitioner Zhao Yuqun in Hongdaoxidayang village.
Villagers heard the news, ran out and surrounded the police, enabling Zhao Yuqun to escape. Villagers also stopped them from taking Zhao Yuqun's wife as a hostage, and forced them to give up their illegal arrest attempt.
In 2008, large numbers of family members and people in mainland China stood out and publicly opposed the persecution. For example, on October 31, the court in Xinhua District, Shijiazhuang city, Hebei Province illegally tried Falun Gong practitioner Ms. Wang Sanying. Two lawyers presented an innocence defense according to the laws for Wang Sanying.
The prosecutor and the judge had no objection at the end. But the court still illegally arrested Wang Sanying without granting release. Nearly 40 of Ms. Wang's relatives and friends jointly signed a petition, requiring the court to immediately release her.
In February, 2009, righteous citizens in Fushun City, Liaoning Province jointly wrote a letter to demand justice for practitioner Xu Daiwei. This news reached CCP heads including Zhou Yongkang and Luo Gan.
Xu Dawei who lived in Yingemen town, Qingyuan county, Fushun city, Liaoning province, was released after being tortured in prison for eight years. He passed away 13 days after being released. He was only 36 years old. The local villagers were outraged and organized two truckloads of people to go to Dongling prison and call for justice.
Not receiving any response from the prison, 376 people from five villages signed an appeal letter that exposed the torture Mr. Xu endured in the prison. This came as a shock to high-ranking CCP officials including Zhou Yongkang and Luo Gan. They pushed the local security and legal office to make a wide sweeping effort to terrorize and investigate the village. They investigated the initiator of the signature drive, handcuffed Xu Dawei's younger brother, searched for Xu Dawei's wife, and harassed and threatened the family of Mr. Xu's mother-in-law, causing a great disturbance. But the righteous villagers did not regret their support of Mr. Xu.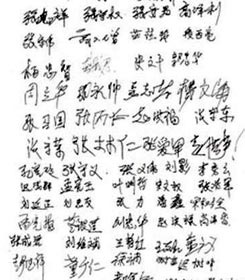 Photo of some of the 376 signatures
The arrests of Li Lankui and Jia Zhijiang, Falun Gong practitioners in Hebei province, triggered a major local outcry in early 2013. Several groups of people signed a petition in March, calling for their release. The number of signatures ultimately reached 10,955. In May, more than 2000 locals in Hubei signed a petition calling for the release of Dai Meixia, who was sentenced to 5 years because of her belief in Falun Gong.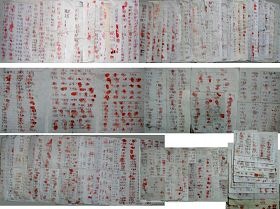 Photos of some of the 10,955 signatures which support Falun Gong practitioners Li Lankui and Jia Zhijiang
Similar petitions have appeared all over China: 626 signatures in Hebei, 900 in Wuhan, 400 in Tongcheng, Hubei, indicating that more and more Chinese people have overcome their fear of the CCP, and are speaking out for justice.
Afterword
During these 14 years, more and more people have come to understand the facts about Falun Gong and the persecution. People have seen that practitioners are good people and are therefore standing up to stop the persecution. These stories of people opposing the persecution are truly uplifting and touching. They have proven the magnificence of this period of history and also let people see the hope of China!
In the 14-year journey of opposing this persecution, many Chinese and non-Chinese people have demonstrated their conscience and courage during the most far-reaching and brutal persecution campaign in all of mankind's history. They have succeeded in doing their part during this great historical moment.
Moving forward, the trend is evident: evil will be punished and justice will be upheld.
Related articles (Chinese version):

http://www.minghui.org/mh/articles/2013/12/22/284334.html
http://www.minghui.org/mh/articles/2013/12/23/284335.html
http://www.minghui.org/mh/articles/2013/12/24/284337.html