14 Years of Peaceful Resistance: Falun Gong Sows the Seeds for the Return of Good Values in China (Part 2)
(Minghui.org) Continued from Part 1: en.minghui.org/html/articles/2013/12/30/143853.html
Fourteen years of resisting the persecution has validated the eternal principle – good will always triumph over evil. This article and part 3 present the timeline and specific cases to leave a record for history, as well as provide a warning to those who are still participating in the persecution.
In addition to a summary timeline, major events are also documented in the following categories:
Outside of China: Resolutions and Other International Support CCP Exporting the Persecution Thwarted Legal Efforts and Results
Inside China: Legal Efforts and Results Chinese People Support Falun Gong Practitioners
Summary Timeline of the Past 14 Years
1999
The Chinese Communist Party (CCP) launched its nationwide persecution of Falun Gong on July 20, 1999. In the beginning the atmosphere of evil seemed to pervade every level of society and seemed invincible.
However, many Falun Gong practitioners were not afraid and started protesting the persecution. Hundreds of thousands protested peacefully to different levels of government on July 22, 1999, the day the CCP announced the persecution.
On October 25, 1999, Jiang Zemin, then head of the CCP, slandered Falun Gong by calling it a cult. Hundreds of Falun Gong practitioners went to Tiananmen Square and the Great Hall of the People, the location of the National People's Congress, to protest.
About 1,000 practitioners visited Tiananmen Square and the National Appeals Office to protest the next day. About 600 practitioners displayed banners at Tiananmen Square on October 27, 1999. Seventeen practitioners unfolded Falun Gong banners at the rostrum of Tiananmen Square.
A press conference was held in the suburb of Beijing on October 28, 1999. Without concealing their identifies, about 30 Falun Gong practitioners spoke to reporters from the Associated Press (AP), Reuters, Agence France-Presse (AFP), the New York Times and other Western media. This was the first time Chinese practitioners released facts of the persecution to Western media.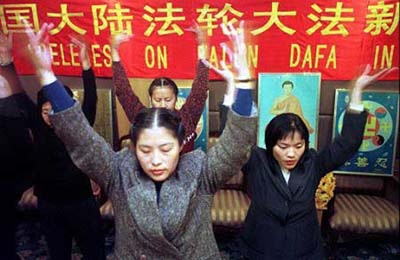 A photo taken at the October 28, 1999 press conference
AP and Reuters published a wire report that day. The next day, the New York Times, South Morning China Post and several European newspapers published reports and photos.
In November 1999, the US House of Representatives and the Senate unanimously passed a concurrent resolution to urge China to stop its persecution of Falun Gong.
2000
Even though the CCP's goal of "eliminating Falun Gong within three months" had proven to be a failure, Jiang Zemin didn't stop. The persecution was escalated.
Falun Gong practitioners persevered in their belief and started many innovative approaches to clarify the facts of the persecution both inside and outside of China.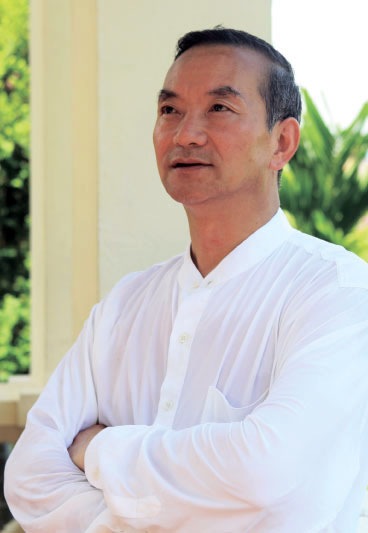 Zhu Keming
On August 29, 2000, Hong Kong practitioner Zhu Keming and Beijing practitioner Wang Jie mailed a legal complaint to the Chinese Supreme People's Procuratorate, asking that Jiang Zemin and two of his followers be tried for violating the Chinese Constitution and numerous other laws in their brutal persecution of Falun Gong.
2001
Professor Zhang Kunlun, a Canadian citizen, was released on January 10, 2001, two months after being sentenced to three years in a forced labor camp. This was the first successful rescue case of Falun Gong practitioners with help from the international community.
The CCP staged a self-immolation in Tiananmen Square on January 23, 2001 - Chinese New Year's Eve, and claimed it was done by Falun Gong practitioners. Practitioners immediately pointed out that it was a staged hoax .
Practitioners began clarifying the facts of the persecution directly to Chinese people. Practitioners outside of China started lawsuits to bring the perpetrators to justice.
The Fawanghuihui web site was established on January 4, 2001. It specializes in collecting persecution cases as well as the perpetrators' names and other information.
On December 21, 2001 Falun Gong practitioners won, through default, for damages against Zhao Zhifei, Public Security Chief of China's Hubei Province. Zhao refused to show up in court to contest charges of torture, murder and crimes against humanity.
Zhou Yongkang, then the CCP Sichuan Provincial Party Secretary, was also sued in the United States for similar crimes in 2001.
2002
The CCP propaganda didn't dare to publish reports to slander Falun Gong. Jiang Zemin, head of the Party, only kept his position as the CMC Chairman (The Chairman of the Central Military Commission).
During his visit to Chicago, Jiang Zemin, Secretary General of China's Communist Party, was sued on October 22, 2002, for the persecution of Falun Gong practitioners. A legal complaint listing torture and genocide was filed in the U.S. District Court of the Northern District of Illinois.
In October 2002, United Nations High Commissioner for Refugees (UNHCR) approved the application of six Falun Gong practitioners in Japan. Global rescue efforts have since been launched in 16 countries and regions. Scores of practitioners were rescued to Europe, Australia and North America through UNHCR refugee status.
2003
The Minghui web site, the official website for Falun Gong, published an announcement on November 14, 2003, recommending practitioners in China begin keeping evidence of persecution and transfer them out of China.
More lawsuits were filed against Jiang Zemin and the other main perpetrators in countries outside of China. Please see details in part 3.
The Fawanghuihui web site submitted two reports of over 4,000 pages to the human rights monitoring body of the United Nations. The reports contained information regarding over 11,000 policemen, CCP officials, and those directly responsible for the persecution.
2004
The balance of good and evil tilted toward the righteous. At the end of 2004, Chinese people started quitting the CCP and its affiliated organizations. The quit-the-CCP movement was inspired by the Nine Commentaries on the Communist Party, a series of Epoch Times editorials.
Jiang Zemin loses his only CCP official position: CMC Chairman.
Chen Zhili, the former Minister of Education and then a member of the State Council, had to make a mandatory court appearance in Tanzania on July 19, 2004. She was served with a lawsuit during her visit to Tanzania by a team of international human rights lawyers representing Falun Gong practitioners being persecuted in China.
After a one year trial, on December 8, 2004, Judge Wilkin of United States District Court Northern District of California affirmed a magistrate's ruling that Beijing Communist Party Secretary Liu Qi is liable for the crimes of torture and crimes against humanity carried out by the police under his administration during the persecution of Falun Gong.
2005
The number of Chinese who have quit the CCP and its affiliated organizations reached 5 million as published by the Epoch Times on October 18, 2005.
Falun Dafa (Falun Gong) Associations announced on October 9, 2005, that all CCP officials should immediately stop participating in the persecution of Falun Gong. They will be held accountable for their crimes through civil and criminal lawsuits. The announcement also recommended those who now understand they have committed crimes send their apology to the Minghui web site or various local Falun Dafa Associations.
2006
The forced live organ harvesting of Falun Gong practitioners was made public. This crime has been called an, "unprecedented form of evil on this planet."
In May 2006, the CCP political and legal system released an internal document, informing all levels about the public demand of 400 Chinese attorneys to restore Falun Gong's reputation. Even though the document intended to ask all levels to threaten Chinese attorneys, it shows the united power of righteous legal professionals in China.
2007
Shen Yun Performing Arts, composed mainly of Falun Gong practitioners, presented 81 classical dance and music performances in 33 cities on 4 continents between January 3 and May 16, 2007. Over 200,000 audience members from diverse ethnic backgrounds enjoyed the performances, which showcase China's divinely inspired traditional culture. Shen Yun has been a global cultural phenomenon ever since.
The power of Jiang Zemin and his close followers in the CCP was waning. Jiang's group was the main group sustaining the persecution of Falun Gong in China. More lawsuits were filed against the main perpetrators outside of China. Please see details in part 3.
2008
Just before the 2008 Beijing Olympics, the CCP tried to launch another round of campaigns to persecute Falun Gong practitioners. However, the persecution was losing its strength, and could not be carried out at the same level as it had in 1999 or 2000.
Two Chinese Falun Gong practitioners visiting South Korea won their case at immigration court on January 16, 2008. This was the first time an Asian country acknowledged the refugee status of Falun Gong practitioners due to the persecution in China.
2009
The balance tilted even more toward the righteous.
In November 2009 the Spanish National Court indicted five high-ranking CCP officials, including former Communist Party head Jiang Zemin and his followers Luo Gan, Bo Xilai, Jia Qinglin and Wu Guanzheng, on charges of genocide and torture of Falun Gong practitioners. The Court issued summons to the five CCP officials and asked them to explain their genocidal conduct, including live organ harvesting from Falun Gong practitioners for lucrative profits.
On December 17, 2009 after a four-year investigation, Judge Octavio Araoz de Lamadrid of the Argentina Federal Court No. 9 made a historic decision. Judge Lamadrid issued arrest warrants for the former leader of the Chinese Communist Party Jiang Zemin, and Luo Gan, former head of the 610 Office, for their roles in the persecution of Falun Gong. The two high-ranking CCP officials were charged with crimes against humanity. Judge Lamadrid ordered the Interpol Department of the Federal Police of Argentina to carry out the arrest.
2010
Falun Gong practitioners won a lawsuit against the Hong Kong government for bowing to pressure from Beijing and blocking Shen Yun performances in Hong Kong. The court decided that the Hong Kong government's actions were illegal.
In April 2010, Huang Liqiao, a Falun Gong practitioner in Tianjin City, sued his employer Tianjin Pipe (Group) Corporation for illegally terminating his contract during his detention in labor camps. Even though the CCP has banned courts from taking cases from Falun Gong practitioners, Dongli Court of Tianjin City was compelled to take the case by the righteousness of the practitioner.
There were also cases where Falun Gong practitioners' dignity and uprightness won out. They were able to go home after show trials. More details are included in "Legal Effort and Results inside China" in part 3.
2011
More lawsuits supporting Falun Gong practitioners and against perpetrators were filed inside China. Many Chinese people have stepped forward to help rescue local Falun Gong practitioners. Please see more details in "Chinese People Support Falun Gong Practitioners" in part 3.
2012
Wang Lijun, then vice-mayor and head of the Public Security Bureau of Chongqing, arranged a meeting on February 6, 2012 at the US consulate in Chengdu, where he remained for about 24 hours. There he revealed details of Bo Xilai's involvement in organ harvesting from Falun Gong practitioners.
Bo Xilai was then the Chongqing Communist Party secretary. Wang Lijun was his protege, but their relationship soured.
Wang Lijun's visit to the US consulate started a domino effect, leading to the downfall of high-ranking CCP officials.
Bo was removed as the party chief of Chongqing in March 2012 and suspended from the politburo the following month.
Jiang Zemin had chosen Bo as his successor for carrying on the persecution. With Bo's downfall and Zhou Yongkang's resignation from the CCP Politburo Standing Committee in November 2012, Jiang was left with no successors. The risk of his being brought to justice for the persecution became greater.
Jiang Xiaoyan, Luo Yanjie, Tian Xiaoping, Ge Xin, Yue Boqing, and Kang Changjiang were illegally tried by the Shuangcheng Court in Heilongjiang Province on May 28, 2012. They hired five lawyers to defend them.
The six practitioners requested that all Communist Party members leave the courtroom. They stated that they made this request because there was a conflict of interest between them and the CCP members. The judge was caught unprepared and decided to call for a five-minute break before proceeding. He quickly reported to his superior. One lawyer said that this was unprecedented in the history of Falun Gong-related cases.
2013
Bo Xilai, then Chongqing Communist Party secretary and mastermind behind harvesting organs from Falun Gong practitioners, was sentenced to life imprisonment in September 2013.
The CCP has announced it will shut down all labor camps by the end of the year.
Li Dongsheng, vice minister of public security and head of the 610 Office, is under investigation, according to a recent announcement by state-run media in China. Zhou Yongkang, former head of Domestic Security and one of Li's main sponsors in the Party, is rumored to have been either arrested or is under house arrest. Zhou played a key role in implementing the persecution of Falun Gong through the 610 Office and other PLAC (Political and Legislative Affairs Committee) organizations.
All of these show that the day the perpetrators will be held accountable is just around the corner.
The next part documents major events in different categories.
(To be continued)
Related articles (Chinese language):
http://www.minghui.org/mh/articles/2013/12/22/十四年反迫害-扫除邪恶(上)-284334.html
http://www.minghui.org/mh/articles/2013/12/23/十四年反迫害-扫除邪恶(中)-284335.html
http://www.minghui.org/mh/articles/2013/12/24/十四年反迫害-扫除邪恶(下)-284337.html