Practitioners in Finland Expose CCP's Crimes Against Humanity During Mid-Autumn Festival (Photos)
(Minghui.org) Falun Gong practitioners in Rovaniemi, Finland, on September 21, 2013, spent the last day of the Mid-Autumn Festival collecting petition signatures condemning the Chinese Communist Party's (CCP) practice of organ harvesting from living Falun Gong practitioners.
The Mid-Autumn Festival is a modern celebration of a centuries-old harvest ritual, now associated with moon cakes, shining lanterns, fiery dragons, and more. It's a time of family reunions, giving thanks, and looking forward to longevity and good fortune.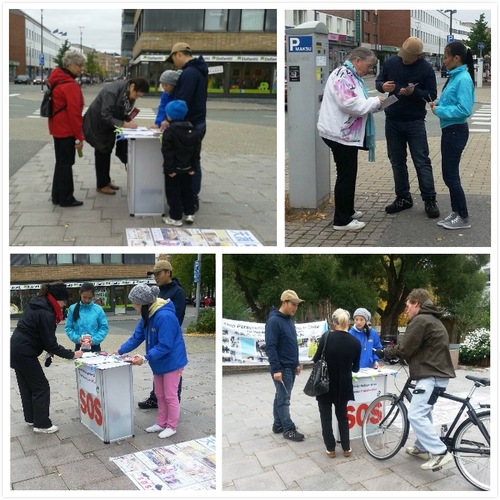 People sign petition condemning the CCP and its crimes against humanity.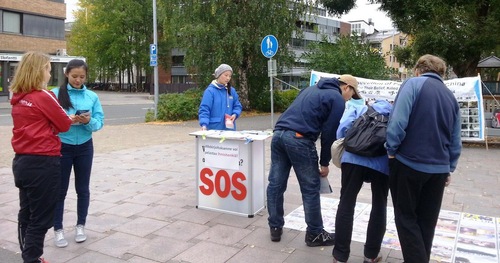 Passersby read practitioners' informational display boards.
The inclement weather in Rovaniemi did not deter passersby from carefully reading the practitioners' informational display boards and learning the truth about Falun Gong.
After seeing a large banner and a desk with the words, "SOS" in red letters, a man slowed down his car, then parked across the street from where the practitioners were standing.
The man introduced himself and said that he was a local college professor. He said that he knew a little about Falun Gong, but wanted to learn more. After he signed the petition, he asked where the local practice site was located. He said he was very interested in learning Falun Gong.
A practitioners handed a flier to a woman rushing by. "I don't have time to read it," she exclaimed. About 30 minutes later, the woman came back.
"So the flier is about Falun Gong!" she exclaimed. "I know about Falun Gong. I found out about it on TV and read about it in the newspapers. The Communist Party is awfully bad. One of these days it will collapse!" She then signed her name on the petition form. "Well done!" she said as she was leaving. "I wish you success!"
"Repulsive!" said a pensioner, referring to the CCP's crimes of forced organ harvesting. "It's a good thing that you're here," she told the practitioners as she signed the petition. "I hope that you continue with your signature campaign so that more people can learn the truth."
The practitioners shared the following two stories with passersby who wanted to know how the persecution has directly affected the Chinese practitioners residing in Finland, or their family members in China.
Under the pretense of the upcoming Olympic Games in China, local authorities illegally raided the home of Chen Zhenping on July 9, 2008. She was arrested, and secretly sentenced to eight years in the Xinxiang City Women's Prison in Henan Province.
On February 2, 2013, someone from within the prison leaked out news that Ms. Zhenping had suffered a severe mental breakdown as a result of being brutally tortured while in detention.
Ms. Zhenping's two daughters, Falun Gong practitioners Jin Zhaoyu and Jin Zhaohuan, to this day have not heard any official news about their mother's condition. In addition, the prison authorities have repeatedly refused requests from her lawyer to visit her.
Finland residents Ms. Zhaoyu, her husband Tommi, and her sister Ms. Zhaohuan, have been appealing to the international community to help rescue their mother, Ms. Zhenping. The local media is also very concerned about the case.
Almost every day, people from around the world write letters and postcards to the Xinxiang City Women's Prison, demanding Ms. Zhenping's release.
Shi Wenbo, another Falun Gong practitioner who had been rescued to Finland with help from the United Nations, was forced to separate from his uncle, Shen Quanhui, and his aunt, Li Fengyun. He said that he had not seen his family for over five years.
His aunt and uncle were arrested on September 8, 2008 for distributing Dafa-related materials in Jilin City. Ms. Fengyun managed to escape but was later captured. They both received eight-year sentences in the Jilin Provincial Prison. Ms. Fengyun was later moved to the notorious Changchun Heizuizi Women's Prison.
It was reported that Mr. Quanhui is being routinely tortured by both guards and inmates. He is physically weak and is now suffering from many serious illnesses.
Ms. Fengyun has been diagnosed with hematuria, due to the physical and mental abuse that she is subjected to in Heizuizi Women's Prison. Whenever her family visits her, the guards stand close by, greatly restricting her conversations. It is hard to imagine how much mental and physical pain these people have endured in upholding their beliefs.
Mr. Wenbo said that he would expose the CCP's crimes overseas every day until the persecution ends.