Former Scoliosis Patient: "Falun Dafa Turned My Life From Black and White into Color!"
(Minghui.org) Sixuan, a long-time scoliosis sufferer, used to live in pain every day. Though she was not yet even 40, she looked like an elderly woman. Her physical discomfort also made her difficult to deal with. At home, her short temper cast a shadow over her family life. Outside home, people thought she was too reserved and unfriendly.
All this changed after she learned Falun Gong 12 years ago. Not only did her deformed spine return to normal, but her disposition also became much more pleasant. Now she is outgoing and friendly and people enjoy her company.
Today when you look at Sixuan, it's hard to believe she is already 51. She credits Falun Gong for transforming her from an introvert who was tormented by scoliosis into a healthy and confident woman.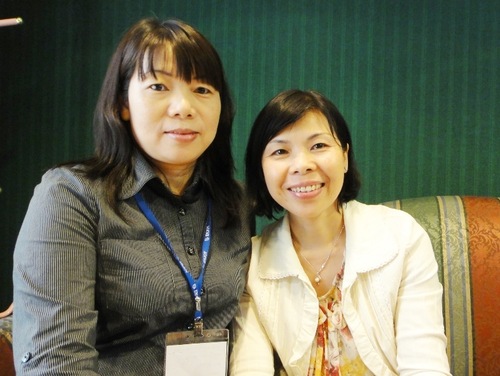 Sixuan (right) and her older sister Xiumei
Doctors Had No Cure for Spinal Curvature of 45 Degrees
Twelve years ago, Sixuan was miserable. She had five sunken vertebrae and a spinal curvature of 45 degrees. All the doctors she saw told her there was no cure for her condition. She had to wear a brace to keep her back straight and relied on physical therapy to lessen the pain. Nighttime was especially hard since she could only lie on her back, never on her side. As a result, she needed help to turn over.
The very first thing Sixuan did upon returning home every day was to remove her brace and lie down to rest her back. It usually took her an hour to gather enough strength to get out of bed. Because she had trouble straightening her back, she couldn't cook for her loved ones and her 6th-grade daughter had to help in the kitchen.
Scoliosis Disappears after Learning Falun Gong
Sixuan's older sister, Xiumei, gave her a book titled Cultivation Stories . There was a story in the book about a woman who stopped complaining about her lazy husband and Sixuan was deeply impressed with the power of Falun Gong to change the complaining wife.
So she agreed when Xiumei invited her to attend a nine-day seminar to watch Master Li Hongzhi's lecture videotapes.
For some reason, however, Sixuan always felt extremely sleepy while watching the lecture video at the seminar or reading Zhuan Falun at home.
One day after listening to a fellow practitioner talk about the importance of practicing the exercises with others, Sixuan made up her mind to join the group exercises as well. To her surprise, her sleepiness disappeared soon afterwards and she no longer felt drowsy while reading the teachings.
Before she knew it, her scoliosis had disappeared. Not long after she began the practice, she forgot to refill her painkiller prescription. Half a month passed and she suddenly realized she didn't have any discomfort, even though she hadn't taken any pills for two weeks. She was greatly inspired and became even more determined in practicing Falun Gong.
Two years into her practice, however, she experienced a relapse of her condition and wasn't able to get out of bed for three days in a row. Her husband, who does not practice, was anxious to get her to the hospital. Sixuan felt this was a test in her cultivation and said in her heart, "Master, I know this is not illness, but my sickness karma at work. I am determined to get rid of my karma and I don't want to see a doctor. Please help me get out of bed."
The next morning Sixuan managed to get up and join the group exercises in the park. When she came back home, her husband brought up going to the hospital again. To ease his mind, she took several steps on her own in front of him. He finally believed his wife was indeed fine.
Since then she has never experienced any back pain. She is now able to sleep on her side, and turning over in bed is no longer painful.
Sixuan is grateful to Master Li. In her own words, "Falun Dafa turned my black-and-white life into a colorful one."
An Introvert Becomes Confident and Outgoing
Sixuan was an introvert to begin with, and her poor health further stripped her of her confidence. She often appeared cold, distant, and reserved in the eyes of others.
After she began practicing, she was eager to share with everyone her miraculous recovery from scoliosis. Wanting more people to know about the extraordinary nature of Falun Gong, she was compelled to overcome her shyness and talk to others.
At the beginning it didn't come easy. Her voice was very low, as if she was murmuring. As time went by, she had more confidence and felt at ease while talking to people.
Now Sixuan is a member of her local waist drum band and one can often see her playing in local parades. She has traveled from her home in Taiwan to Hong Kong many times to tell tourists from mainland China the facts about the persecution of Falun Gong.
Husband Amazed by Her Total Transformation
The youngest child in her family, Sixuan was a spoiled child and she naturally grew into an overbearing and dominant young woman. However, after she married her husband, the eldest son in his family, she wasn't always able to get her way. According to Chinese tradition, she was expected to take care of everything, from her own family to her in-laws. Enter poor health. No wonder Sixuan became even more quick-tempered and often fought with her husband.
After she began practicing Falun Gong, she understood that she should be considerate of others and to find her own shortcomings amidst conflicts. Her bad temper gradually disappeared and she became level-headed and tolerant. Her husband was elated and often said he was the biggest beneficiary of her Falun Gong practice. He was grateful to Falun Gong for his wife's good health and mild temper and became very supportive of her participation in activities to promote the practice.