Son Beaten Severely in Prison, Father Promises Legal Action
September 15, 2013 | By a Minghui correspondent from Heilongjiang Province, China
(Minghui.org) Mr. Li Liguo, 36, from Harbin City, was sentenced to five and a half years in prison last year for practicing Falun Gong.
Mr. Li's father, who does not practice Falun Gong, heard on July 17, 2013, that his son had been savagely beaten by guards in Daqing Prison. He was very angry and went to the prison the next day. Gong Wei, the No. 3 Ward chief and deputy chief Zhang Chunsheng would not allow him to see his son. He then asked Prison Services Section chief Huo Weidong, who also refused the visit. Mr. Li's father asked to see his son for more than two weeks, and all of his requests were denied.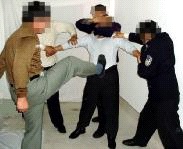 Torture re-enactment: Savage beating
Mr. Li's Father next approached the Daqing Bureau of Law and Justice. With help from its Discipline Inspection Section, he was able to see his son on August 7. He saw that his son had a bruised right eye, his left arm was swollen, and there were bruises and scars all over his body. His son said that his eye was getting better, but he could not lift his left arm to eat. His father asked why he was beaten. At that point, Squadron head Jin Lijun, who was monitoring the conversation, threatened Mr. Li not to tell his father why he was beaten.
Mr. Li's father got angry and said to Jin, "I have never hit my son once since he was born. Now, just because he practiced Falun Dafa, you send him here, beat him up, and won't let him talk about it. There is no justice!" He vowed to seek justice for his son.
The elder Mr. Li believed that the guards had already violated the regulations documented in "Disciplinary Measures When Guards Violate Laws and Orders in Prisons and Forced Labor Camps," and "Police Law." He filed a request that the Daqing Procuratorate, Bureau of Law and Justice, and other departments thoroughly investigate his son's beating, include an independent forensics test, and punish those responsible.
Mr. Li and six other Falun Dafa practitioners were arrested on October 23, 2011, by officers from Tonghe County, Harbin City. The female director of the 610 Office, county Police chief Wang Qiang, and deputy chief Xie gave orders that the practitioners be sent to the Tonghe Brainwashing Center that evening.
Mr. Li was beaten leaving bruises everywhere and a fractured wrist. He was once rushed to the Tonghe County Hospital. During his time in the hospital, four guards monitored him and beat him again. Tonghe County Court authorities tried him in Daoli Court in Harbin and sentenced Mr. Li to five and a half years in prison on February 23, 2012.
Parties involved in the persecution:
Gong Wei (宫伟), chief, No.3 ward, Daqing Prison, police number 2359057: +86-13351791666 (Cell)
Zhang Chunsheng (张春生), deputy chief, No.3 ward, Daqing Prison, police number 2359748
Jin Lijun (金利军), squadron head, police number 2359027