Former Credit Manager Arrested for the Sixth Time
August 09, 2013 | By a Minghui correspondent from Jilin Province, China
(Minghui.org)
Summary of Key Persecution Facts:
Name: Wang Jinbo (王金波)
Gender: Male
Age: Unknown
Address: Yitong County, Jilin Province
Occupation: Former credit manager at a bank
Date of Most Recent Arrest: June 5, 2013
Most Recent Place of Detention: Songyuan City Detention Center (松原市看守所)
City: Songyuan
Province: Jilin
Persecution Suffered: Forced labor, illegal sentencing, torture, extortion, fired from workplace, detention
Falun Gong practitioner Mr. Wang Jinbo from Yitong County, Jilin Province was arrested around 9 a.m. on June 5, 2013, at the Songyuan City Experimental High School, where he worked as a migrant worker. He was arrested by officers from the local police department's Domestic Security Division, and is currently detained at the Songyuan City Detention Center.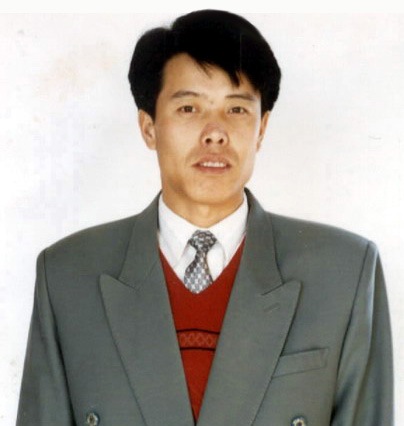 Mr. Wang Jinbo
This is the sixth time that Mr. Wang has been illegally arrested for his belief. He was formerly a credit manager at the China Construction Bank in Yitong County. Mr. Wang worked hard and was often commended by his superiors. However, since the Chinese Communist Party (CCP) launched the persecution against Falun Gong on July 20, 1999, he has suffered severe persecution, including arrest and torture.
Mr. Wang was nearly dead when he was released from prison the last time, and his job was taken away from him. In order to make a living, provide for his family, and avoid further persecution, he left his hometown and became a migrant worker in Songyuan City. Mr. Wang is currently under police custody. His wife, Ms. Yan Zhonghua has also been severely persecuted.
During the June 5 arrest, the police tried to force him to open a safe at his workplace, but he refused. When he tried to clarify the truth to the police officers, one of them took him into the bathroom, where he was beaten severely. The police later brought in a professional locksmith to open the safe and confiscated more than 3,000 yuan in cash and some personal belongings. The office was left in disarray.
The executive of the school was out of town at the time of the arrest and was repeatedly harassed by officers from the Domestic Security Division. They called him many times, requested that he return immediately, and threatened to have the school shut down. The police also harassed Mr. Wang's family in an attempt to create conflict and incite misunderstanding against him.
Officers from the Songyuan Police Department later went to Yitong County, and in collusion with the Yitong Police Department, they went to look for Mr. Wang's wife at the Yitong County Social Insurance Company where she worked. When they found out that she had taken a leave of absence that day, they left a notification of Mr. Wang's arrest at her workplace. Then they went to Mr. Wang's residence in an attempt to ransack his home.
Previous Arrests
Both Mr. Wang and his wife, Ms. Yan, have suffered years of persecution.
After Mr. Wang's wife, Ms. Yan was arrested on February 5, 2001 while distributing truth-clarification materials, the police searched everywhere for Mr. Wang. They lied to his family and promised that he would not be affected by her arrest. However, as soon as he returned home, Mr. Wang was arrested and taken to the local detention center. Only after he paid a huge fine was he released.
Mr. Wang was arrested again in April 2002 and illegally detained for a month at the local detention center. On August 26, 2002, the local police colluded with administrators at his workplace and arrested him while on duty. He was illegally sentenced to three years of forced labor for "not cooperating with the police" and refusing to go to a brainwashing center.
Mr. Wang's wife was arrested in November 2005 by agents from the local 610 Office, under orders given by their superiors. She was taken to the Luotai Villa Brainwashing Center in Fushun City. When Mr. Wang went to Ms. Yan's workplace and tried to get more details about her arrest, he was arrested and taken to the local police station. Though he was released the same day, the police went through procedures and had paperwork issued for sentencing him to a year and a half of forced labor. The police also sent officers to monitor Mr. Wang.
Right before the 2008 Olympics, the local police again put Mr. Wang on watch in April and eventually arrested him. Using the paperwork issued from November 2005, they attempted to place him in the Chaoyanggou Forced Labor Camp in Changchun City. The labor camp officials refused to admit him because the paperwork had expired. The Yitong City police rushed a renewal of the paperwork and Mr. Wang was eventually admitted to the forced labor camp. At the labor camp, he went on a hunger strike to protest the persecution. He was eventually sent to the hospital for emergency treatment. To evade responsibility for his health, the camp officials notified Mr. Wang's family in May to pick him up.
A number of Mr. Wang's family members have been harassed and threatened, and are under a great deal of pressure due to the ongoing persecution. Because of the information blockade, it is hard to know what type of abuse he is currently subjected to at the detention center. His family and friends are very worried about his safety. We call upon Falun Gong practitioners who have more information about Mr. Wang's current condition, and people of the community, to pay close attention to his case and help secure Mr. Wang's release.
Parties involved in the persecution:
Deputy director of Songyuan City 610 Office: +86-438-2108140 (Office)
Zhao Hongqi (赵红旗), secretary of the Songyuan City Political and Legislative Affairs Committee: +86-438-2123240 (Office)
Huo Yuncheng (霍云成), director of the Songyuan City Police Department: +86-438-2683999 (Office), +86-15943879999 (Cell), +86-431-82777222 (Home)
Sun Deyu (孙德玉), deputy director of the Songyuan City Police Department: +86-13943820116 (Cell)
Luo Hongjun (罗洪军), head of the Songyuan City Police Department Domestic Security Division: +86-438-6224593 (Office), +86-13943888800 (Cell)
Ai, director of the Songyuan City Detention Center: +86-438-3010001 (Office)
Xin, political commissar of the Songyuan City Detention Center: +86-438-3010002 (Office)