Practitioners Spread the Beauty of Falun Dafa in Ukraine (Photos)
(Minghui.org) On August 16, 2013, practitioners in Ukraine introduced Falun Gong to locals and tourists in the seaside city of Yevpatoriya, which is near the Black Sea. Many people stopped to watch the practitioners demonstrate the five Dafa exercises.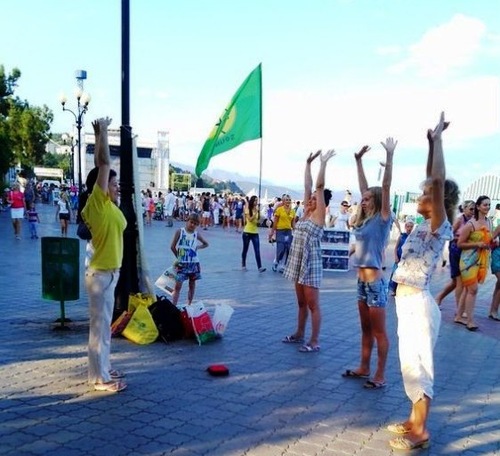 Several tourists learn the Falun Gong exercises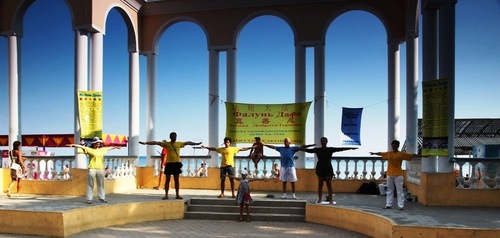 Practitioners demonstrate the five exercises
"What is this?" asked a mother and daughter from Russia after a practitioner handed them a little paper lotus flower.
"It symbolizes the lotus flower," explained the practitioner. "We're demonstrating the five Falun Dafa exercises right now. They helps to improve your health. Would you like to learn them?"
The mother and daughter followed along with the practitioner and finished the first two exercises. They then asked for the Falun Dafa website address so that they could download the Dafa books when they got home.
A woman from Russia said that she had learned how to do the exercises years ago, but stopped after she got really busy at work. She asked the practitioners to re-teach her each of the exercises.
"During the practice, I felt a warm energy flow coursing through my body," the woman enthused. She also bought a Dafa book and an exercise instruction video.
A young man in traditional Slavic clothing asked if he could do the meditation exercise with the practitioners. After the meditation, the young man excitedly told the practitioners, "I felt energy moving from the top of my head to my lower abdomen!"
A young girl joined the practitioners for 50 minutes of the one hour sitting meditation. After the exercise music stopped, she bought a Falun Dafa book and exercise instruction video.