Taipei, Taiwan: Spectators Drawn by the Thousands to Falun Gong March Marking 14 Years of Persecution in the Mainland
July 26, 2013 | By Shen Rong, Zheng Yuyan, and Zhou Rong
(Minghui.org) It has been 14 years since Jiang Zemin launched his attack on Falun Gong, yet practitioners of this peaceful practice are still standing strong. Thanks to their unwavering efforts, Falun Gong has spread far and wide all over the world and drawn more and more support from both inside and outside of China.
On July 20, 2013, the date marking the 14 th anniversary of the persecution, more than 1,500 Falun Gong practitioners in Taiwan held a grand parade in Taipei.
Observing the parade along the 6.5-kilometer-long route were Taipei residents and tourists from mainland China and other parts of the world. Many of them were awestruck by the sheer size of the parade and expressed their admiration for practitioners' courage and perseverance. Many signed the petition demanding an immediate end to the senseless torture and killing of practitioners in China.
Taiwan practitioners will continue their efforts until the suppression of Falun Gong comes to an end.
The Divine Land Marching Band Leads the Parade with Magnificent Music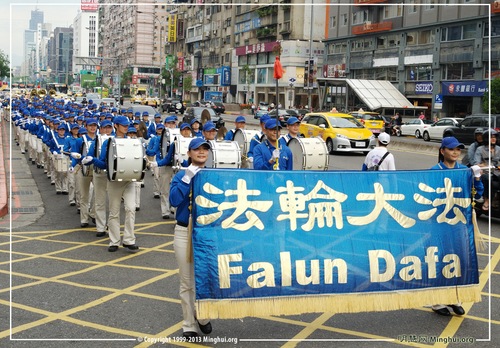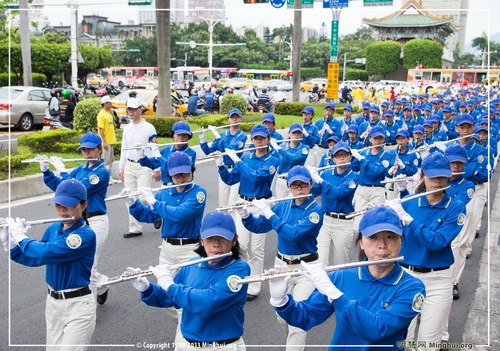 The Divine Land Marching Band leads the parade
The parade, with its theme of "Save the Innocent and End the Persecution," began in Xinyi Square. Led by the Divine Land Marching Band, it passed by Taipei 101, National Dr. Sun Yat-sen Memorial Hall, and Xinyi Commercial Circle before reaching Freedom Square.
Impressive Parade Line-up
The parade was divided into three major sections.
The first section, "Dafa Spreads Far and Wide," reflected the fact that Falun Dafa has spread to more than 100 countries and regions in the world and benefited more than 100 million people since its introduction to the public in 1992.
Models of the book Zhuan Falun in more than 30 languages were displayed, as well as banners reading "Falun Dafa is Good" and "The World Needs Truthfulness-Compassion-Forbearance." Practitioners also demonstrated the exercises and celestial maidens tossed flowers.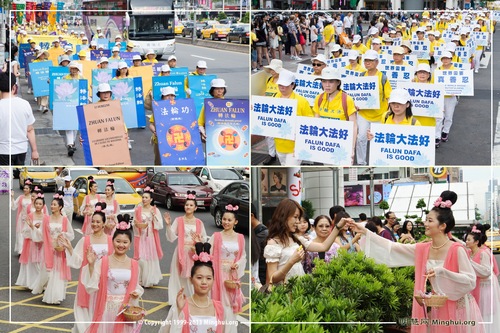 Peaceful exercise demonstration, smiling fairy ladies and truth-clarification banners
The second section, "Unprecedented Injustice," saw practitioners dressed in white holding pictures of practitioners tortured to death. Practitioners also reenacted tortures used on their counterparts in China. According to incomplete statistics, close to 4,000 practitioners have been tortured to death, while uncounted numbers have been brutally beaten, sent to detention, had their organs harvested while they were still alive, or are homeless.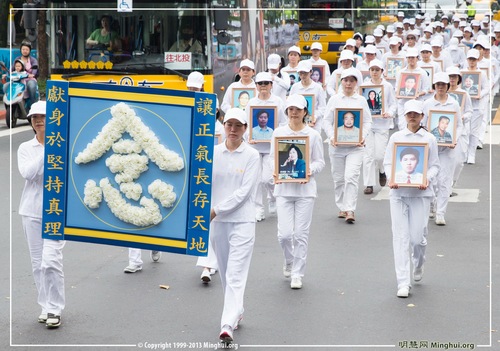 Practitioners in white hold pictures of deceased victims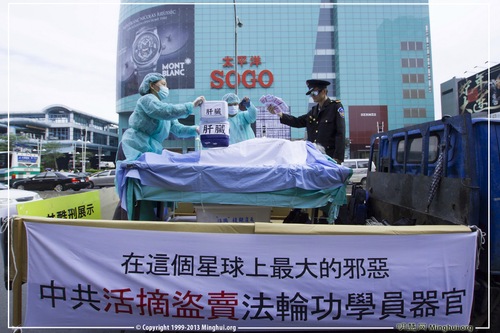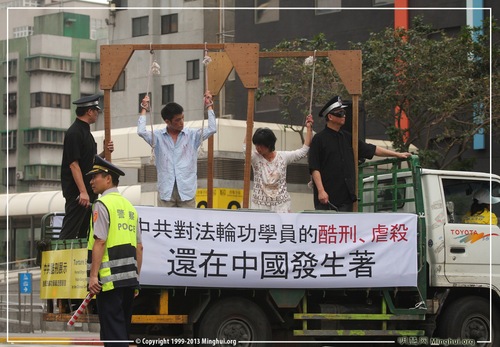 Reenacting methods of torture used on their counterparts in China
The third section, "Disintegrate the CCP and End the Persecution," consisted of posters and banners with messages calling for disintegration of the Chinese Communist Party and an end to the persecution. More than 140 million people have already quit the Party and its affiliated organizations. After 14 years of suppression, many people have come to see that only by disintegrating the Party will the persecution really stop.
Human Rights Lawyer: The Day Is Near When the Chief Culprits of the Persecution Will Be Brought to Justice
Attorney Teresa Chu is a member of the World Lawyers' Association to Hold Public Tribunal of Jiang Zemin[?]. During the past 14 years, she has participated in parades in many places, including Taiwan, Hong Kong, and America.
As a lawyer, Ms. Zhu always holds the same banner, "Bring to Justice Jiang Zemin, Luo Gan, Liu Jing, and Zhou Yongkang." In her own words: "I know the day is near when the chief culprits of the persecution, the gang of Jiang-Luo-Liu-Zhou, will be brought to justice. During the past 14 years I've seen more and more people join us and shout, 'Bring to justice chief perpetrators of the persecution of Falun Gong.'"
Graduate Student: I Take it to the Streets out of My Purest Belief
Lan Yuezhen is a newly minted graduate student. While passing out flyers on the streets in Taipei, she overheard one tour guide from mainland China telling his tour group, "They [referring to Lan Yuezhen and her fellow practitioners] are all sham practitioners. They're paid to do this."
Ms. Lan responded, "Why do I stand here under the scorching sun? It's out of my purest belief and sense morality and justice. This is why I brave the elements and work tirelessly to tell people what is happening in China."
She continued, "A recent abuse-death of a solider attracted widespread attention in Taiwan, and more than 10,000 people took to the streets to protest the victim's mistreatment. Similarly, hundreds of thousands of practitioners are being tortured in mainland China, so every year around July 20, practitioners outside of China hold activities to show their support and call for justice for the wronged practitioners."
A Mainland Tour Guide: Take your Time Watching the Parade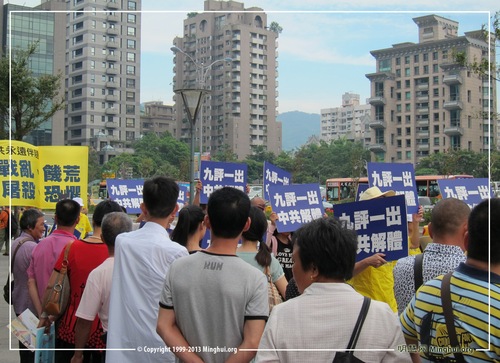 Tourists from mainland China watching Falun Gong parade attentively
Taipei 101 is not only an international financial center, but also a famous tourist attraction. It's a must-see for tourists from mainland China.
When the band passed by, the mainland tourists gathered there were shell shocked. Everyone was wide-eyed and dumbfounded--this was not something they got to see in China.
Passengers in the tour buses parked nearby looked out their windows and took pictures. Many of the tourists were very receptive when handed Falun Gong literature.
One tour guide told his tourists, "If you don't have a camera, then take your time watching the parade. Wow! So many more people coming. It's very long. No rush--we'll leave when the parade is over."
Many Tourists Sign the Petition Calling for an End to the Persecution
A family of four from Shanghai already knew about Falun Gong and the persecution. The mother said, "We have family members who practiced Falun Gong and became completely healthy. We see so many people today. We're amazed that so many people can practice Falun Gong and hold such a parade freely in Taiwan."
This family and a friend quit the Party and its affiliated organizations.
Four women from Indonesia said in not-so-fluent Chinese, "We also have people practicing Falun Gong in Indonesia. Today we see so many people in the parade and we just feel so touched and happy."
A tourist from Singapore was perplexed by the persecution but soon understood what was really going on in China after a practitioner explained. He said, "I support you guys!"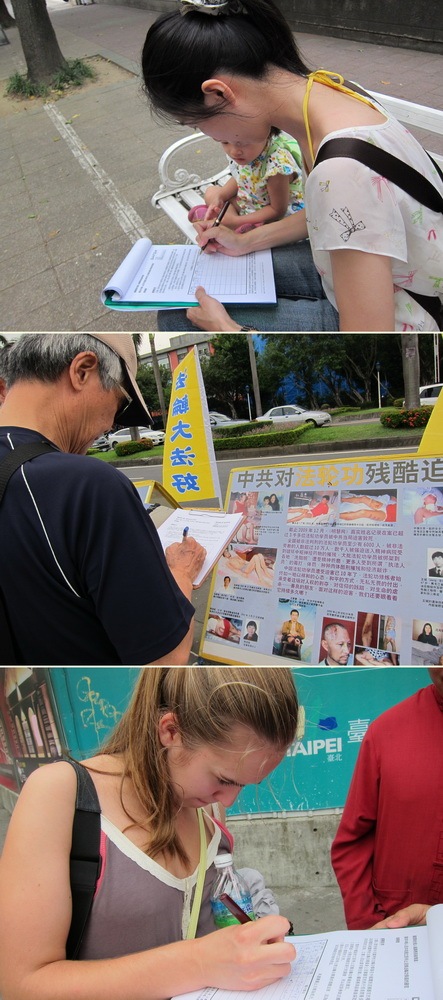 People sign the petition calling for an end to the persecution
An elderly Lama signed his name in Tibetan and also urged his two believers to do the same.
A gentleman lingered around the truth-clarification posters for a long time before getting up his courage to sign the petition.
Outside Dr. Sun Yat-sen Memorial Hall, four mainland students who study in Taiwan asked, "What is this parade for?" They were shocked to learn about the live organ harvesting and immediately showed their support. They shouted, "Go!"
Taipei Residents Show Their Support for Falun Gong Practitioners
Taipei residents were also very supportive. Many of them said, "Go! I support you! Such crimes must be stopped!"
A businessman used to run a muffler business in mainland China. He told practitioners his plant was later confiscated and he had to pay 300,000 yuan before he was allowed to return to Taiwan. Based on his own experience, he had no trouble at all understanding the plight of practitioners in China.
He also had a friend who got a kidney transplant in China in less than two months. He admitted that such speed was suspicious. He signed the petition and wished practitioners well.
One man said, "Falun Gong's parades are always the best."
On Fuxingnan Road, a man asked for informational materials, saying, "Falun Gong is banned in the mainland, but is welcomed in Taiwan. We have freedom here."
Ms. Zhang and Mr. Lin said, "We never realized that so many people here practice Falun Gong. The parade is very orderly despite the number of participants. We're really moved and totally in awe."
A lady with a backpack stood at an intersection and kept her thumb up to show admiration until the entire parade passed by.
Ms. Liao, a salesperson for a publisher, became hugely interested in Falun Gong after noticing how much energy all the practitioners in the parade had. She asked how to begin practicing.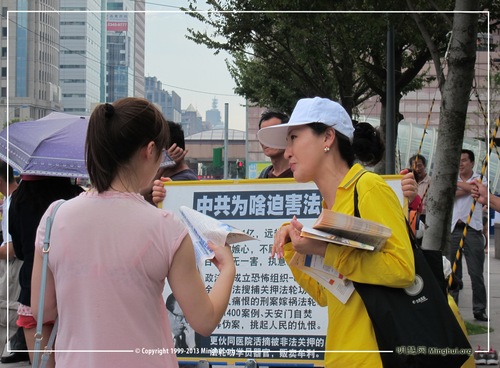 Taiwan practitioners talk to mainland tourists and ask them to quit the Party and its affiliated organizations
Concluding Remarks
During the past 14 years, more and more people have learned about Falun Gong and now understand the evil nature of the Chinese Communist Party, thanks to the unwavering efforts of practitioners all over the world.
The contrast between good and evil is sharp. Practitioners' kindness and perseverance have melted people's reserve, and the truth of Falun Gong further touches their hearts.
This unprecedented battle between good and evil has come to its final leg. We hope that people can make a wise choice by standing up for Falun Gong and helping end the persecution.