Chengdu City Resident Calls for Rescue of Her Husband and Daughter
July 19, 2013 | By Xie Chengxin, a family member of Falun Gong practitioners in Chengdu, Sichuan
(Minghui.org) I originally feared speaking or writing about this heart-wrenching case regarding the persecution of my family. Members of the 610 Office threatened me by saying, "If you post our conversation with you today on the Minghui website, we will arrest you immediately." Director Du of the Jinniu District 610 Office asked me, "Who posted those materials on Minghui? If you don't tell us, you cannot go home."
The situation with my husband and daughter is heart-breaking. When my husband was taken away because he practiced Falun Dafa, I saw the disappointment and sadness on his face. My heart aches with pain just recalling the scene. My daughter suffered such distress that she started taking medicine every day. But that was only the beginning. The situation became much worse for us.
I can no longer endure this without speaking out. I was afraid, but then wondered, "Where was my sense of morality?" I had to reveal the truth and appeal to all just and compassionate people for help in rescuing my daughter and husband. They are two very kind and righteous beings. Why was I afraid of speaking out?
My name is Xie Chengxin. I live at No. 8 Yingtong Street, Chengdu City, Sichuan Province. My husband, Jiang Zonglin, used to be director of Mingyuan Architectural Research Institute in Chengdu City. My husband and my daughter, Jiang Zhujun, have been detained for over six months in the Xinjin Brainwashing Center (also called the Legal Education Center of Chengdu City externally), and are being subjected to inhumane treatment. I call on all kind people to extend your help to rescue my husband and daughter!
Jiang Zonglin couple
Prison Term Complete, Husband Is Detained Again, Mother and Daughter Deceived
Mr. Jiang Zonglin's 5-year prison term was over on October 15, 2012. However, officers at the Fuqin Police Station, in collaboration with the Jinniu District 610 Office, transferred Mr. Jiang directly from Deyang Prison to Xinjin Brainwashing Center (located in Caiwan Village, Huaqiao Township, Xinjin County). There has to this day been no legal documentation informing his family of the transfer.
The Xinjin Brainwashing Center where Mr. Jiang was taken is a base for carrying out persecution. According to information obtained by breaking through the Internet blockade, seven practitioners have been persecuted to death in this brainwashing center. In order to achieve the so-called goal of "transformation," various vile means have been used in the center, including lies, threats, poisoning, swearing, excessive TV noise, violence, etc. to their maximum. The so-called "transformation" of Falun Gong practitioners itself embodies a kind of evil mental control.
My daughter and I went to the Xinjin Brainwashing Center, along with several relatives and friends, on December 22, 2012, to request the release of my husband, but the brainwashing center refused to let us see him. Yin Shunyao, director of the brainwashing center, said he would allow us to visit Mr. Jiang. This was just a ruse, because after we arrived, were were locked up, each in a separate room. My daughter and I were forcibly separated and detained. When the police officer took my daughter from me, I saw him roughly push her to the ground.
All three members of my family were now being held in the brainwashing center, where we spent the 2013 lunar new year.
My Daughter Suffers Inhumane Abuse
Before I left the brainwashing center, I was able to meet briefly with my daughter a total of three times. When I saw her the first time, she could not stop crying. Her lips were gray, and when I asked why her lips were like that, she said that she had not eaten for a few days.
When I met with her the second time, her neck was stiff and had very little movement. I am quite certain that this was the result of torture.
A few days before I left the brainwashing center, I saw my daughter for the third time. She told me that she had suffered the same brutal torture as Falun Gong practitioner Ms. Zhan Min.
According to the reports on the Minghui website, the mental and physical tortures Ms. Zhan Min suffered included force-feeding, while bound to a "death bed." Her body could not move at all as her hands, feet, and legs were bound onto a wooden board. A tube was inserted into her stomach. A tube was also inserted to collect urine. This force-feeding treatment lasted several days and nights. Unknown drugs were given intravenously, causing Ms. Zhan's health to deteriorate even quicker, until at the very end when Ms. Zhan became mentally incapacitated.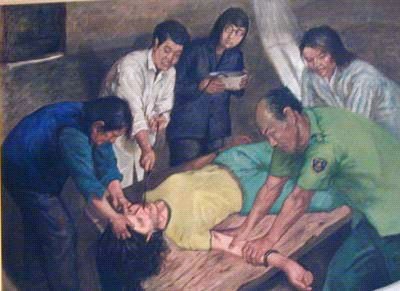 Torture reenactment: Brutal force-feeding
Threats and Deceit – Accustomed Means of Brainwashing
During my detention, the staff of Xinjin Brainwashing Center, including Wang Xiuqin, urged me to write the so-called repentance statement again and again, taking advantage of my mental state of missing my daughter and worrying about her. In the beginning, they told me that once I wrote the repentance statement, they would allow me to see my daughter. I wrote it, but they accused me of not conforming to their requirements, and I was still not allowed to see my daughter.
On January 15, 2013, Wang Xiuqin and her cohorts forced me to transcribe the four "statements" denouncing Falun Gong and asked me to make sure that I wrote, "I will give up practicing Falun Gong." After that, the brainwashing went even further by requesting me to persuade my daughter to be "reformed."
During the brainwashing period, Xie Lejie (also known as Director Du) from the 610 Office, along with Wang Xiuqin and cohorts, repeatedly warned me not to contact anyone who practiced Falun Gong, and not to publish any solemn statements on the Minghui website.
Staff members from the brainwashing center went to my home with me on February 7, 2013, and took all the cash I had at home with them, back to the brainwashing center. The money was used to pay the 498 yuan cost of a personal monitor's clothing, which was dragged and torn by Ms. Jiang Zhujun when she first arrived in the brainwashing center but did not want to stay. The personal monitor blocked her as she forced her way out of the room and tore her clothes.
The brainwashing center staff, in collaboration with six people, including Wu Wei from the 610 Office, interrogated me in early March 2013, and threatened not to release me if I did not fully cooperate with them. A person called "Dai Yong" (this person was probably Li Yong) took notes, while another person video-recorded the session with a cellphone. The purpose of the interrogation was to obtain from me information about who had helped me, including names and addresses. They also wanted to know who had come with me to the brainwashing center to request the release of my family members. After the interrogation, a staff member from the Fuqin Street Neighborhood Office, and another person from the community, took me home.
Threats and Intimidation
I made a phone call to Yin Shunyao, director of the brainwashing center, on May 4, 2013, and asked, "When will you release my husband and daughter?" Yin Shunyao said, "Release? You have escalated your case. Your relatives and other supporters have brought your case to the local NPC (National People's Congress) office and submitted materials against me. This incident has been reported to Huang Xinchu, who has given direction for handling it. The more you publicize your case, the more punishment you will receive. Now, your case is not something I can decide. We would now like to arrest your relative who is the instigator in this matter. Does she also practice Falun Gong?" He was very angry as he talked to me. I don't know where this relative is, and am not well informed of her situation.
After some negotiations, Yin Shunyao agreed to let me take some clothes and supplies with me to visit my husband and daughter the following week.
I went to Xinjin Brainwashing Center on May 7, 2013. Bao Xiaomu called me to her office. Xu Dang was there too. Xu said that I had behaved poorly towards them. They wanted me to make a written declaration that the articles published on the Minghui website were not written by me, but by someone using my name. The articles he was referring to were, "Mr. Jiang Zonglin Incarcerated Again After Five Years in Prison; His Wife Sues Responsible Parties" (March 24, 2013), "Ms. Jiang Zhujun from Chengdu City Tortured in Xinjin Brainwashing Center" (April 11, 2013), and "Chengdu Jinniu District '610 Office' Colludes with Brainwashing Center to Continue Persecuting Jiang Zonglin Family" (April 23, 2013).
I replied that I would not write such a statement, and before I was even done talking, Bao Xiaomu threatened me. He said that the case against my family had been given to the central government, and this was the peak time for severe Falun Gong persecution. He further said that I should cooperate, or I would not be allowed to go home, and would have to go to the Public Security Bureau. He gave me half an hour to think it over. A phone call was made to the bureau asking them to pick me up in thirty minutes.
My thinking at that time was that they were acting irrationally, and were capable of the worst brutality. I remembered that my daughter and I were detained there for no reason at all; we just came to visit my husband. My daughter was still detained, and my fear was that they would again detain me in the brainwashing center. So, I went against my will and wrote the statement they wanted. After that, they allowed me to see my husband and daughter.
I now solemnly declare: Although those articles were not written by me, they contain truthful accounts of the facts that I personally experienced. The author did not steal my name to write the articles.
My Husband Is Weak, His Body Droops, and My Daughter's Situation Is Even More Heart-Wrenching
Upon seeing Jiang Zonglin (my husband), my heart sank. His eyes were bloodshot and his entire body was weak. He appeared to be senile and decrepit. He was in his sixties, but looked like an elderly person, as if in his nineties. Compared to how he looked on December 22, 2012 when I last saw him, he was definitely more haggard. Bao Xiaomu said shamelessly that my husband's situation was better than when he was transferred to Xinjin Brainwashing Class directly from Deyang Prison. My husband said to me that Deyang Prison was more lenient than here.
Upon seeing the poor condition of my husband, my heart was broken. I was deeply grieved.
The situation of my daughter was even more heart breaking to see. Bao Xiaomu said to me (not in front of my daughter), "Your daughter is probably suffering from a serious disease. She has not menstruated since January 2013." He further said that an exam at the hospital revealed that her womb was barren. He went on to describe more symptoms, but I am not able to repeat them. As a mother, these symptoms frightened me, and I could not bear hearing more. Yet he went on, and described my daughter as a useless person. My daughter's health used to be good--why has it deteriorated to such an awful degree after being detained for a few months in the brainwashing center? My heart aches for her, and I am worried about her health.
Related articles:
Practitioner Mr. Jiang Zonglin Arrested and Detained at Chendou City Detention Center
Deyang Prison Officials Deny Mr. Jiang Zonglin Family Visits Three Times
Prison Term to End Soon for Architectural Design Expert, Chengdu 610 Office Authorities Attempt to Interfere with His Release
Released after Five Years in Prison, Mr. Jiang Zonglin Now Incarcerated in Xinjin Brainwashing Center for More Than Two Months
Practitioner Jiang Zonglin Remains Incarcerated after Completing Five-year Prison Term, His Wife and Daughter Also Arrested
Mr. Jiang Zonglin Incarcerated Again After Five Years in Prison; His Wife Sues Responsible Parties
Ms. Jiang Zhujun from Chengdu City Tortured in Xinjin Brainwashing Center