Sydney: Celebrating World Falun Dafa Day in City Center (Photos)
(Minghui.org) May 13, 2013 marked the 14th anniversary of World Falun Dafa Day. Practitioners in Sydney, Australia held a series of activities at Farrer Place to share the grace of Falun Dafa with people working in political and commercial sectors, and also to raise awareness about the persecution that Falun Gong practitioners are subject to in China.

Sydney Falun Gong practitioners celebrate World Falun Dafa Day in city center

Demonstrating the Falun Gong exercises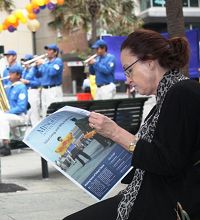 Learning the facts about Falun Gong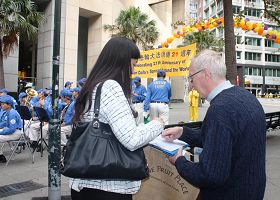 Signing petition to end the persecution of Falun Gong
The site was decorated with eye-catching banners such as: "Falun Dafa is Good", "Truthfulness-Compassion-Forbearance", "Celebrating May 13, World Falun Dafa Day" and "Celebrating the 21st Anniversary of the Dissemination of Falun Dafa". An attractive rainbow formed with colorful balloons added even more to the festive atmosphere, and there was also a radiant large model of the book, Zhuan Falun, sitting on a golden lotus flower.
Practitioners in beautiful, golden costumes demonstrated the peaceful Falun Gong exercises to passersby, and many staff members working in the nearby buildings also stopped and watched the celebration. John Deller, spokesperson for the Falun Dafa Association in Sydney, gave an introduction and told people that the practice has been spread to over 100 countries, with more than 100 million people practicing. He also told people about the cruel persecution that the Chinese regime has been inflicting on Falun Gong practitioners over the past 14 years.
The Divine Land Marching Band played beautiful compositions such as "Falun Dafa is Good", "Delivering a Treasure" and "Buddha Grace and Holy Music". The compositions were followed by a lively waist drum dance and a lion dance. The performances were much appreciated and enjoyed by the audience.
There were also truth-clarifying display boards at the site, with information and a petition desk as well. Many people signed the petition to call for an end to the persecution. One practitioner said dozens of people signed in a very short period of time: "This is a political and financial center and people are very busy and walk fast. Even so, they still accept our materials and take the time to sign our petition. Many people know about Falun Gong and are very supportive."
Falun Gong practitioner Marek Biel, who has a Polish background, said, "This is the first time I've come to celebrate World Falun Dafa Day. I feel deeply in my heart the beauty and brightness I see today. Falun Dafa is a unique cultivation practice and I'm very grateful that I have the opportunity to cultivate in Falun Dafa. I feel blessed every morning I get up and very grateful that I was introduced to the practice. I have a wish in my heart that more and more people will come and practice Falun Dafa. At least you should know the three words Truthfulness, Compassion and Forbearance!"
Marek went on to say, "Falun Dafa is open to everyone and is free of charge. Today is our Master's birthday. I want to say from the bottom of my heart: 'Thank you Master! I have benefited so much from Falun Dafa. Thank you Master for disseminating Dafa to people so unselfishly. Happy Birthday Master!'"
Lion dance performer Oliver said, "I have been practicing Falun Gong for 10 years. I feel light and healthy and very peaceful inside. All the illnesses I used to suffer from have disappeared. We take the opportunity today to let more people know about the grace of Falun Dafa, so that they can try the practice as well. Many people watched our performances, received information about Falun Gong and learned the exercises.
The celebration went on for over five hours. Staff members working in buildings nearby really enjoyed the performances and learned more about Falun Gong. Some of them came out for information materials and asked if they could take a few more copies for their colleagues.