UK: Celebrating World Falun Dafa Day in London (Photos)
May 19, 2013 | By Minghui reporter Xiuming Tang in the UK
(Minghui.org) With May 13, 2013, being World Falun Dafa Day, UK Falun Gong practitioners held a large-scale celebration with activities on May 11, at the North Terrace of Trafalgar Square in the centre of London. They expressed their gratitude to Master Li Hongzhi and Dafa. They introduced Falun Gong to passersby on the day, hoping that more and more people could experience the beauty of Falun Dafa and spread the word about the persecution in China.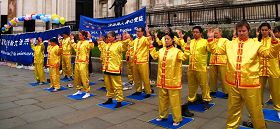 Celebrating the 14th annual World Falun Dafa Day

Meditating together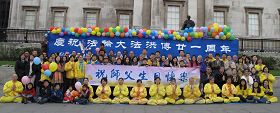 Sending greetings to Revered Master
During the day-long celebration, hundreds of people had the opportunity to get to know Falun Gong (also known as Falun Dafa). The practitioners told people the simple facts: "Falun Dafa is a good practice" and "The world needs Truthfulness-Compassion-Forbearance".
Meanwhile, Falun Gong practitioners heard the same voice from people from all walks of life: We wish for Falun Dafa to be spread all over the world, and for Truthfulness-Compassion-Forbearance to be spread across the earth. People who learned the truth of Falun Gong praised together with UK practitioners: "Falun Dafa is good", "The world needs Truthfulness-Compassion-Forbearance".
At the event, Falun Gong practitioners set up giant colorful banners: "Celebrating Falun Dafa's spread throughout the world for 21 years", "Falun Dafa has spread to 114 countries around the world" and "Falun Dafa benefits hundreds of millions of people both physically and mentally". They also set up posters fully illustrating the basic information about Falun Gong, and decorated with beautiful and colorful handmade lotus flowers.
Falun Gong practitioners dressed in yellow exercise suits demonstrated the five sets of exercises along to peaceful music. Trafalgar Square was very busy over the weekend, and people were constantly stopping by to watch the exercise demonstration and to learn about Falun Gong.

Learning about Falun Gong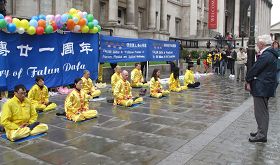 Watching the Falun Gong exercise demonstration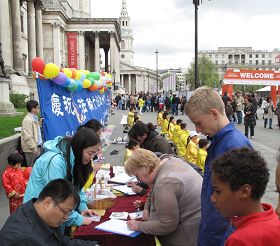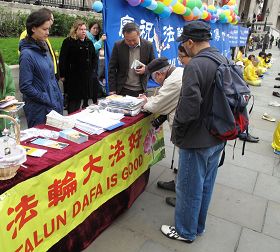 After learning that Falun Gong has been persecuted by the Chinese regime for nearly 14 years, people eagerly signed a petition to protest the persecution
Among the passersby were many tourists from other parts of the world, and for some, this was their first encounter with Falun Gong. When they were handed a Falun Gong leaflet or a beautifully handmade paper lotus flower from practitioners, they could experience the beauty of Dafa. Many people were touched by the peaceful exercises of Falun Gong and took out their cameras and mobile phones to take pictures and record videos.
When people learned that Falun Gong has been persecuted by the Chinese regime for nearly 14 years, they showed their support to Falun Gong and eagerly signed the petition to end the persecution. Mr. A. Banwarie is an Indian Dutchman, he came to visit London in a wheelchair with his brother. After he heard about the persecution of Falun Gong, he asked to sign the petition himself.

An Indian Dutchman in a wheelchair signs the petition after learning about the persecution of Falun Gong
High school student Alex lives in North London, and when he learned about the persecution of Falun Gong, he signed the petition straight away without any hesitation; he said that he was doing it because it was the right thing to do. He also mentioned that he would learn more about Falun Gong and planned to let his circle of friends know about it.
Uyghur Doctor: I believe One Day People from All Over the World Will Practice Falun Gong
Enver Tohti is a Uyghur doctor who is now living in the UK. A few weeks ago, he went to testify in the Scottish parliament regarding the live organ harvesting crime committed by the Chinese regime. He admitted that 18 years ago, when he was a doctor in China, he was forced to take organs from prisoners with the death penalty. This May, he especially came to join the celebration held by UK Falun Gong practitioners. He said that he is a man of conscience and would participate in the celebrations and stand together with practitioners proudly.
Enver Tohti very much admires the moral courage of Falun Gong practitioners who unceasingly protest the persecution. He is also happy to see that Falun Dafa has spread all over the world. He said: "I very much admire the courage of Falun Gong and I have seen many activities by Falun Gong practitioners. Because of their forbearance and patience, their endurance to sit there and clarify the truth persistently, I believe that one day, the whole world's people will start practicing Falun Gong."
A Couple Who Learned about Dafa: This Kind of Exercise Should be Publicly Promoted in British Society
Mary and Byron are a couple from a small town in England. Six or seven years ago, when they were touring San Francisco, USA, they came across activities held by Falun Gong practitioners there, and learned the truth about the suppression and persecution of Falun Gong by the Chinese Communist Party. Byron believes that the persecution of Falun Gong is due to the Party being afraid of losing control.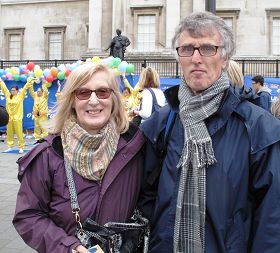 Mary and Byron think that Falun Gong should be publicly promoted in British society
When they came across Falun Gong again in London, the couple was standing there watching the exercise demonstration for a very long time, deeply moved by the peaceful and tranquil energy. They believe that such a good practice, which benefits both mind and body, is the hope for current society and should therefore be publicly promoted in Britain. Mary said: "Today's society is too materialistic. We live in a violent society, it's such a shame that Falun Gong is not taught in the British schools as that would be wonderful!"
"The principle of Truthfulness-Compassion-Forbearance is important for everyone, it is the basis for the continuity of society. Today's society is almost going to explode. We believe that humans are currently in a period of turmoil."
Security Personnel at Trafalgar Square: I Want Everyone to Understand Falun Gong
The special celebration by Falun Gong practitioners also attracted the attention of a few security personnel at Trafalgar Square. One of them, Richard, came to express his best wishes for Falun Gong practitioners. He said: "The people from the Falun Gong group are so peaceful and very spiritual; I saw they attracted the attention of the public. I want everyone to understand Falun Gong and how the Chinese regime is persecuting Falun Gong. I hope that Falun Gong continues to grow."
Before the end of the day's celebrations, Falun Gong practitioners who participated in the celebration of World Falun Dafa Day jointly sent their best wishes to Master Li: "UK Falun Dafa practitioners wish Master a Happy Birthday!" and "Falun Dafa is good"!