Chicago: Falun Gong Practitioners Commemorate the April 25 Appeal with a Candlelight Vigil (Photos)
April 28, 2013 | By a practitioner in Chicago
(Minghui.org) Chicago Falun Gong practitioners held a candlelight vigil in front of the Chinese Consulate to commemorate the April 25 Appeal on the evening of April 25, 2013.
On April 25, fourteen years ago, more than 10,000 Falun Gong practitioners went to the State Appeals Office in Beijing to request the release of fellow practitioners arrested in Tianjin. The peaceful event was highly praised by the international community. But the Chinese communist regime, then headed by Jiang Zemin, twisted the facts, claiming the peaceful event was a "siege of the government" and initiated the brutal persecution in July 1999. Falun Gong practitioners have kept steadfast belief in Truth-Compassion-Forbearance and continued raising awareness and conscience around the world.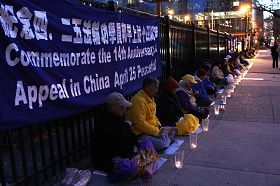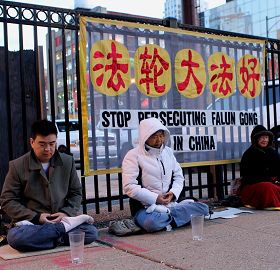 Chicago Falun Gong practitioners hold a candlelight vigil in front of the Chinese Consulate to commemorate the April 25 appeal
Ms. He came to the USA last year from China. She shared her experience of becoming healthy from practicing Falun Gong. She also described her suffering in the persecution. She was arrested and imprisoned in labor camps four times. She suffered various tortures, including force-feeding while on hunger strike. Despite harsh the torture and brainwashing, Ms. He did not give in.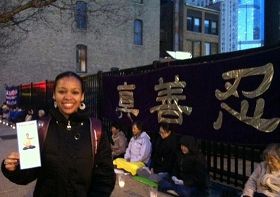 Ama, a college student in Chicago, learns about Falun Gong at the event
Ama, a student in Chicago, noticed the peaceful protest in front of the Chinese Consulate while passing by. She stopped to learn more and had a photo taken in front of a banner with the Chinese characters for "Truthfulness-Compassion-Forbearance."
Goodness will prevail
Participating in the event was Ms. Huang, who started to practice Falun Gong in January 2000. She said Falun Gong practitioners' peaceful and rational efforts to protest the persecution has helped more and more people learn about the persecution She hopes more people will clearly see the vicious nature of the Chinese Communist Party.
Mr. Sen Yang, president of the Mid-USA Falun Dafa Association, said, "On April 25, 1999, more than 10,000 people held a peaceful appeal in Beijing. It is a day worth commemorating. This was the first time such a large scale peaceful appeal for freedom was achieved under the tight control of the communist regime.
"Over the past 14 years, Falun Gong practitioners have become stronger, more mature and rational. More and more people around the world know the truth about Falun Gong. In China, more than 100 million people have renounced the Chinese Communist Party and its affiliated organizations. The perpetrators in the persecution are afraid of their crimes being disclosed. We have kept peaceful and rational in our efforts to raise awareness. Falun Gong, which is based on the universal principles of Truth-Compassion-Forbearance, is good for society and should be celebrated, not persecuted."