San Francisco Falun Gong Practitioners Commemorate April 25 Appeal (Photos)
April 28, 2013 | By Wang Yi, Minghui correspondent in San Francisco
(Minghui.org) More than three hundred Falun Gong practitioners in San Francisco held activities in front of the Chinese Consulate General on April 25, 2013, to commemorate the April 25 Appeal that took place in Beijing fourteen years ago, to protest against the brutal persecution of Falun Gong by the Chinese Communist Party (CCP), and to call for an end to the persecution.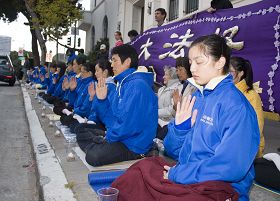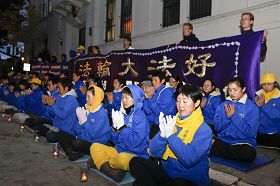 Falun Gong practitioners call for justice in front of the Chinese Consulate in San Francisco.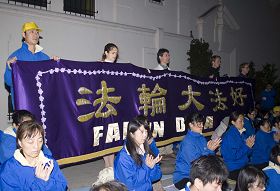 Practitioners hold a banner stating "Falun Dafa is great!"

Group exercises in front of the San Francisco Chinese Consulate.
In the evening, the practitioners lit candles to commemorate the practitioners who lost their lives in the persecution. They did the Falun Gong exercises in a group. Many passersby stopped to ask about the persecution. Some people had made a special trip to the activity to show their support.
Falun Gong practitioner Ms. Gu Xifang used to be a middle-school teacher in China. She was arrested nine times within nine years for refusing to give up her belief. She was thrown into Beijing Women's Prison for five years. She held a hunger strike and was tied to a Death Bed. She was hung by her thumbs and almost lost her life. Ms. Gu said, "They don't care if you die or not. All they care is whether you give up your belief. Every time I was tortured, it wasn't because I did anything wrong. It was because the policemen were deceived by lies. They were the true victims. The reason we came here today is to help free these people from lies and hatred."
Falun Gong practitioner Mr. Feng Zhentang came to the U.S. from China a few months ago. His cholecystitis and stomach disease were cured by practicing Falun Gong. However, he and his wife Liu Lianchun were arrested for practicing Falun Gong in 2007. Mr. Feng was beaten terribly. His wife was tortured on a Death Bed and sent to a hospital for a forced abortion. Mr. Feng was imprisoned for four years in Shandong Province. His mother had a heart attack because of Mr. Feng's arrest and passed away in 2008. Mr. Feng said, "I came here today to tell people that Falun Dafa is righteous. The CCP persecutes innocent Falun Gong practitioners and even harvests their organs from them [for profit in organ transplantation surgeries]. I hope people will clearly see the evil nature of the CCP and won't believe its lies."
Andy, a Silicon Valley engineer, said, "I would like to thank Falun Gong practitioners for their April 25 appeal. Falun Gong became known internationally after their appeal. Because of their courage, many people found out about Falun Gong and started practicing Falun Gong."
Mr. Gu came to the Chinese Consulate to show his support for Falun Gong. He has friends in China who practice Falun Gong. He said, "The CCP's persecution of Falun Gong is a persecution of freedom of belief. It's a violation of human rights. The brutal organ harvesting can't be tolerated by heavenly law. I came here to support my Falun Gong friends."
Mr. Chen, another supporter, told a reporter, "I came to show my support for Falun Gong. It's my responsibility. My conscience told me to do so. The CCP's persecution of Falun Gong must be exposed and punished."