Calgary, Canada: Rally Held to Commemorate the April 25 Appeal (Photos)
April 25, 2013 | By a practitioner in Calgary
(Minghui.org) Falun Gong practitioners in Calgary, Canada held a rally in the downtown area on April 20, 2013 to commemorate the fourteenth anniversary of the peaceful April 25 appeal in Beijing.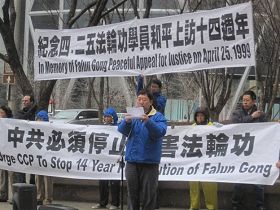 Falun Gong practitioner Mr. Yang speaks at the rally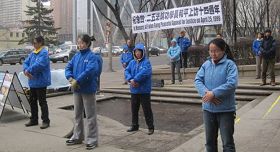 Practitioners demonstrate the Falun Gong exercises
Practitioner Mr. Yang described the circumstances of the April 25 appeal in Beijing. He pointed out that Falun Gong's positive effects, including fitness and illness healing, caused it to spread quickly and become widely accepted in society after it was introduced. In 1996, the Chinese Communist Party (CCP) started to secretly investigate Falun Gong, and conducted various harassments and monitoring operations. Several large-scale investigations found no evidence of harm caused by Falun Gong, but instead confirmed its marvelous effects and positive role in upgrading morals. Nonetheless in April 1999, more than 40 Falun Gong practitioners were arrested and beaten for their peaceful appeal in Tianjin, sixty miles east of Beijing. Other practitioners there who tried to appeal for the release of this group were told they must go toBeijing to have the issue resolved. This led to more than 10,000 practitioners appealing at the State Petition Office in Beijing on April 25, 1999.
Mr. Yang stressed that Falun Gong practitioners have been raising awareness about the practice peacefully and rationally for the past fourteen years. Falun Gong practitioners have continually asked the Chinese Communist Party to stop the persecution. The party tramples the basic human rights of the practitioners. He called on Chinese people to learn the true nature of the CCP and renounce it and its affiliated organizations to ensure a better future.
Ms. Yu from Tianjin is a volunteer for the service center to quit communist party. She recalled her own experience in participating in the April 25 appeal. She said during its over 60-year control, the communist party persecuted countless Chinese people. Falun Gong practitioners in China and overseas advise Chinese people to quit the communist party and its affiliated organizations.
The rally was held on a very cold, windy, and snowy day. Mr. Bi, who had just arrived in Calgary from China, stayed at the rally to show his support. He said he appreciated learning about the ongoing issues. He said that the state-controlled news reports about the April 25 event claimed that Falun Gong had staged a siege of the government and was involved in politics, but he was suspicious of those reports. However, due to huge political pressure, he did not dare to say differently in China. He said from his own experience, the Chinese Communist Party had done numerous unreasonable and ridiculous things. He knew that the communist party could not be trusted.
Practitioners demonstrated the five sets of Falun Gong exercises at the conclusion of the rally.