San Francisco: Falun Gong Practitioners Commemorate the April 25 Appeal (Photos)
(Minghui.org) On April 21, Falun Gong practitioners from San Francisco held a series of activities in Chinatown to commemorate the 14th anniversary of the April 25 Appeal. They set up a photo exhibition and held a rally with several speeches presented to honor the occasion.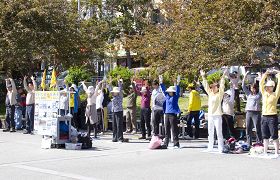 Demonstrating the exercises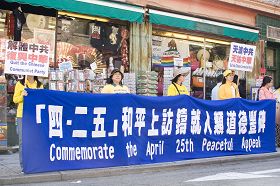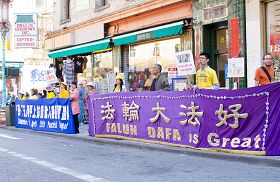 Banner display

A volunteer from the service center for quitting the party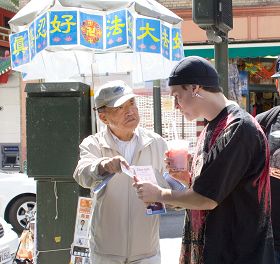 A practitioner distributes informational materials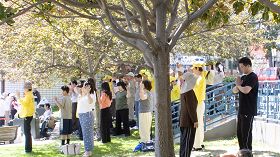 Passersby stop to learn the Falun Gong exercises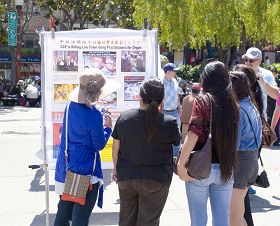 Viewing the display boards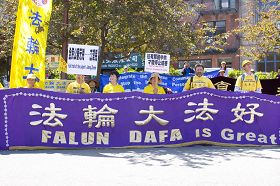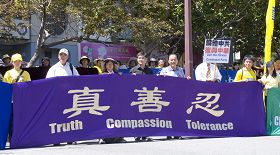 The rally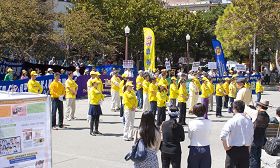 Demonstrating the exercises
Ms. Lan, a Falun Gong practitioner from Shenzhen, China, said in her speech that 14 years ago she was a high-ranking officer at an enterprise in Shenzhen. She heard about Falun Gong after the April 25 Appeal.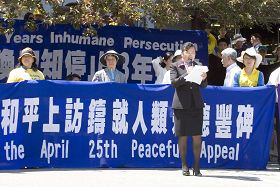 Ms. Lan gives a speech
Ms. Lan was wondering why more then 10 thousand practitioners went to Beijing to appeal. So she found a copy of Zhuan Falun, the main book of Falun Gong, and tried to find out what Falun Gong was all about. She finished the book within two days and had discovered a new purpose for her life. After the persecution of Falun Gong started in 1999, she also went to Beijing to appeal for Falun Gong, and was arrested.
Ms. Li Jie, who was a senior in college 14 years ago, was one of the participants of the April 25 Appeal. In 2000, she was arrested simply because she rented her apartment to a Falun Gong practitioner. She was sentenced to 5 years, and was badly tortured.
Seventy-two-year-old Mr. Meng also attended the April 25 Appeal. He started practicing Falun Gong in 1996. He shared in his speech how the practice healed all his diseases. He called upon the audience to learn the truth about Falun Gong, and abandon the Chinese Communist Party.
Many tourists stopped at the rally. Some of them talked with practitioners and some learned the exercises.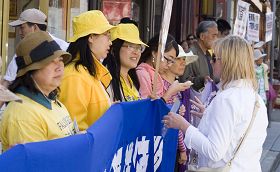 Tammy, a tourist from New York, talks with practitioners about learning the exercises.