Toronto, Canada: Falun Gong Practitioners Take Part in Christmas Celebration at Community Safety Village (Photos)
December 12, 2013 | By Zhang Yun
(Minghui.org) The Community Safety Village is a popular educational facility in the Regional Municipality of York, where children learn about important aspects of safety. Toronto's York Regional Police Department invited the Falun Dafa Lotus Art Group on December 7 to perform at this year's Community Safety Village's annual Christmas celebration. In addition to the much loved Santa delighting the children, different cultural and ethnic groups performed.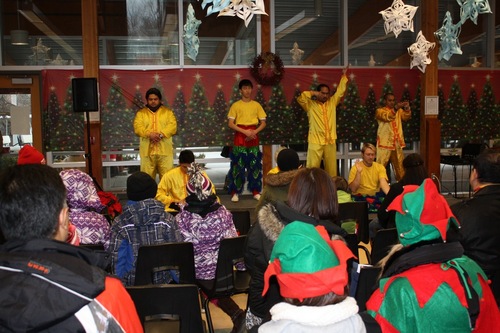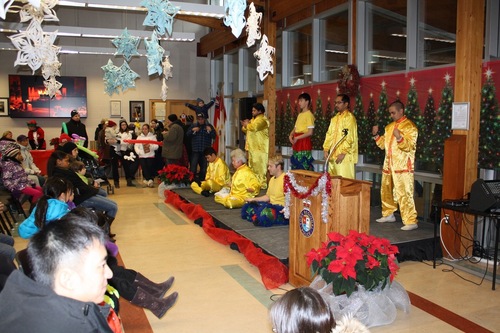 Practitioners demonstrate the five Falun Dafa exercises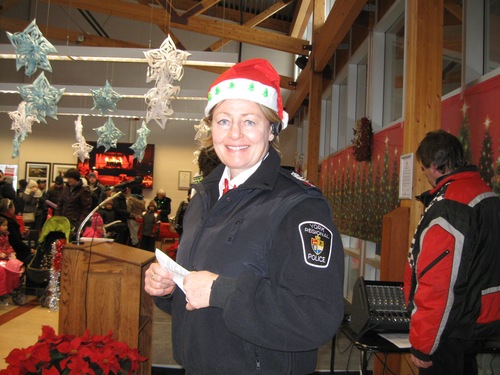 Officer Lynn Rooney of the York Regional Police
Officer Lynn Rooney of the York Regional Police Service hosted the activity. She said that they invite performing groups from different cultural backgrounds so that citizens of a variety of backgrounds can learn about different cultures. "Falun Gong practitioners' Lotus Art Group demonstrates the exercises, performs on Chinese traditional musical instruments and also does the lion dance. Their programs are very popular and this is why we invite them every year," said Officer Rooney.
When the practitioners demonstrated the exercises, some of the audience members took pictures and videos, and a number of people followed along with the movements.
Officer Nick Yun has worked for the York Regional Police Service for almost ten years. He said that the police want people to understand that they don't just arrest people on the streets, but most importantly, they serve the community and look after their wellbeing. "We invite the Falun Dafa practitioners every year because their performances bring people peace and joy and are very popular," said Officer Yun.
This is the second year that Mr. Zhang brought his children to the activity. He appreciates that the police are there to protect the community and create an atmosphere of mutual understanding and communication. Mr. Zhang said that he always enjoys seeing Falun Dafa practitioners perform. "I have seen their parades and performances in many cities in the U.S. and Canada. It's a peaceful practice. I also know that Falun Dafa is suppressed in China, which it shouldn't be," said Zhang.