India: Practitioners Invited to Teach Falun Dafa Exercises at Colleges and a Police Department in Hyderabad (Photos)
(Minghui.org)
Introducing Falun Dafa at the Indo-Global Education Summit
The Indo-Global Education Summit was held on September 8 and 9, 2012 in Hyderabad. Many university presidents, representatives, councilors and students from India and around the world attended the summit.
Falun Dafa practitioners set up a booth near the summit location to promote Falun Dafa and raise awareness about the persecution. The practitioners made informational fliers geared toward educators. Many of them were shocked after learning about the persecution and asked many questions.
The presidents of several colleges contacted the practitioners after the summit. They invited the practitioners to teach seminars in their colleges to introduce Falun Dafa to the students, staff, and faculty.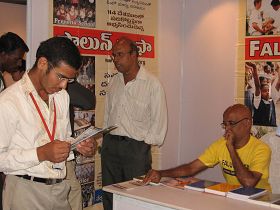 Falun Dafa booth during the Indo-Global Education Summit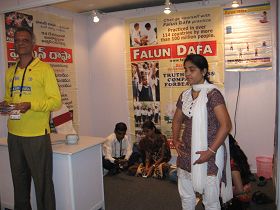 Teaching Falun Dafa Exercises at Hyderabad Traffic Police Department
Last January, the practitioners met a traffic police officer at the annual Indian Industrial Exhibition. The policeman asked about Falun Dafa and left his contact information. He wanted the practitioners to introduce Falun Dafa to the Hyderabad Traffic Police Department. The practitioners had been unsuccessful in contacting the policeman. Recently, with the help of another traffic police officer, the practitioners met with and explained the truth about the persecution of Falun Gong to the chief of the police department. With his approval, the practitioners held a two-week session of Falun Dafa introduction at the police department. Close to 80 policemen joined the class.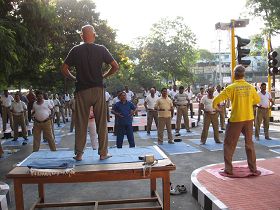 Teaching Falun Dafa exercises at the Hyderabad Traffic Police Department