Singapore: Rally Held to Protest Zhou Yongkang's Visit (Photos)
(Minghui.org) On September 15, Falun Gong practitioners in Singapore held a rally in Fanglin Park, protesting Zhou Yongkang's visit. Zhou is the Secretary of the Central Political and Legislative Affairs Committee (PLAC) of the Chinese Communist Party (CCP), and one of the main culprits behind the persecution of Falun Gong.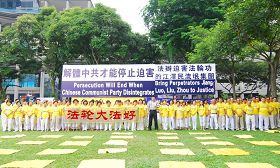 Dr. Huang Weiqiang, chair of the Falun Dafa Association in Singapore, gives a speech at the rally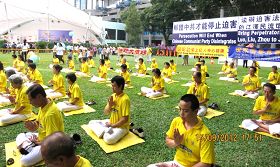 The rally
Practitioners demonstrated the exercises and displayed banners that said "Disintegrate the CCP and Stop the Persecution," "Bring the Perpetrators [of the Persecution] to Justice," and "Falun Dafa Is Good."
Dr. Huang Weiqiang, the chair of the Falun Dafa Association in Singapore, gave a speech at the rally. Dr. Huang said: "According to the report by the World Organization to Investigate the Persecution of Falun Gong (WOIPFG), Zhou Yongkang has been actively involved in the persecution of Falun Gong since 1999, and has played a major role in it. In April 2012, WOIPFG published a record of a phone conversation, which indicated that Zhou Yongkang has played a behind-the-scenes role in organ harvesting from living Falun Gong practitioners." Dr. Huang called upon the Singapore government to recognize the evil nature of the CCP and help to protect justice.
Mr. Li, a local practitioner who attended the event, said: "Zhou's hands are stained with Falun Gong practitioners' blood, so he is not welcome in Singapore. We cannot allow him to pollute this land. Zhou will be brought to justice." Vic, another local practitioner, said: "More and more people in the world have seen the CCP's true colors, and more and more Chinese have quit the party. We hope the governments around the world will also make the right choice."
Many tourists and local citizens stopped to watch the rally. In the same park, there was an event celebrating the Mid-Autumn Festival. Many Chinese tourists and students were at the event. They were surprised to see the Falun Gong event. Many of them took pictures and listened to the speeches at the rally.