Mr. Li Hongkui Passes Away Due to Persecution; His Death Very Bizarre, Says Doctor (Photos)
September 15, 2012 | By a Minghui correspondent from Heilongjiang Province, China
(Minghui.org) Falun Gong practitioner Mr. Li Hongkui, from Harbin, was persecuted at Daqing Prison for over 9 years. He suffered a brain hemorrhage right before his term ended and was sent to Daqing No. 4 Hospital for surgery. Mr. Li recovered well from surgery. However, when he was about to be discharged, his condition suddenly worsened, leading to a highly suspicious death. Mr. Li passed away on the morning of August 28, 2012.
Mr. Li Hongkui
A Highly Regarded Engineer Sent to Prison and Inhumanly Tortured
Mr. Li Hongkui was an outstanding engineer at the Harbin Post Office. For 14 consecutive years, from 1978 to 1991, he received the Advanced Worker award from his employer. Mr. Li began practicing Falun Gong in May 1994, following the principles of Truthfulness-Compassion-Forbearance. As a result of his practice, Mr. Li became more dedicated to his job and was in harmony with is colleagues. He was a also volunteer assistant at a Falun Gong practice site in Harbin.
After the Chinese Communist Party (CCP) launched the persecution of Falun Gong in July 1999, Mr. Li Hongkui was illegally arrested three times and sentenced to prison twice. He spent over 10 years in prison and endured inhumane torture.
On July 19, 1999, the day before the CCP began to openly persecuting Falun Gong, Mr. Li was arrested by the Harbin Police Department and detained for 35 days. In October of the same year, he was arrested again and sentenced to 3.5 years in prison; the term lasted from June 19, 2000, to December 18, 2003. He was held in the Harbin No. 3 Prison.
The Harbin 610 Office and the Harbin Police Department conducted large-scale arrests of Falun Gong practitioners on September 23, 2005. Mr. Li and many other practitioners were arrested, detained, and sentenced. Mr. Li was sentenced to 7 years in prison by the Harbin Daoli District Court. He was sent to Ward No. 4 of the Daqing Prison before the 2007 Chinese New Year (February 15).
For nearly all of 2009, the prison routinely withheld meals from practitioners who refused to wear prison uniforms.
Mr. Li was severely beaten numerous times. In a 5-day period starting on February 17, 2009, Daqing Prison Ward No. 3 deputy chief Chu Zhongxin, instructor Liu Guoqiang and guard Li Jinhao brutally beat him with police batons 9 times. As a result, Mr. Li was bedridden for many days, unable to care for himself.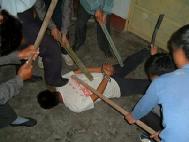 Torture Re-enactment: Beating
Mr. Li's wife, Ms. Bai Qun, visited the Prison Administration of Heilongjiang Province, the Provincial Court Office and the Justice Department, seeking to help her husband. Eventually, Daqing Bureau of Justice chief Zheng Zhixin promised her that Mr. Li would not be beaten again. He also gave Mr. Li 3,000 yuan as compensation for enduring abuse, calling the case closed.
On September 18 of the same year, prison guard Liu Guoqiang in Ward No. 4 tore off Mr. Li's clothes because Mr. Li did not wear the prison uniform. Liu Guoqiang then beat Mr. Li.
On October 17, when Mr. Li did not follow the prison guards' order, guard Lu Guofei threatened that he would be forced to sit in a small metal cage.
During Mr. Li's imprisonment, personnel from his workplace visited him in order to end his employment. Mr. Li refused to sign the documents, but his employer abolished his contract anyway, sending a notice to all the relevant offices.
Suspicious Death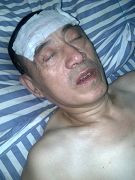 Mr. Li Hongkui in a coma
Mr. Li Hongkui's second prison term ended on September 12, 2012. At 9 p.m. on August 13, Mr. Li's family received an abrupt phone call from Zhu Renshan, the Daqing Prison Ward No. 4 supervisor: "Li Hongkui had a brain hemorrhage. He is having a brain surgery at the Daqing No. 4 Hospital."
Mr. Li's family arrived at the hospital intensive care unit the next morning. The family found out that Mr. Li Hongkui's systolic pressure had been 260 mmHg, and 50 ml of blood was drained from his brain. Mr. Li was in a coma. His wife never imagined having to see her husband in such a circumstance after being separated for 7 years.
Mr. Li's family questioned the prison authorities: "How did a perfectly healthy person become like this?" Prison ward supervisor Zhu Renshan responded: "Illness and death are a normal phenomenon." Mr. Li's wife also questioned Zhu about the two old palm-sized bruises on Mr. Li's left calf, but he said that they were "birthmarks." Mr. Li's wife exclaimed: "Don't you think I would have known if my husband had large birthmarks on his leg?!"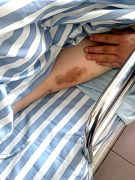 Mr. Li Hongkui had bruises on his left calf
Mr. Li's family also noticed a 3cm-long crack on top of Mr. Li's right ear (about 1.2 inches), as if his ear had been torn apart. The prison guards in the room looked apprehensive when this issue was brought up and did not know what to say.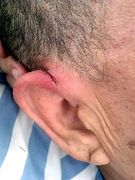 Mr. Li Hongkui had a 3cm-long crack on top of his right ear
At this point, Mr. Li's family memebrs lifted the cover off Mr. Li's body, discovering an even more shocking sight. On Mr. Li's right leg was a cuff that chained him to the bed. The family members were extremely angry and told Zhu Renshan: "Li Hongkui is unconscious, and he just had brain surgery. We would not even dare try to bring him home in this state, even if you let us, yet you cuff him when he is in this condition! Where is your humanity!? Take off the cuff immediately!" However, Zhu Renshan informed them that it was a rule, and the cuff could not be taken off.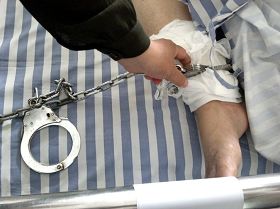 Cuff on Mr. Li Hongkui's ankle
One of the family members took pictures of the bruises and the cuff on Mr. Li's body. Zhu Renshan shouted hysterically: "Delete the photo immediately! Delete it immediately!" When the family refused, Zhu forced them out of the room.
Mr. Li's brother, a policeman, went inside to reason with Zhu Renshan. The two men argued in front of the patient. When Mr. Li's brother asked Zhu to leave the room and talk outside, Zhu refused.
Holding a 14,000 yuan bill, Zhu Renshan said to Mr. Li's family: "Can you take care of the medical fee if you have to?" Mr. Li's wife said angrily: "He was fine before, and now you made him look like this. What makes you think you can ask me to pay the bill?"
On the afternoon on August 14, 2012, Mr. Li's family consulted Dr. Zhong Yumin, the chairman of the Cranial Surgery Department at the Daqing No. 4 Hospital about Mr. Li's surgery. Dr. Zhong said: "The surgery went very well. The fear is post operative hemorrhage; the operated area would bulge if there was any further bleeding. So far there is no sign of hemorrhage, however. We will watch for cerebral edema for a week and pulmonary infection for another two weeks. He can be discharged after three weeks."
Normally patients would become conscious in about 3-5 days after a surgery like this. Mr. Li woke up a day and half later. From August 15 to 17, except being unable to speak and being unable to move his right side, his recovery was surprisingly fast, quicker than expected.
Mr. Li left the intensive care unit on August 18 and moved to a regular floor. All of the equipment to monitor Mr. Li's heart, blood pressure, oxygen levels, etc., were removed on August 18. He had passed the critical phase. Mr. Li was also starting to eat on his own, although he still had a hard time finding the position of his mouth.
On August 25, Mr. Li was able to sit for 10 minutes with some help; he was able to sit for 20 minutes the next day. Dr. Zhong told Mr. Li's family on this date: "He can prepare to be discharged from the hospital," adding that Mr. Li would be immediately discharged if the CT results on Monday were normal. Mr. Li's family agreed with the decision.
On August 27, Dr. Zhong informed Mr. Li's family that the CT results had come back. He said that Mr. Li had a slight edema of the brain, which could be taken care of with medicine and he could then be discharged. However, the hospital president disagreed with this decision.
At 10 a.m. the same day, Mr. Li's son noticed that Mr. Li's body temperature increased. By 6 p.m., Mr. Li was vomiting and had foam coming out of his mouth. He was shaking and twitching. Mr. Li's son notified the nurse. The nurse told him to put more covers on Mr. Li; she said this happened because his body temperature came up too fast. By 8 p.m., Mr. Li's temperature was 42 degrees Celsius (107.6 degrees Fahrenheit). He was still twitching and sweating profusely, the comforter he was using was soaked from his sweat.
At 5:14 a.m. on the morning of August 28, Mr. Li had respiratory failure and his heart stopped beating.
When Mr. Li's family asked Dr. Zhong about his death, Dr. Zhong exclaimed: "I don't understand it! I don't understand! … This is my first time encountering such incident since I started to practice medicine."
Mr. Li was receiving intravenous fluids continuously before his heart stopped beating. His family members do not know what medication was given to him. There were no physical signs that Mr. Li was dying, and the hospital did not consider that Mr. Li's life was in danger during his hospital stay.
On August 28, 2012, Ms. Bai Qun (Mr. Li's wife) notified the Daqing Prison authorities: "Nobody is allowed to touch Li Hongkui's body without my signature!" Zhu Renshan was aware of that.
However, on September 5, he came to see Ms. Bai at a hospital in Harbin where she was getting treatment. (Ms. Bai had dangerously high blood pressure, angina, and diabetes. She is disabled and needs assistance in daily living.) Zhu pressured her to give permission to cremate Mr. Li's body. He said: "We can get an autopsy on Li Hongkui's body through higher offices to prove that there were no internal injuries. Then we can cremate his body!"
Mr. Li Hongkui's family wrote a letter to the Daqing Political and Legal Affairs Committee, stating that 14 questions regarding to Mr. Li's death needed to be clarified. The family believes that prison officials are eager to cremate Mr. Li's body because they are trying to destroy evidence and cover up the truth.
More Than 10 Falun Gong Practitioners Died From Brutal Torture at Daqing Prison
More than 10 Falun Gong Practitioners have died as a result of torture and abuse at Daqing Prison. Below are some of the cases:
Mr. Xu Jishan, 41, was tied to a wooden board and carried into a bathroom by criminal inmates, who tortured him there under the instruction of prison officials Li Fengjiang and Zhang Dezhi on June 7, 2005. By the time Mr. Xu was brought to the emergency room, he had already passed away.
Mr. Yuan Qingjiang, 40, passed away on the night of July 23, 2005, after enduring years of cruel torture and abuse at the Daqing Prison. Mr. Yuan was only skin and bones and had severe ascites (extreme accumulation of fluid in the abdomen) at the time of his death.
Mr. Zhou Shuhai, 35, had passed away before the prison sent him to the Daqing No. 2 Hospital emergency room. Mr. Zhou was only skin and bones. Mr. Zhou had worked for the Policy Research Office of the Yichun government. He was sentenced to 5.5 years in prison in April 2006.
Mr. Zhu Hongbing was an employee at the No. 7 Oil Extraction Plant of the Daqing Petroleum Administration Bureau. He suffered 7 years of persecution at the Daqing Hongweixing Prison. He was in critical condition when he left the prison on December 29, 2008, and passed away on June 18, 2009.
Related articles:
http://en.minghui.org/html/articles/2009/8/23/110254.html
http://en.minghui.org/emh/articles/2007/3/4/83207.html
http://en.minghui.org/html/articles/2012/9/5/135292.html