Daycare Teacher and Husband Arrested and Sent to Yichun Brainwashing Center
September 12, 2012 | By a Falun Dafa practitioner from Taikang, Daqing City
(Minghui.org) Due to their belief in Truth-Compassion-Forbearance and holding themselves to those standards, Ms. Wang Fujuan and her husband Zhou Hongbo have been targeted for persecution by the 610 Office in the Mongolia Ethnicity Autonomous region in Taikang. The daycare center that they ran is now vacant.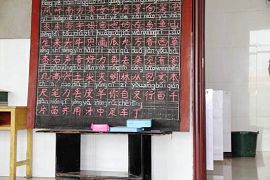 Blackboard in the front of the classroom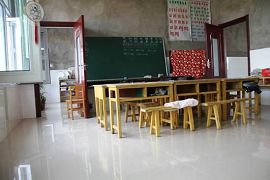 Desk in front of the classroom and children's chairs
Mr. Zhou used to work at Tumo Township. When he was young, he had neuralgia in his brain and arthritis. Every time when his illnesses flared up, the pain was unbearable, especially his migraine headaches. After 1997, when he began to practice Falun Gong, his illnesses were healed. He felt uplifted and was in good spirits each day.
Ms. Wang began to practice Falun Gong after her husband. In 2002, she and her husband set up a home-based daycare center. They patiently helped children to build up solid foundations in studying, so that those children would have good marks at school. For the past ten years, their daycare center has been very popular. However, the couple has been targeted for persecution repeatedly.
In 2002, when Mr. Zhou was cooking for the children, Li Shilin from Tumo Police Station in Huji led a group of people who broke into Mr. Zhou's home and asked him if Falun Gong is good. Mr. Zhou told him about his personal experience and said that it was truly wonderful. Li replied, "If you think it's good, then come with us." They took him away and held him at the detention center. Mr. Zhou was sent home 57 days later, when he was at the brink of death as a result of the persecution.
They kept harassing Mr. Zhou, including going to his home, and tried to stop him and Ms. Wang from running the daycare. Even so, parents still took their children to the daycare quietly. In January 2007, because he clarified the facts to people, Mr. Zhou was sentenced to one year in a forced labor camp. In the same year, under the instigation of the 610 Office, people from the Education Bureau took down the sign of their daycare, and confiscated their operating license and their identification cards. Even so, parents still took their children to his home.
In July 2011, Yao Jixiang, the deputy principal of the Central School, tricked Mr. Zhou into going to the school. Mr. Zhou was then forcibly taken to Daqing Brainwashing Center by Chen Yong from the judicial office and Chen Haoyue and Zhao Guoyou from the police station. Under the direction of the 610 Office, they closed the daycare while Mr. Zhou was detained.
On the afternoon of June 27, 2012, Vice President of Taikang County Education Bureau Wu Quanrong, section leader for child education Chang Quan, principal of Tumo Township Center School Chen Baozhu and a driver from the county educational committee went to Mr. Zhou Hongbo's home. They issued a notification that Mr. Zhou had to close down the daycare in three days, otherwise the police would confiscate furniture and equipment. They also claimed to be sent by the political and judicial committee.
On July 2, 2012, Chen Baozhu, Yao Jixiang, and Han Junfeng went to Mr. Zhou and Ms. Wang's home twice, again threatening them and telling them to close down the daycare. On July 3, people from the education bureau came to close down the daycare, but were challenged by the parents. They pointed out angrily that Chen's school stood to benefit directly from the daycare closing, and that the care at the Central School was much inferior to what they could get at Mr. Zhou's daycare. They insisted that whether the government shut down the daycare or not, they would continue to place their kids in Mr. Zhou's care, as long as Mr. Zhou was willing to accept them.
On the afternoon of July 6, Mr. Zhou and his wife went out of town for a short vacation. Deng Junsheng, the deputy head of the police station, monitored them while they were out. At a little bit past 9 p.m. on July 7, Township Deputy CCP Secretary Liang Feng, Ma Baigang, Zhao Yan and others went to Mr. Zhou's home and confiscated a computer, a printer and a cellular phone. Mr. Zhou and his wife also disappeared. On July 9, his family received two arrest warrants, one saying that Mr. Zhou was detained at Taikang Detention Center, and one saying that Ms. Wang was detained at Daqing No. 1 Detention Center. Their family members have not been allowed to see them to this day.