US Congressman Paul Tonko: Truthfulness, Compassion and Tolerance Are Values We Share across Cultures and Faiths
(Minghui.org) Till July 20, 2012, the Chinese Communist Party's (CCP) brutal persecution against Falun Gong practitioners lasted for 13 years. More than 3,000 Falun Gong practitioners have been persecuted to death. Every year around July 20, many Western politicians and the people from all walks of life publicly condemn CCP for the persecution of Falun Gong and express their solidarity with the Falun Gong practitioners. Recently, US Congressman Paul D. Tonko from New York wrote the following letter to Falun Gong practitioners in solidarity with the public rally at the United States Capitol in Washington DC to "Cease the Persecution and Disintegrate the CCP".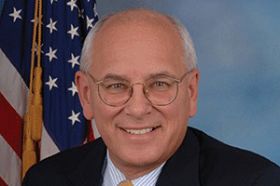 Congress of the United States
House of Representatives
Washington, DC 20515-3221
July 12, 2012
Falun Dafa Association
Capitol Rally Day
Dear friends,
Today I am honored to welcome Falun Gong representatives and practitioners from across the country and around the world to the United States Capitol. Thank you for your dedicated and passionate advocacy on behalf of your friends, family and fellow practitioners in China and abroad.
For more than a decade, the Falun Gong movement has been singled out for repression and persecution at the hands of the Chinese government. This is a movement founded on tenets of truthfulness, compassion and tolerance. Those are values we share across cultures and faiths. They are values central to our democracy here in the U.S. and to our identity as Americans.
Your gathering here today is a strong reminder to us all of the obligations we bear one another as members of a diverse global community. Fighting for civil rights in the 1960s, Dr Martin Luther King, Jr. penned an open letter from his cell in a city jail in Birmingham, Alabama. "Injustice anywhere," he wrote, "is a threat to justice everywhere."
There are can be no question that the arrests, censorship and profound prejudice faced by the Falun Gong in China comprise a great injustice. Please be assured of my continued support for the freedom of all people to speak, write, and believe as they wish, without fear of repression or protection and advancement of human rights in China and elsewhere, and I am proud to join with so many passionate advocates in this fight.
Again, thank you for your bravery and your advocacy. Welcome to Washington, and I wish you all the very best in your work.
Sincerely,
Paul D. Tonko
Member of Congress