Details about the products processed in the labor camp and the poor treatment of and deplorable conditions the detainees are subjected to.
When Mr. Wang was seized in his own neighborhood in broad daylight, his friends and relatives contested the actions of the police and secured his release.
"Whenever his family tried to wipe sweat off him, as soon as they touched him, he'd scream in panic: 'Don't beat me! Don't beat me!'"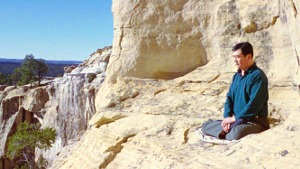 Master Li quietly watching the world from amidst the mountains after leaving New York following July 20th, 1999. (Published January 19, 2000)