Doctor at Harbin Chinese Medicine Hospital Now a Paraplegic as a Result of Torture (Photo)
June 25, 2012 | By a Minghui correspondent in Heilongjiang Province
Name: Ms. Tian Qingling (田庆玲)
Gender: Female
Age: 39
Address: Harbin
Occupation: Practicing physician at Harbin Chinese Medicine Hospital
Date of Most Recent Arrest: December 8, 2011
Most Recent Place of Detention: Qianjin Women's Forced Labor Camp, Harbin (哈尔滨市前進劳教所)
City: Harbin
Province: Heilongjiang
Persecution Suffered: Forced labor, brainwashing, torture
(Minghui.org) Dr. Tian Qingling worked in Harbin Chinese Medicine Hospital. She was arrested six months ago and taken to a forced labor camp. She was tortured so severely in Qianjin Women's Forced Labor Camp in Harbin that her legs were paralyzed and she is now a paraplegic. When her existing patients and new patients came to the hospital for their appointments with her, the hospital managers lied and told them that she couldn't come to work due to family issues.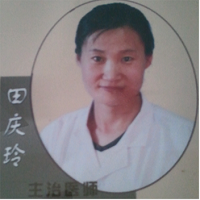 Ms. Tian Qingling
Dr. Tian attended Heilongjiang Province Chinese Medicine University in 1994. She was previously in poor health before she went to college, with a tendency to become angry easily. She argued with her parents frequently. She fought with her sister and often complained that her mother favored her sister. While in college, she was fortunate to start practicing Falun Dafa. She went to the exercise site at the university every day and lived by the principles of Truthfulness-Compassion-Forbearance. She tried to be a good person and guide her words and actions by the principles of Dafa. She stopped arguing with her parents and began communicating with them. She became considerate of her sister. The thing that she remembered most clearly was that, when the servers in the school cafeteria often cursed at her or treated her badly, she just smiled and let it go.
After practicing Falun Gong, her body went through major changes. Her uterine cysts miraculously disappeared. Before cultivation, she couldn't handle a few hours of walking with the teacher-in-charge to visit each patient's room. After she began to cultive, she didn't feel tired after walking the whole day. Even climbing seven floors was no longer difficult. Not only that, Teacher Li Hongzhi also saved her life. One winter day, the gas line wasn't turned off, and she was overcome by fumes. No one knew what had happened, and after being unconscious for a day, she woke up on her own, suffering no ill effects. She said sincerely, "Teacher Li Hongzhi saved me. Thank youm benevolent, great Teacher!"
In 2002, Ms. Tian became a master's student at the Institute of Medicine. She graduated in 2005 and started working at the Harbin Chinese Medicine Hospital. She worked in a comprehensive section that handled kidney and blood problems and tumors. Most patients in that section were severely ill and had been to the hospital several times for treatment. Many of their families spent most of their money on their treatments.
Dr. Tian was known as an honest, effective doctor that treated her patients with kindness and efficacy. Over time, more and more patients came to her due to word-of-mouth. She was assigned to the Emergency Department for a month, and patients followed her to the Emergency Department. She said, "Falun Dafa's mighty virtue opens my wisdom and allows me to save more people."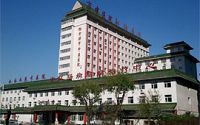 The hospital where Dr. Tian practiced medicine
She saved most of her money for her parents. She also gave money to her sister to support her business. The section chief and matron used to care only about profitability. Under her influence, they took care of each patient with pure hearts. The doctors and nurses treated each other like family in their section.
This good person and good doctor was arrested at her apartment on December 8, 2011, by Wang Dianbin, Xiangfang District National Security team leader, and officers Zhou Mingguang and Xiu Tianhui from the Dongli District Jiankang Road Police Station. Dr. Tian was arrested simply because she practiced Falun Gong.
Dr. Tian has been detained for over five months in Qianjin Women's Forced Labor Camp in Harbin and was tortured so severely that she is now a paraplegic. When her family visited her, she couldn't walk and had to be carried. Despite her condition, forced labor camp officials have refused to release her. Her family has hired an attorney to restore her lawful rights.


Qianjin Women's Forced Labor Camp
Qianjin Women's Forced Labor Camp, Harbin
Main number: +86-451-84115086
Health Section: +86-451-86991418
Ye Yun, director: Police ID 2343006, +86-13945666688 (Cell), +86-13936139139 (Cell)
Director Wang: Police ID: 2343001
Wang Min, head, First Division: Police ID: 2343072, +86-451-86953257 (Work), +86-13945190070 (Cell)
Wang Yaluo, director: Police ID: 2343002, +86-13304645999 (Cell)
Sun Huijun, deputy director
Zhang Aihui, political instructor: Police ID: 2343046
Liu Chang, deputy head, First Division: Police ID: 2343105, +86-451-86953257
Sun Xiaohui, officer: Police ID: 2343027, 43226340