Jakarta, Indonesia: Practitioners Commemorate the April 25 Peaceful Appeal (Photos)
May 04, 2012 | By a practitioner in Jakarta, Indonesia
(Minghui.org) To commemorate the 10,000 Falun Gong practitioners' peaceful appeal to the State Council Appeals Office near Zhongnanhai, at the Central Government Compound in Beijing on April 25, 1999, practitioners in Jakarta, Indonesia, gathered on April 28, 2012, to hold a candlelight vigil in front of the Chinese Embassy in Jakarta.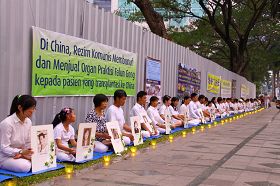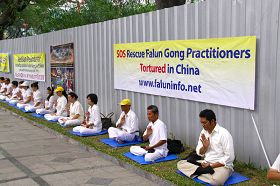 Practitioners in Indonesia hold a candlelight vigil in front of the Chinese Embassy in Jakarta to commemorate the April 25 appeal

People learn the facts about Falun Gong and the persecution
Practitioners held up banners and put up photo displays to inform the public about the goodness of Falun Dafa and to call for an end to the brutal persecution of practitioners by the Chinese Communist regime. The activity was covered by several local media outlets. The police also commented positively on the event, saying that Falun Dafa's activities are always very good, peaceful, and orderly.
Many local people and visitors wanted to understand why the Chinese Communist Party (CCP) persecutes Falun Dafa. They took pictures and spoke with practitioners. Some drivers also stopped to take truth clarification materials.
One Australian citizen said that he had learned about Falun Dafa by attending a Shen Yun performance. A young man from the Czech Republic said that he practices martial arts, and he knew about the Chinese Communist regime. Before leaving, he said he would go to the Falun Dafa website to learn more about cultivation practice.