Denmark: Practitioners in Copenhagen Spread the Facts to Commemorate the April 25 Peaceful Appeal (Photos)
May 04, 2012 | By Shuhui from Denmark
(Minghui.org) On April 25, 2012, Falun Gong practitioners in Denmark held activities in front of the Chinese Embassy in Denmark to commemorate the thirteenth anniversary of the April 25 peaceful appeal in China. They exposed the Chinese Communist Party's (CCP) brutal persecution of Falun Gong and called on the international community and people from all walks of life to help stop the persecution.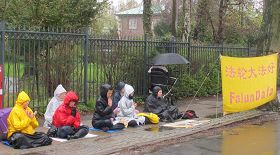 Protest in front of the Chinese Embassy in Denmark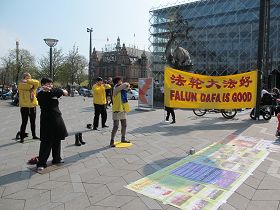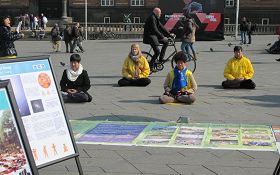 Doing the exercises on Town Hall Square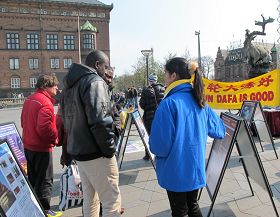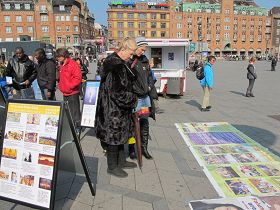 Explaining the facts to passersby
On April 25 thirteen years ago, over 10,000 Falun Gong practitioners went to the Beijing Appeals Office. At that time, their concerns were satisfactorily resolved and the event was favorably regarded by the international community. A few months later however, Jiang's CCP regime ignored the facts and started to defame Falun Gong and deceive the public, fabricating lies that "Falun Gong practitioners besieged Zhongnanhai," and launching the brutal persecution of Falun Gong.
It was raining and very cold, but the practitioners sat peacefully to do the sitting meditation in the rain. A "Falun Dafa Is Good" banner was on display, and practitioners distributed informational materials to passersby. It was peaceful and quiet. That day was also the tenth anniversary of Falun Gong practitioners in Denmark protesting before the Chinese Embassy. Of the more than 3,600 days of protest, this scene has been repeated countless times.
Ms. Bao, a Falun Gong practitioner, said, "On April 25, 1999, we were in China. With very simple thinking, many fellow practitioners wanted to go to Beijing to appeal. We thought that the government might not understand the situation, so we could explain it to them. We had learned the same Dafa and we were just like family. Learning that our fellow practitioners had been arrested, it seemed as if our brothers and sisters had been arrested, so that's why we went to Beijing to talk to them, to demand the release of our fellow practitioners."
On the weekend before April 25, the practitioners also held activities on the Copenhagen City Hall Square to commemorate the appeal.
Facts about Falun Gong Widespread--More and More People are Aware
The Copenhagen Town Hall Square was crowded and very busy on the weekend. The banners and display boards drew the attention of many passersby who stopped to peruse them. The "Falun Dafa Is Good" banner was particularly eye-catching in the sunshine. Many Danes took the initiative to ask the practitioners about Falun Gong and the persecution in China. They asked, "What is Falun Gong?" "Why does the CCP persecute Falun Gong?" After hearing practitioners' explanations, many more people understood the truth. An English lady who had practiced Tai Chi at one time wanted to know about Falun Gong. Using her personal experience, the practitioner told her about the health benefits of practicing Falun Dafa. The lady was glad to take some materials with her to learn more about it.
The practitioners also met many people who already knew about Falun Gong. A tourist from the United States told them that he had seen Falun Gong practitioners there doing a sitting protest before the Chinese Consulate in Chicago and knew that Falun Gong was peaceful and its practitioners were kind.
Chinese People Take Initiative to Learn the Facts Instead of Being Afraid
Upon seeing so many people doing the exercises, as a Chinese tour group passed by City Hall Square and faced the practitioners, they read out the words on the banners, "Falun Dafa is good, Falun Dafa is good." On hearing this, a practitioner was amused and said, "Ah, Falun Dafa is good, come and take a look." And many came to get the information materials.
A Chinese man, who was to leave Copenhagen by air that day, told a practitioner that he knew what was happening in China but had some questions. The practitioner told him about the incidents concerning Wang Lijun and Bo Xilai, "On the surface, it is the result of power struggles among the CCP at high levels. In fact, these two men have committed crimes against humanity, especially against Falun Gong. Wang Lijun has been directly involved in the crime of organ harvesting from living Falun Gong practitioners. If Bo Xilai leaves China, a court summons is waiting for him. He has been sued in a number of countries." Having understood the facts, the Chinese man said, "Everyone will be very shocked if the whole truth does come out. I wish you well."
Another gentleman said that he had already quit the CCP's organizations. He believed that Falun Gong was good and should not be persecuted by the CCP.
Two female students from Sweden were on vacation in Copenhagen. They chatted with a practitioner, who talked about the fact that the CCP has removed organs from living Falun Gong practitioners. One of the Swedes said, "I was told that they removed organs from those facing the death penalty. I didn't know about the other." The practitioner asked them, "Even if they are sentenced to death, no one can be sure that judicial procedures were followed. Even so, should those facing the death penalty have their organs be removed even if they don't give permission? Such evil has never been seen on this planet before. It is beyond imagination. That's why people don't believe and dare not face up to it."
The practitioner continued, "David Matas, a human rights lawyer who was nominated for the Nobel Peace Prize, along with David Kilgour, a former Secretary of State for Asia and Pacific Affairs, have written a book entitled Bloody Harvest, Killing Falun Gong for Their Organs, exposing China's illegal organ trading.
"The book was written based on a large number of factual investigation reports. The book reveals that from 2000 to 2005, 41,500 organ transplant operations were performed in China. The CCP has admitted that the vast majority of organs were from prisoners, saying that the prisoners had consented to donate their organs after being executed. In response to patients' inquiries, organ transplant hospitals in China told them that the patients could get a variety of organ donors within a week. The number of organ transplants far exceeded the number of executed prisoners. This shows that the CCP, in addition to removing organs from people facing the death penalty, has already proceeded to harvest organs from 'prisoners of conscience' and from living Falun Gong practitioners." After hearing this, the two students were stunned and recognized the seriousness of the issue.
Practitioners now feel that it is easy for Chinese people to accept the facts when they are told. At first, they were reluctant to talk, but practitioners' sincerity enabled them to converse like old friends. At first, practitioners felt there was a kind of shell around the Chinese, but as they talked, these Chinese people opened up and told practitioners what they thought in their hearts in a friendly atmosphere.