Spectators Praise the Grand March of 7,000 Falun Gong Practitioners in Manhattan (Photos)
May 21, 2012 | By Wen Yun, Minghui correspondent
(Minghui.org) On May 12, 2012, about 7,000 Falun Gong practitioners gathered in New York and joined a grand march in Chinatown in Manhattan to celebrate the 20th anniversary of the public introduction of Falun Dafa. They also exposed the Chinese Communist Party (CCP)'s persecution of Falun Gong.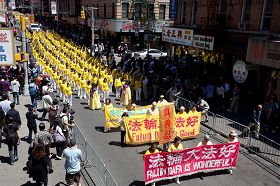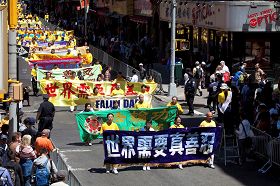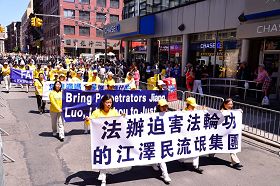 The procession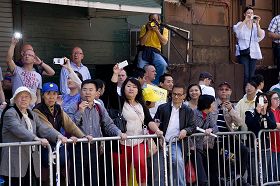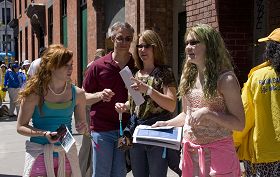 Spectators
Falun Gong practitioner Robert Gray and his wife Jane Gray came to Manhattan from Toronto. Robert is 27 years old and said he had quit smoking within one month of practicing Falun Gong. The principle Truth-Compassion-Forbearance changed his life. He could tolerate many things that he could not before. He was proud to participate in the march as a member of the Divine Land Marching Band.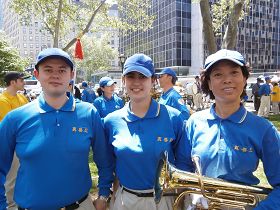 Falun Gong practitioner Robert Gray and his wife Jane Gray (center).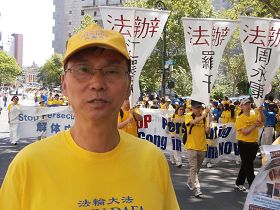 Falun Gong practitioner Junwu Xiong from Spain
Mr. Junwu Xiong from Spain has practiced Falun Dafa for 17 years and benefited a lot in his health. He said, "I've benefited not only in improvements to both mind and body, but also in understanding the real meaning of life. My morality is upgrading. My family sees the changes in me and supports Falun Dafa."
The grand march drew many people to watch. Mr. Li and his wife Ms. Huang from Beijing are photographers and have one-year work visas. Ms. Huang said, "We read the Epoch Times frequently. I don't know much about Falun Gong as news of about the practice is blocked in China. Seeing such a grand march today, I am shocked. I did not know that Falun Gong is so popular overseas."
She continued, "We walked over from the other side. There are so many people. In China, marches are not allowed. I see many police maintaining order here. I have never seen such a scene. Living in Beijing, I do not see such things. As a Chinese, I am proud and never knew Falun Gong is so strong outside of China. I need to learn about Falun Gong."
Mr. Zhao from Toronto was visiting New York for the first time and said he was proud seeing the grand march. He said, "The CCP does many things against people's wishes. It has persecuted Falun Gong for so many years. But there are so many people continuing the practice. I admire Falun Gong." Mr. Zhao continued, "My wife is a Falun Gong practitioner. I came with her. She is so busy and has not a day to rest throughout the whole year."
Mr. Wang, a store owner in Chinatown from Malaysia, said he saw the Falun Gong march every year. He felt there were more people this year and the procession was more grand. He saw Falun Gong practitioners distributing information materials in Chinatown. He knows they are good people.
A local resident in his 60s said, "I see the Falun Gong procession in Manhattan every year. It becomes bigger year after year. I've been in contact with Falun Gong practitioners. They are sincere. They do not yield though the CCP has persecuted them for so many years. Falun Gong is great. It is not easy to keep their belief in China."
When asked about former CCP head Jiang Zemin who wanted to eliminate Falun Gong within three months, he said, "Nobody can see eliminating Falun Gong within three months. It is their belief and freedom. You cannot say you don't allow others to like it because you don't like it. In this aspect, America is free. Everyone has his or her own right of belief. I heard about the CCP's organ harvesting from live Falun Gong practitioners. If it is true, the CCP is too evil. It must meet its demise."