New York: Falun Gong's Peacefulness a Powerful Presence in Times Square (Photos)
May 21, 2012 | By De Xiang, Minghui correspondent
(Minghui.org) "Where can I learn Falun Gong?" "Why does the Chinese government persecute Falun Gong?" On May 12, 2012, many people were asking these questions at Times Square.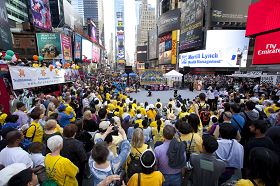 Falun Gong practitioners celebrate World Falun Dafa Day at Times Square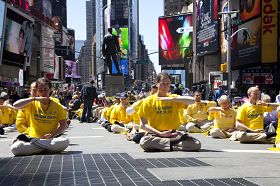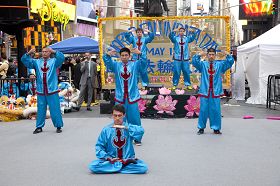 Group practice at Times Square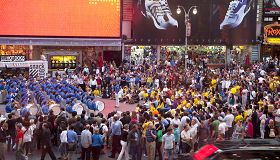 Divine Land Marching Band performs at Times Square
More than 7000 Falun Gong practitioners participated in May 13 celebration events in New York. Among a series of events, the group practice and celebration performances at Times Square on May 12 drew the attention of many people. Nine two-story tour buses decorated with large banners that read "Celebrating the 20th anniversary of Falun Dafa's public introduction" and "Truth-Compassion-Forbearance" in both Chinese and English drove around Times Square.
Practitioner Wei Shanshan is an artist. She is a sister of well-known democracy advocate Wei Jingsheng. She started practicing Falun Gong in 2008. This was her first time participating in a Falun Gong event in America. She said she was honored to participate in such a large-scale Falun Gong event.
Shanshan started practicing Falun Gong after watching Shen Yun in 2008. She had arthritis, but felt relief while watching Shen Yun. She said, "It was probably the gift of divine beings. I felt significant improvement in my health after seeing the show." She then started practicing Falun Gong. She explained, "Later I read Dafa books with others and felt my view of the world changed. My temper also changed. Now I don't get angry over small conflicts. So I have improved my character a lot."
Mr. Liu from New York is a journalist. He said, "Seeing some people practicing Falun Gong, I attended a nine-day Falun Gong seminar. I grew up in China and did not believe in divine beings. But I thought Falun Gong could help people improve health. Step by step, I became involved and started practicing Falun Gong. I feel better and better." He hopes Chinese people will learn the truth behind the persecution. He said, "Falun Gong is defamed in China. Falun Gong is not like what the propaganda described. I hope people can break through information blockade to learn the facts."
Suhail Desai, a Londoner working in America for more than ten years, said he saw a reenactment of the CCP's torture means in Manhattan four years ago and was touched. He could not understand why such a peaceful practice was persecuted in China. Today, he saw so many practitioners on Times Square and learned more about the practice and the persecution. He said he supports Falun Gong.
Photographer Jack Grady planned to publish a book about Times Square. He took many photos of Falun Gong practitioners' exercise demonstration. He said he felt the peaceful energy of the Falun Gong exercises.
Retired professor Dr. Guppelberg said that Falun Gong practitioners, "Appear meek, but manifest strength. That is, a strong inner, but gentle exterior. It is like the Christians in the early years demonstrating the power of perseverance." He said Falun Gong could be seen around the world and they never resorted to violence, but only used peaceful and rational means of protesting the persecution. "Falun Gong practitioners manifest powerful inner strength."