Australia: Sydney Practitioners Celebrate World Falun Dafa Day (Photos)
May 18, 2012 | By a Falun Dafa practitioner from Sydney, Australia
(Minghui.org) It has been 20 years since Falun Dafa was first introduced to the public in China in 1992. During this period of time, Dafa has been embraced in over 100 countries and regions worldwide, and the principal book of Dafa, Zhuan Falun, has been translated into over 30 languages. On May 12, 2012, Falun Dafa practitioners in Sydney demonstrated the exercises and held a grand parade to celebrate the 13th annual World Falun Dafa Day and to wish Master Li Hongzhi, the founder of Falun Dafa, a happy 61st birthday.
In 1996, Master Li gave the first Dafa lecture in Australia in Sydney. The first group exercise practice site was established in Cabramatta at the same time. Now, there are dozens of group practice sites throughout Australia.
On the morning of May 12, 2012, Falun Gong practitioners from different areas and of different nationalities, young and old, gathered in Haide Park in the center of Sydney and held a group practice. They demonstrated the beauty of Falun Dafa to the public.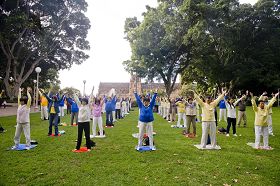 Falun Dafa practitioners in Sydney hold group exercise practice in Haide Park to celebrate World Falun Dafa Day
At noon, the practitioners gathered for a group photo to send their greetings and birthday wishes to Master Li. At 2:00 p.m. they held a grand parade, beginning on Park Avenue and ending in Chinatown. The annual World Falun Dafa Day parade has been approved by local police department as an annual ethnic event, and the city temporarily blocked traffic from the streets to make way for the parade.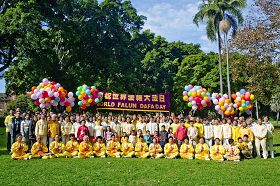 Falun Dafa practitioners wish Master Li a Happy Birthday.
Little practitioners send greetings to wish Master Li a Happy Birthday.
Many spectators watched the practitioners' procession along the parade route. A number of Chinese people were very excited to see the Falun Gong practitioners and took photos and videos. Some Chinese people announced their withdrawal from the Chinese Communist Party (CCP) and its affiliated organizations on the spot. A young Chinese couple quit the CCP and joined the parade, carrying a banner for several blocks.
A man who had emigrated to Australia from Poland received a flier from a practitioner and shared how he and his family had experienced persecution under the Polish Communist Party. He was therefore very sympathetic to the Chinese Falun Gong practitioners being persecuted by the CCP and wished that he could help end the persecution soon.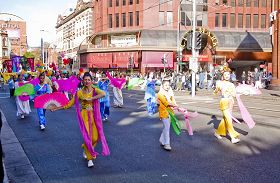 Falun Dafa practitioners held a parade through Sydney to celebrate World Falun Dafa Day.
Many spectators were happy to receive fliers introducing Falun Gong. A number of them expressed their support for the practitioners' endeavors to end the persecution. Many people, both Chinese and Westerners, said that they wanted to learn the Falun Gong exercises.
Tania Osten started practicing Falun Gong in 1999 when the Chinese Communist Party began the persecution. Despite the CCP's propaganda machines using all channels to slander Falun Dafa all over the world, she persisted with her cultivation practice. "I feel full of energy after practicing it. I no longer feel tired all the time. My friends often have the flu, but my health is always good since practicing Falun Dafa." Ms. Osten said.
Ms. Osten hopes that the Australian government will stand up against the Chinese communist dictators and request them to stop the persecution of Falun Gong and respect their citizens' human rights. "Cultivation practice can improve health and elevate your mind. It is suitable for every country and every nationality. It is not limited to Chinese people," she said.