Moscow: Practitioners Raise Awareness about Falun Gong and Call for an End to the Persecution (Photos)
May 18, 2012 | By a practitioner in Moscow
(Minghui.org) May 13 is World Falun Dafa Day. In Moscow, practitioners gathered in the foot of Sparrow Hills, which has a long history, and along the Moscow River to celebrate this occasion. That same evening, practitioners protested in front of the Chinese Embassy in Moscow to call for an end to the persecution.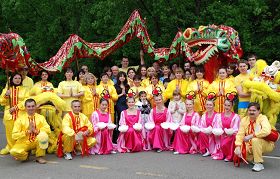 Practitioners in Moscow celebrate the 20th anniversary of Falun Dafa's public introduction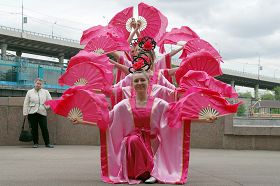 Practitioners did the exercises and danced and sang to express their gratitude for Master's compassionate salvation. A huge banner reading "Falun Dafa" was hung up high in a conspicuous place where all the tourists on ships, passersby in the streets, drivers on the flyover, and passengers in the subway could see it.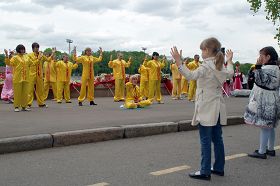 Practitioners' peaceful exercises attract two children to follow along
There was also a marathon race along the Moscow River that day, and many runners and spectators saw the practitioners' celebratory activity. Some Chinese students on a walk passed by the activity. They saw the truth clarification photo displays, some photos of their own and listened to practitioners explain the facts. After they learned the truth, some of them showed concern about the practitioners and told them to pay attention to their safety if they return China.