Taipei, Taiwan: Practitioners Joyfully Celebrate the 20th Anniversary of Falun Dafa's Public Introduction and Spread the Truth (Photos)
May 18, 2012 | By Minghui correspondent Zheng Yuyan in Taipei, Taiwan
(Minghui.org) On the morning of May 13, 2012, Falun Gong practitioners wearing golden-yellow shirts bearing the words, "Falun Dafa" and "Truthfulness-Compassion-Forbearance" gathered at Shilin Residence, an ecological garden, in Taipei. Approximately 2,000 practitioners did the exercises together, formed the Chinese characters for "Fa-rectification," displayed photographs and photo exhibits and presented musical performances of song and dance to celebrate the 13th World Falun Dafa Day; the 61st birthday of Mr. Li Hongzhi, the founder of Falun Gong; and the 20th anniversary of Falun Dafa's public introduction. They wished to express their infinite gratitude to Master Li for introducing this great law of the universe—Truthfulness-Compassion-Forbearance—to the public.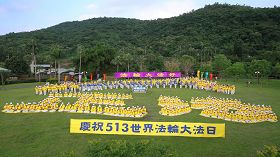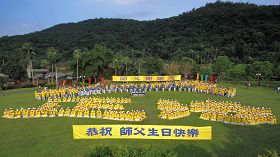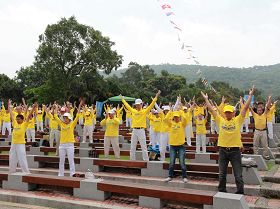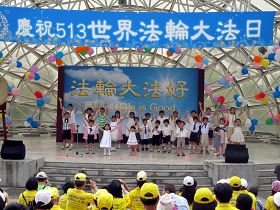 Practitioners in Taipei celebrate World Falun Dafa Day and Master Li Hongzhi's birthday by doing the exercises, forming the Chinese characters "Fa-rectification," and presenting music and dance performances.
Tour Guide: "Look, Falun Dafa Is Good!"
As tour buses carrying Chinese tourists arrived, the tourists were attracted by the peaceful exercise music and the solemn and harmonious activity. When they stopped to watch, some followed along to do the exercises, while many viewed the photo displays attentively as they waited for their buses to come. Some took photos of the displays, and some walked up to take copies of the Nine Commentaries on the Communist Party and truth-clarification materials. A tour guide led more than 40 Chinese tourists past the practitioners' activity, and pointing at the banners bearing the message "Celebrating the 20th Anniversary of Falun Dafa's Public Introduction," she said, "Look, Falun Dafa is Good!"
While groups of Chinese tourists entered the Official Residence, some visitors lined up to receive a paper lotus ornament from practitioners dressed in beautiful Tang Dynasty costumes. Many tourists were moved at the practitioners' kindness and clearly understood the goodness of Dafa. Some tourists returned to get lotus flowers and truth-clarification materials. A practitioner who distributed informational materials said that Chinese tourists now say, "Thank you" after they receive lotus flowers or truth-clarification materials. This is quite different from how they behaved before, when many Chinese visitors either rejected the materials or were very timid about taking them.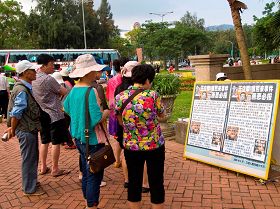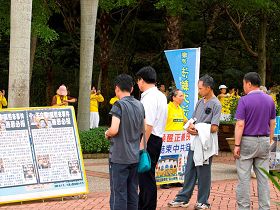 Chinese tourists are eager to learn the facts about Falun Gong.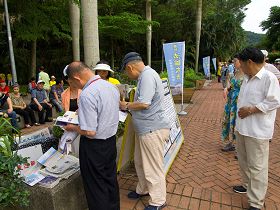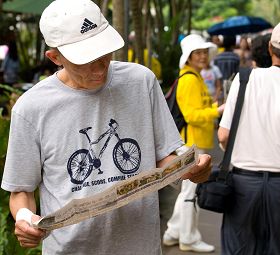 Visitors read truth-clarification materials attentively.
Benefiting Both Physically and Mentally from Practicing Falun Dafa
Ms. Liu Yufeng has practiced cultivation in Falun Dafa for over seven years. Before she began practicing, she had the bad habits of drinking and smoking. When she was about 17 years old, Ms. Liu suddenly developed asthma, but she continued drinking and smoking, and over the following ten years, her situation became more serious. Eventually, medications could not properly keep her condition under control. Fortunately, Ms. Liu's mother, a Dafa practitioner, introduced her to Dafa. After reading Zhuan Falun, Yufeng understood that this is a pure and clean practice, and therefore she began practicing Falun Gong. Yufeng said, "The asthma was likely to take my life any time, but shortly after I began the practice, without my noticing it, it disappeared. I no longer drink and smoke and my family life has become harmonious."
Yufeng often quarreled with her husband, but after practicing Falun Gong, she improved greatly. She said, "I learned to be considerate of others and to always think of others. I often hit my son before, but after I started practicing Falun Gong, I help him understand with reasoning and give him an opportunity to correct himself. My son has also changed for the better. The physical and mental improvements in me are very evident, and my husband is very supportive of my practicing and participating in Dafa activities." Yufeng added, "I come here [to this Dafa Day event] with deep gratitude. I want to tell everyone that Falun Dafa is the most righteous, and Falun Dafa is great."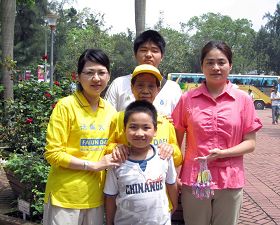 Yufeng (right) and her son (at back), with her sister Yuzhen (left) and her son (front) and their mother celebrate World Falun Dafa Day together with deep gratitude.
Yuzhen is Yufeng's older sister. Yuzhen said, "Nine years ago, my immune system completely stopped working and I was diagnosed with lupus. I knew that only Falun Dafa could save me." After practicing Falun Gong, she was no longer sick. She even got married and gave birth to a healthy child, with no complications. Once, the hospital conducted a follow-up examination on Yuzhen. The doctor, amazed, told her that her "lupus erythematosus" [autoimmune disease] was completely gone.
Yuzhen's in-laws originally had a very good business in Taiwan, but were devastated by the 2008 financial crisis. Suddenly, all her in-laws immigrated to other countries without informing her, and she and her family became almost homeless. For a while, Yuzhen held deep resentment. She said, "This impacted me greatly. Fortunately I've become a practitioner, but it still took me three years to make it through this tribulation. If it had not been for Dafa's principles that helped me understand about predestined relationship, I don't think I could have withstood this attack. Dafa has profoundly influenced my entire life. So it is with very deep gratitude that I come her to tell people 'Falun Dafa is great,' 'Truthfulness-Compassion-Forbearance is great.' Thank you, Master," said Yuzhen.
Expressing Gratitude to Revered Master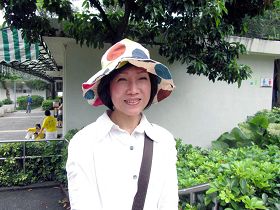 Suru said, "I come here with deep gratitude to validate the wonderfulness of Falun Dafa."
Before she started practicing Falun Gong, Li Suru was a frequent hospital visitor due to her poor health. After her practice, she has become healthy and she hasn't had to see a doctor for years. Her two daughters have also benefited from Dafa and have joined their mother in cultivation practice. Suru said, "My older daughter was emaciated ever since childhood, but after she began practicing Falun Gong, she has become healthy. Plus, now I don't need worry about my daughters' homework and moral character. My older daughter began practicing in grade five. She has been a model student at her school, and received the Mayor's Award after she graduated from junior high school. My younger daughter is in grade two. Her teachers praise her for being so well-behaved. My entire family has benefited a lot from Dafa. I come with today with deep gratitude, to validate the wonderfulness of Falun Dafa. Thank you, Master."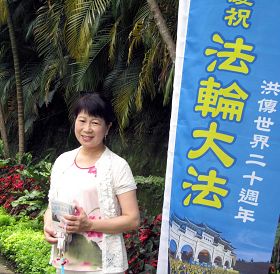 Liu Enhui thanks Master for His compassionate salvation.
Enhui suffered from serious gynecological problems more then ten year ago. She visited Chinese and Western hospitals, but could find no cure. She suffered tremendously and was in constant pain. Someone suggested that she read Zhuan Falun. Enhui spent four months reading the book, and discovered that her pain was no longer that intense. She realized that Master was taking care of her. She then attended the Falun Gong nine-day lecture series twice. Since starting the practice, Enhui has spent all her spare time going to a tourist site to clarify the facts about Falun Gong to visitors.
Enhui said, "In the beginning, Chinese tourists rejected our truth-clarification efforts, and some cursed at us. But now their attitude has changed. Many smile and nod in recognition, and many come back to take the Nine Commentaries and truth-clarification materials. Some even wanted to have a copy of Zhuan Falun. We can see that they are eager to learn the truth."
"Today is a special day, and even the weather is especially pleasant. There are also many Chinese tourists here today. I sincerely hope that they will have a wonderful future and seize the chance to learn the truth. I'm filled with endless gratitude for Master's compassionate salvation, and for His introducing Dafa to the public so that sentient beings have an opportunity to be saved. "