Hong Kong: Rally and March Call for Ending the Persecution and Bringing Perpetrators to Justice (Photos)
April 28, 2012 | By a practitioner in Hong Kong
(Minghui.org) On April 22, 2012, before the 13th anniversary of the peaceful April 25 appeal in Beijing, Falun Gong practitioners in Hong Kong held a grand rally and march with the theme of "ending the persecution and bringing the perpetrators to justice."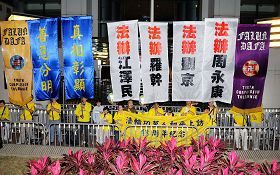 Falun Gong practitioners unfurl banners and read a statement in front of the China Liaison Office, calling for the end of the persecution and bringing the perpetrators to justice.

Many speakers participated at the rally in support of Falun Gong practitioners.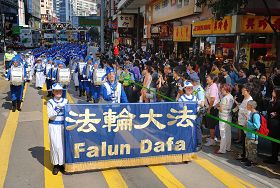 Practitioners' march in busy downtown of Hong Kong led by the Divine Land Marching Band.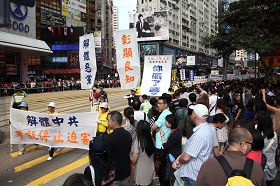 March procession passes by Causeway Bay and draws lots of spectators.

Practitioners hold a large banner with the message, "Protesting the persecution peacefully and reasonably," while passing through the business area in Hong Kong.

Calling for ending the persecution and bringing the perpetrators to justice
The rally was held at noon at the King's Road Playground. The hosting organizations were the Hong Kong Falun Dafa Association and Hong Kong Service Center for Quitting the Chinese Communist Party (CCP) and Its Affiliated Organizations. They called for support from all parties to stop the CCP's persecution of Falun Gong and bring chief culprits Jiang Zemin, Luo Gan, Liu Jing and Zhou Yongkang to justice. They stressed that only the disintegration of the CCP could end the persecution and bring a good future to Chinese people.
Spokesperson Teresa Chu of the Taiwan Falun Gong Human Rights Lawyer Group came to participate in this event. She said: "Even if the CCP restored the reputation to Falun Gong, it would not mean the CCP had changed its nature. It would not indicate that culprit Jiang and others participating in killing, torturing and conducting live organ harvesting from Falun Gong practitioners would be punished."
Several well-known political figures gave speeches via video, calling for the end of the persecution and respect and support for Falun Gong practitioners' freedom of belief. Mr. Albert, the chairman of the Democratic Party and a legislator, said: "The CCP's unlawful and inhuman persecution of Falun Gong practitioners must stop. Victims should be given reasonable compensation."
Legislative Council member Leung Yiu-chung condemned the CCP's persecution of the peaceful practitioners. "The CCP does not tolerate different thoughts. People should accept different thoughts and religious beliefs with open minds," he said.
Professor Joseph Cheng of the City University of Political Science expressed admiration for Falun Gong practitioners for their endurance and stressed that everyone should have freedom of belief. He condemned the CCP's persecution of Falun Gong.
Eleven well-known individuals in China submitted pre-recorded speeches to support Falun Gong practitioners' effort of protesting the persecution.
Poet Mo Jiangang, a member of the Independent Chinese Pen Association from Guizhou, said he was very sympathetic toward Falun Gong practitioners suffering persecution. He stated: "Falun Gong practitioners sincerely wish all human beings to have a happy life with healthy bodies. They tell the truth. I admire all practitioners. They are the best cultivators."
He also stated that quitting the CCP and its affiliated organizations was a great move: "When everyone quits, then no one would believe the Party could exert control. No one would support the party."
Qi Yinchen, an economist in Hebei Province, mentioned that Falun Gong practitioner Wang Xiaodong was arrested in his city. He said: "Every member of the 300 families in his village signed a petition letter requesting the city Procuratorate to release him. So many people requested the release of this practitioner, indicating how big the contrast is between law enforcement and public opinion. Such arrests and confiscations are unlawful. Such violations should not be allowed any longer."
Hu Jun from China Rights Movement stressed that culprits in the persecution must be brought to justice, "especially those in the 610 Office." He added: "After the CCP's disintegration, the imprisonment of Falun Gong practitioners in labor camps, torture, live organ harvesting and crimes against humanity must be investigated, and those criminals should be brought to justice."
Zeng Ning, a commentator, said, "Falun Gong practitioners contribute significantly in promoting Chinese traditional culture and restoring China's morality. Their tireless effort and courage at the risk of losing their lives have let people see a slight hope for China's future."
After the rally, several hundred people marched along with the Divine Land Marching band. They marched from the playground and passed through the main business area of Hong Kong. Many residents and tourists watched, and took photos or video footage. Tourist Mr. Chen from Singapore is a faithful reader of The Epoch Times. He praised Falun Gong practitioners for their efforts in truth clarification. "I believe that all the CCP's covered up crimes will be exposed to let Chinese overseas know more facts," he said.
Ms. Shao from Jiangsu Province said: "In the mainland, what one hears is all CCP propaganda. This is my first time to see an open and lawful march by Falun Gong. What are the facts about Falun Gong? Generally, people are misled by the CCP's media. We need to know the facts."
Many tourists from mainland China said that they would tell others what they saw after returning home. Mr. Wan, a volunteer of the service center for quitting the CCP, distributed flyers and other informational materials along the march route. He said more than ten people had announced their withdrawal from the CCP and its affiliated organizations during the march. He said: "I just met one shopkeeper in front of a store. I asked him whether he had joined a CCP organization before. He said yes. I then asked him to quit it with an alias, but he quit with his real name. More and more people know the facts. Many bystanders praised and encouraged us."
After an over 3-hour march, the procession arrived at its destination, the China Liaison Office, at a little after 5 p.m. The practitioners held large banners with the words "Stop the persecution and bring the perpetrators to justice" and "Bring Jiang Zemin, Luo Gan, Zhou Yongkang, and Liu Jing to justice." The event concluded after a statement was read.