Japan: March to Commemorate the Peaceful April 25 Appeal and Bring Chief Culprits of the Persecution to Justice (Photos)
April 28, 2012 | By a practitioner in Japan
(Minghui.org) To commemorate the 13th anniversary of the peaceful April 25 appeal in China, Falun Gong practitioners in Japan marched in Tokyo on April 22, 2012. They denounced the Chinese Communist Party (CCP) for using the April 25 appeal to frame Falun Gong before launching an unprecedented, large-scale, brutal persecution that has lasted for nearly 13 years. The practitioners also called for Jiang Zemin, Luo Gan, Liu Jing, Zhou Yongkang and other main perpetrators to be brought to justice for persecuting Falun Gong.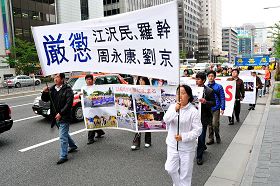 Practitioners in Tokyo, Japan, march to commemorate the April 25 appeal.


Led by the Divine Land Marching Band, the procession marched through downtown and reached Ueno Park.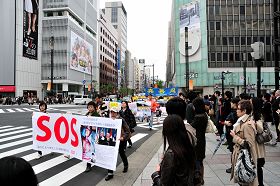 Many citizens stop to watch the procession on the busy streets in Tokyo.
Representative of the Japan Falun Dafa Association said that more than 10,000 Falun Gong practitioners appealed to the State Council Appeals Office near Zhongnanhai, the central government compound in Beijing, on April 25, 1999, in order to safeguard their basic human rights of freedom of belief and exercise the rights that the Chinese Constitution bestowed upon citizens. The practitioners' rationality, peacefulness, courage, tolerance, justice and pure kindness won praise from the international community. However, the CCP told lies, labeling the peaceful appeal as "laying siege" to Zhongnanhai, and misled many Chinese people who were unaware of the facts.
Ms. Jin, who began practicing Falun Gong six months ago, said that she feels Falun Gong is great and that it's a shame that the CCP used the April 25 appeal to frame Falun Gong. Ms. Jin's relatives in China were detained for three years due to the persecution of Falun Gong. Ms. Jin wanted to call upon the Japanese people to support Falun Gong practitioners and to end the senseless persecution.
Ms. Wu Lili, a member of the Divine Land Marching Band, told the story of her older sister Ms. Wu Xiaohua, a former associate professor at Anhui University of Architecture in China. Her sister used to suffer from severe diabetes and take a lot of medications. The treatment costs exceeded her salary. After she started practicing Falun Gong in 1994, however, she became healthy both physically and mentally, and no longer needed any treatments. Because she remained steadfast in her belief in Truthfulness-Compassion-Forbearance, the main principles of Falun Gong, she was arrested more than 20 times over the past 13 years of the persecution, as well as incarcerated, tortured and abused in mental hospitals 3 times. Currently, she is being held in Suzhou Women's Prison in Anhui Province with 5-year prison term.
Ms. Wu said she hopes the international community will show concern over the CCP's ongoing persecution of Falun Gong and help to end the persecution and suppression of human rights and freedom of belief as soon as possible.