(Clearwisdom.net) On February 25, 2008, the Chinese Communist Party's (CCP) Ministry of Public Security launched operation "F0801" in order to to escalate the persecution of Falun Gong in the name of safeguarding the 2008 Olympics in Beijing. During the operation, at least 86 practitioners were
(Clearwisdom.net) On the morning of February 25, 2012, Yunhe Domestic Security Division head Tang Guoli and local police officers surrounded the homes of three practitioners: Zhang Libo, Wang Zhenqing and Jia Zhaoqing. The police rushed into Mr. Zhang's home as soon as his son opened the door to go to school. They attempted to arrest Mr. Zhang, but he escaped because he suddenly showed symptoms of heart problems due to fright. Additionally, his family strongly resisted the police's attempt to take him away. Nevertheless, his home was ransacked.
(Clearwisdom.net) Many Falun Gong practitioners in Anping County, Hebei Province were recently placed under surveillance. They were told that they should not go to Beijing to appeal. Four practitioners in three villages and a township had their homes ransacked on the evening of February 23, 2012.
~ Accounts of Persecution ~
~ Solemn Declarations ~
~ Journeys of Cultivation ~
~ Standing Up for Falun Dafa ~
~ Beginning Cultivation ~
~ Health Benefits ~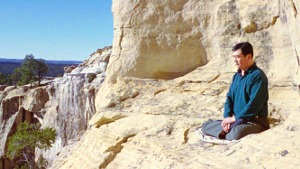 Master Li quietly watching the world from amidst the mountains after leaving New York following July 20th, 1999. (Published January 19, 2000)